Build Stronger Patient Relationships
Playing phone tag is not a convenient way for your dental practice to reach patients about their upcoming appointments. With Adit's all in one dental office text messaging system, your team can spend less time making phone calls and reminding patients about their upcoming appointments, and more time delighting the patients already in your office.
Book More Dental Appointments
Sending appointment reminders through text messaging is an essential communication tool that can help your business grow. Patients now expect practices to offer the convenience of texting in order to contact their providers and confirm appointments. In fact, 90% of patients under the age of 40 prefer to communicate via SMS. Additionally, sending text reminders to stay top of mind is key to ensuring your schedule stays full and your office has fewer no shows.
Improve Your Dental Office Text Messaging Strategy with Mass Texting
Adit's mass texting capabilities allows you to send texts to patients in bulk. Our customers find our platform and texting features easy to use and are able to send text messages for several types of sms campaigns like:
Promotional offers
Holiday wishes to all active patients
Office closure texts to all patients who had an appointment on a specific day
Reschedule follow up for those patients who are overdue for an exam
Procedure follow up texts to all patients who conducted a specific procedure
Unscheduled treatment follow up to all those patients with an open treatment
Post-appointment thank you messages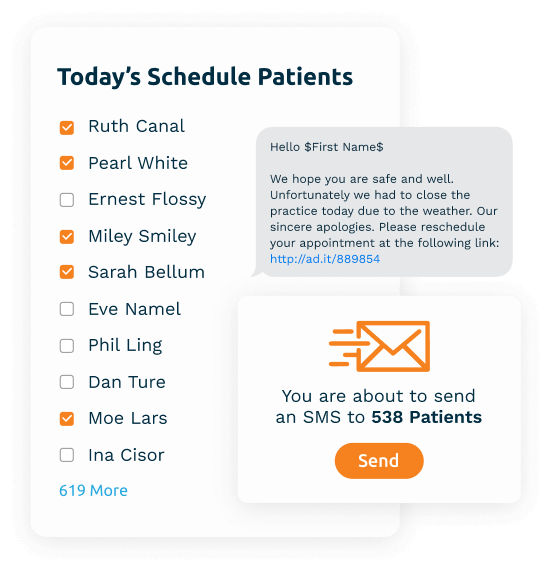 Automate Appointment Reminders & Reduce No Shows
Over 90% of texts are read in the first 90 seconds. Dental practices that understand this key behavior can dramatically reduce their no show rate and stand out from their competition. Adit lets your team schedule automated sms reminders to your patients so they don't forget about their appointment. If patients need to reschedule, they can respond and automatically update and your office, giving your team time to reach out to other patients on your waiting list.
Engage Patients with Two Way Texting
Most new patients book appointments from their mobile device. Adit's two way texting feature allows your front desk to respond to appointment requests and quick questions in real time from their computer or smart device.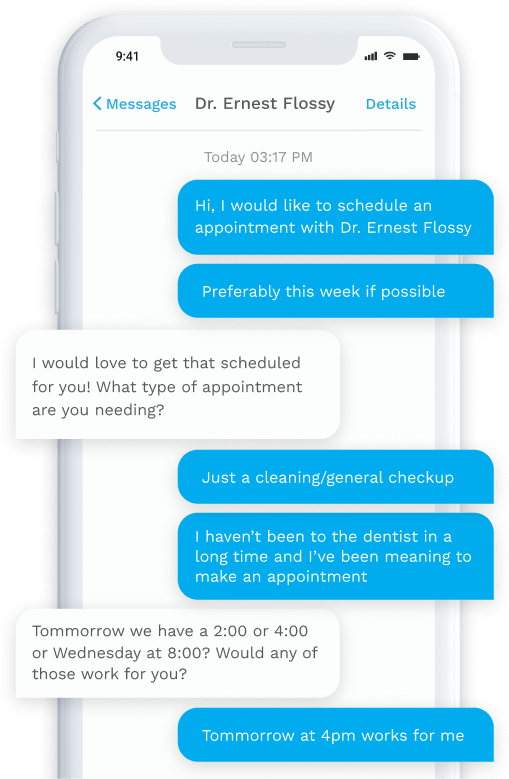 Increase Positive Reviews
Offer the communication option they prefer, and patients will reward you with loyalty and recommend your dental practice to their friends and family. Additionally, Adit's texting software lets you send your patients a customized text message with a link to leave private feedback and generate positive online reviews.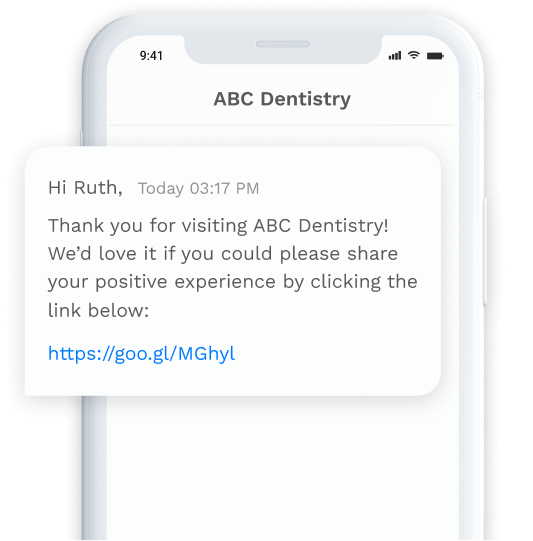 HIPAA Compliant
Dental Software
Adit integrates with most Practice Management Software. These include but are not limited to Dentrix, Open Dental, and Eaglesoft. With the HIPAA consent tool, you can text a patient asking them to reply "consent" to receive personal health information (PHI). Their account is then labeled as HIPAA consented, so you can exchange PHI in the future without worry.