Performance Dashboards
See how your practice is performing and put the right metrics in front of your staff.

Patient Profiles
Improve your efficiency with centralizing all of your patient data and communication.

Morning Huddle
Kickstart every day with an insightful 15 minutes to go over the key metrics & goals for the day.

Follow Up Lists
Fill your schedule conveniently with lists that show your lost patients, those with unscheduled treatment, and more.
Claims & Collections
Keep track of your claims and the performance of your billing team with Adit's Collections Dashboard.

Year Over Year Metrics
Stuck in the weeds? Get out of the day-to-day and take an eagle-eyed look at your practice.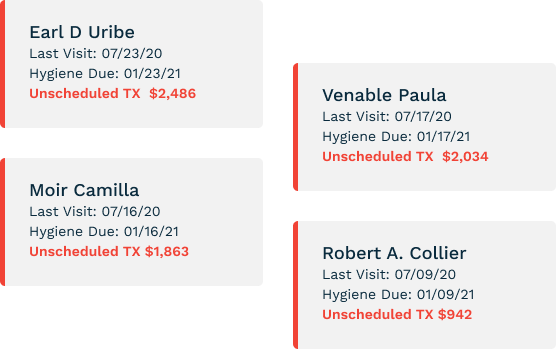 Find Hidden Revenue
Adit puts the right metrics in front of your staff so that they can make the best real-time decisions. Improve production instantly by showing your staff key insights into the day's scheduled patients including unscheduled treatment, unscheduled family members, outstanding balances, and more!
On the phone with a patient? Adit provides real-time insights about the patient to guide your team in their daily patient interactions!