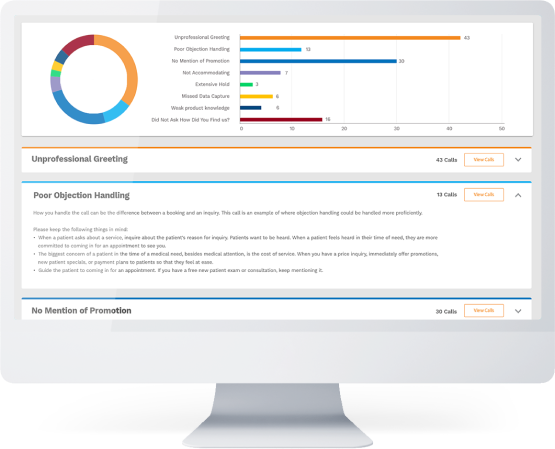 Coaching Opportunities
Provides Your Team With
Areas of Improvement
How much time do you get in a month to listen to inbound calls and coach your front desk? We understand, it's a time-intensive task. Adit listens to all of your inbound calls and provides areas of improvement to your front-desk. This can include providing them a script for answering calls to suggestions on objection handling. We make it our priority to coach your front-office to be the best in converting inbound calls into patients in your chair!
Leads Dashboard Filters Calls Where An Appointment Was Not Booked
On average, a practice converts 22% of inbound appointment inquiries. That means 78% of inbound inquiries do not book an appointment! This can be because of patient hesitation, scheduling conflicts, insurance concerns, etc.
Adit conveniently lists out those calls where patients inquired, but did not book an appointment. This allows your staff to follow up on these open leads and try to convert them.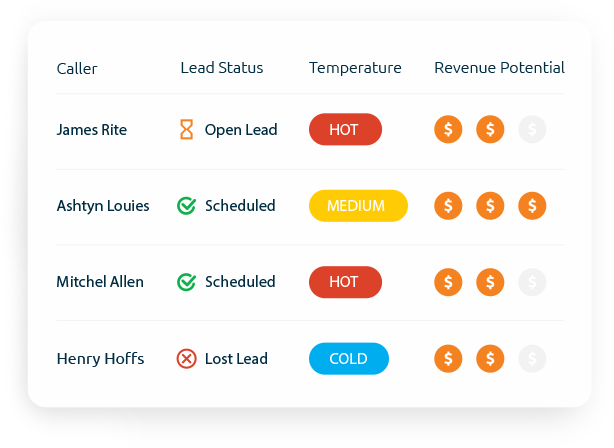 Prioritize Leads Based On Their Inquiry and Objection
Adit shows you which services are being inquired about in each of your inbound calls. This information allows your practice to prioritize those missed opportunities by the inquiry type and revenue potential. For example, it would be more advantageous for your staff to follow up with a Dental Implant lead rather than mouth guard inquiry.
Advanced Insights Show What Hurdles Your Team is Facing in Booking Appointments
Between all of the calls from telemarketers to existing patients, it can be difficult to pinpoint what are the reasons why qualified leads are not booking appointments. With Adit you can clearly see what are the top reasons why qualified leads did not book an appointment. Narrowing down the objections, empowers you to strategic actions. For example, if you are getting a lot of calls where an insurance is not accepted, perhaps you should consider accepting that insurance or changing your marketing strategy.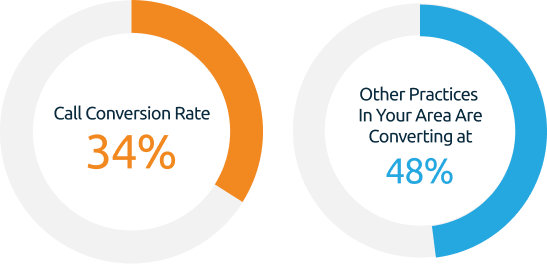 Your Dedicated Practice Coach, Guides Your Team To Success with Industry Knowledge & Insights
While metrics clearly show the problem, it may not always be easy to come up with a solution. Your dedicated practice coach reviews the metrics and analytics and shows you what other practices are doing to overcome similar challenges. Even better, your practice coach puts together scripts and trainings to directly help your front-desk improve!
Over 25K Patients Booked Last Quarter
We Drive More Than 25 Million In Measurable Revenue Per Month
Over 10,000 dental professionals use Adit!
Pozative has generated more than 50K 5-star reviews!