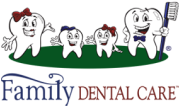 Family Dental Care
Family Dental Care is a general family dentistry with multiple locations in Chicago, IL. They provide patients with an extensive range of services, from regular exams and cleanings to same-day CEREC crowns.
Marketing
Strategy: Family Dental Care wanted to target the local area very heavily. They had a strong review foundation, so we leveraged this along with their promotions and multiple locations to target patients in surrounding neighborhoods via Facebook and Instagram. We also optimized each location's landing page to rank high in search engines for each respective location's target keywords.
Results: Family Dental Care books more than 500 patients a month thanks to Adit's efforts! We acquire patients from multiple mediums including SEO, Google Ads, Facebook Ads, and Instagram Ads all while maintaining a huge website and brand presence.
Creative
Family Dental Care wanted to make their old website more interesting and to push their brand. They wanted to showcase their multiple locations, hundreds of reviews, promotions, videos, and how involved they are in their community. We certainly had a lot of material to work with and started by first making their redesigned site more colorful and easier to navigate for an extensive demographic range.