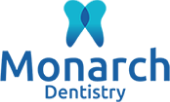 Monarch Dentistry
Monarch Dentistry has 13 dental clinics located across Southern Ontario, Canada. We have created for them a fully-optimized website complete with a patient booking form for all of the locations.
Marketing
Goal: To increase potential customers by promoting their business locally and creating brand value for all 13 locations.
Marketing strategy: We wanted to achieve high rankings for all 13 locations by showing targeted search queries to potential customers and optimizing the current conversion rate.
Results: In the first three months, we have helped the client achieve 75% of their patient booking goals from online marketing efforts.