It's a new year and with it comes to the hope for continued growth and expansion of services for many dental owners. However, in the past few years, there has been a staffing crisis in dentistry, leaving many offices short-handed, losing revenue, and experiencing dropping productivity levels as the challenge to recruit new talent becomes increasingly competitive. A recent survey by DentalPost showed that despite salaries for the year rising, the rate of this rise didn't keep up with the current inflationary market.
As things stand right now, the American Dental Association said that a quarter of surveyed dentists it surveyed reported they had at least one key administrative position open, and a whopping 90% stated that recruitment was extremely competitive.
The biggest question these findings raise is how dental practices will thrive under these conditions. While many offices had some success offering higher-priced compensation and benefits packages, as well as clinic owners cutting their own pay to accommodate higher wage requests, data indicates clinic owners will need to offer more than a decent wage to attract and keep talent in their offices.
How the Dental Industry Went Into a Staffing Tail Spin
To understand how your dental clinic can navigate the latest staffing challenges, understanding how the industry ended up in this position is essential. By the end of 2020, the COVID-19 health emergency forced approximately 198,000 dentists and hygienists to suspend their services.
A year later, 2021 quarter-four estimates had employment in this sector higher than pre-pandemic trends, but increased patient volumes still left offices woefully understaffed. This finding was largely due to consumers returning for postponed oral healthcare treatment and gaining access to expanded insurance coverage.
Still, the staffing shortages across the United States and much of the world are about more than just patient demand. Dental professionals are also a factor to keep in mind, especially when over 40% of those in the medical field are leaving their current positions for greener pastures and increased fulfillment in their careers. This seems to run contrary to the assumption it's all about health benefits, vacation time, and an attractive salary.
This survey highlights the growing issue of industry disenchantment in dentistry and how the uncertainty of the pandemic may have affected some employees' views about returning to work two years later or taking an early retirement instead.
Attracting, Hiring, and Keeping Top Dental Talent in 2023
If your dental office is struggling to acquire new talent, there are several ways you can recruit more effectively and develop a strong working relationship they wouldn't dream of leaving. The toughest challenge you'll face is finding candidates who are actively seeking a new position or would be open to considering your practice.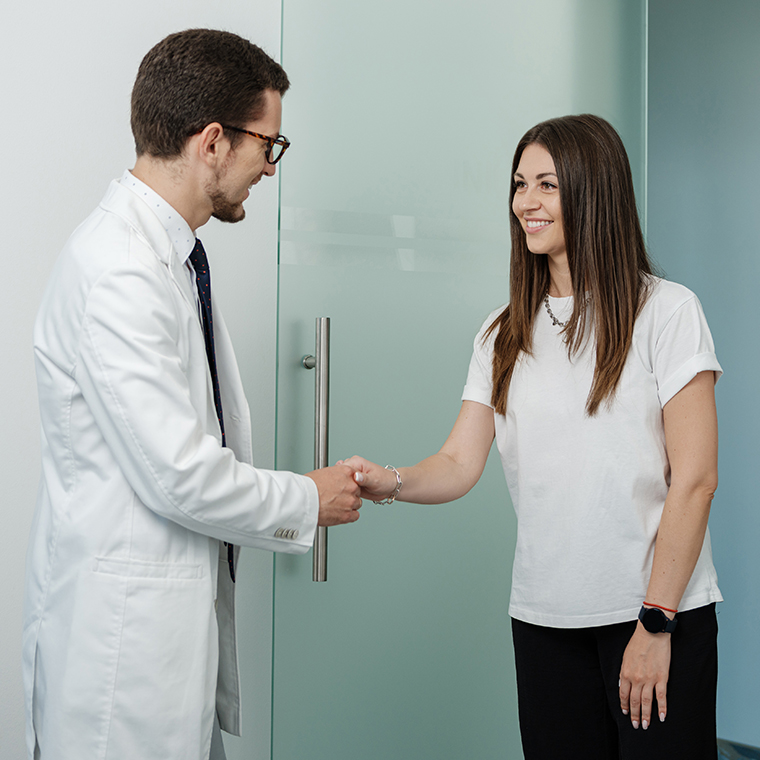 Below are three essential best practices to recruit, hire, and hold onto your new hires:
Redefine What Compensation Looks Like in Your Office
The first area that could probably use an overhaul in your hiring process is the compensation and benefits package you're offering. When assessing how your offer would stand up to comparable offices in your industry, consider the following:
Incorporate perks and benefits that offer non-monetary approaches to rewarding your employees. (Flex days, gym memberships, education grants, etc.)
Don't take a cookie-cutter approach to benefits but offer some flexibility to meet the needs of your team.
Research current market rates for wages and adjust if your compensation offers are underpaying.
Connect with your team about what compensation and benefits changes they would like to see to give you a better idea of what your candidates expect.
The latest staffing shortage has been going on for nearly a decade, though its intensity has certainly ramped up post-Covid. Create a long-term plan to address your clinic's staff needs to ensure your office can provide hiring packages that attract and nurture loyalty from your team.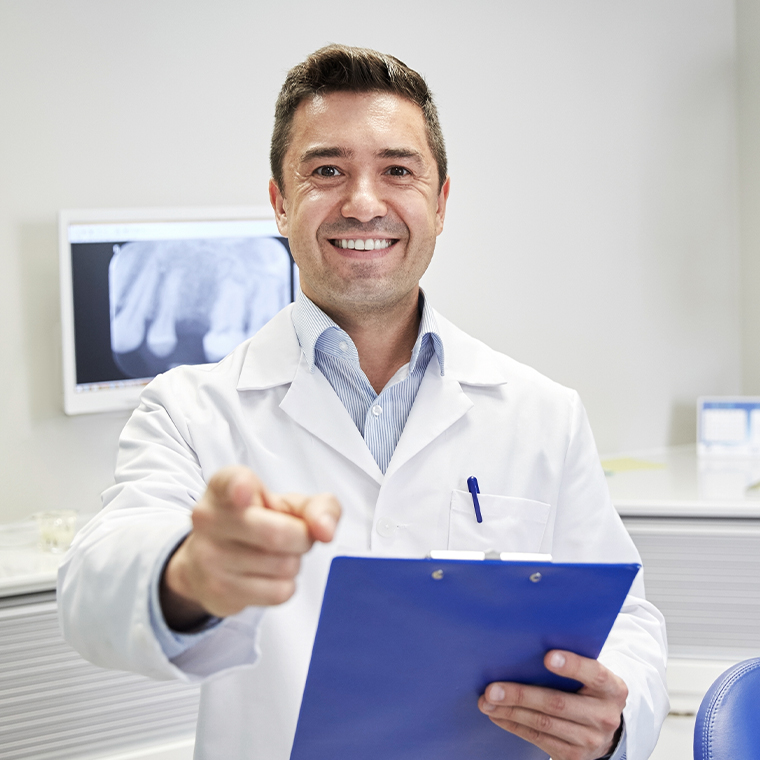 Stabilize Your Current Team
While hunting for new talent, it's vital you create a work atmosphere that is balanced and fulfilling. Dental offices can quickly become overburdened and stressful when team members shoulder an unbalanced workload and lack the necessary support to operate efficiently. This can exacerbate the stress and anxiety of having enough staffers in your practice.
If you're noticing that your front desk staff seems less than enthusiastic with patients or your hygienist seems dissatisfied with their career, this is a red flag they might be disengaging. This can lead to a disconnect in how your brand is communicated to your patrons and discourage job candidates from pursuing a career in your office.
Regularly speak with your staffers about any concerns or suggestions they have about how to improve the overall work environment. Simply pointing out that recruiting staff is especially challenging isn't enough. This doesn't offer solutions but excuses and could leave your team members feeling as if you don't understand their job role or the experiences that come with it.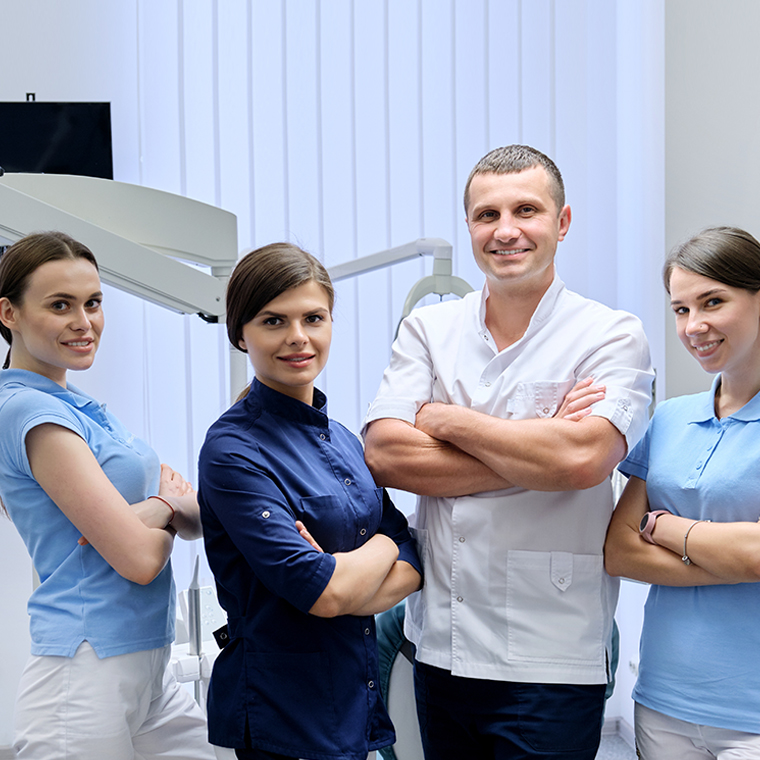 Balance and Streamline with Dental Practice Management Software
To keep your dental office running smoothly with fewer hands on deck, you and your team must identify ways to create operational and administrative efficiency. Whether you develop new processes for creating a more intuitive scheduling experience or want to go paperless, a tech-forward practice management software solution can support your efforts in many ways: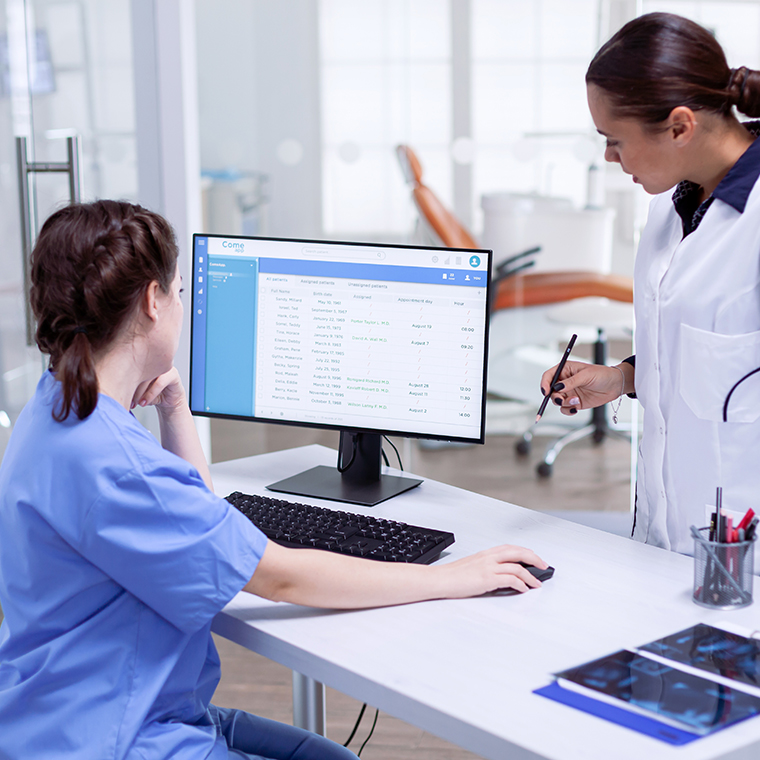 Smart Scheduling
If your front desk or scheduling team spends several hours a day booking, confirming, and following up on appointments, an online scheduler that syncs with your internal calendar can reclaim much of this lost time. Not only will patients be able to book and manage their appointments in real-time, but PMS platforms like Adit offer schedulers with mobile access, so your patrons can book from anywhere at their convenience.
Automated scheduling means more patients in the dental chair and fewer no-shows and cancellations because it automatically updates. This means abandoned appointment times can be filled sooner by other patients without your team needing to pick up the phone and reschedule them.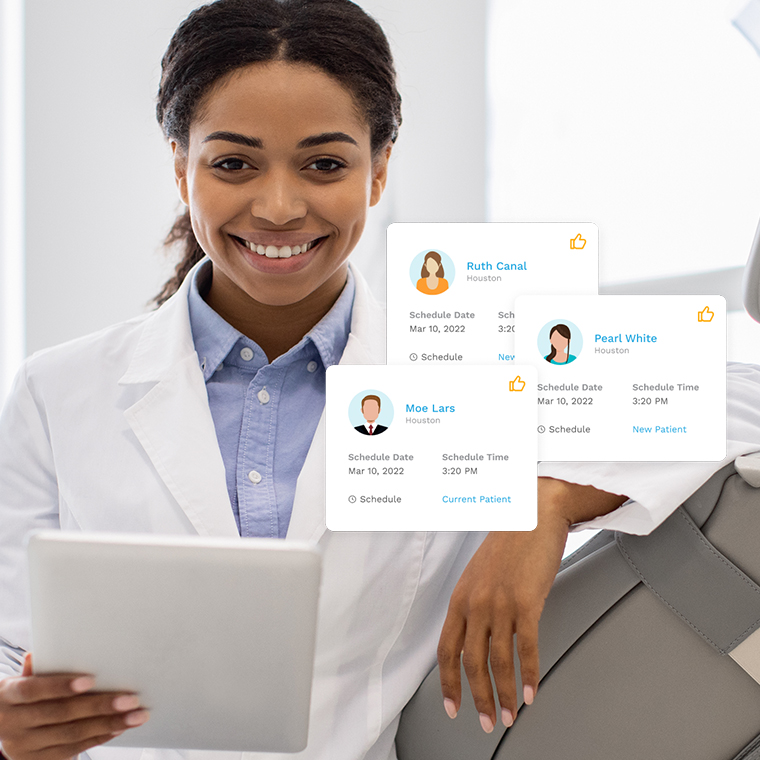 Streamline Patient Intake
If your office struggles to keep lobby wait times to a reasonable length, it might be partially due to your team still conducting a manual intake process. Instead of telling patients to arrive ten minutes early to complete paperwork and wait on your team to verify their insurance, consider transitioning to electronic patient forms. This PMS feature can be completely automated according to your booked appointment schedules by sending these forms directly to your patient to fill out online from home or via a favorite smart device.
Not only does this approach to patient intake eliminates the possibility of personal health information falling into the wrong hands, but you never have to worry about this data being misplaced. Everything is centralized in the Cloud and can automatically upload specified
information fields into the patient's record as soon as your system receives it. Imagine the time saved!
Manage Your Operations Under One Umbrella
It's not uncommon for dentists to rely on multiple software solutions to manage both administrative and clinical operations. However, having several different platforms can lead to information becoming siloed, add more cost to your monthly overhead, and may create cumbersome processes, including multiple software logins to access features.
Instead, choosing an end-to-end cloud-based practice management solution like Adit will create an efficient workflow that doesn't have external programs causing bottlenecks. Consolidating the many features your team relies upon a single software suite decreases time sunk into unbillable tasks and boosts patient experiences since your team has more time to focus on oral healthcare.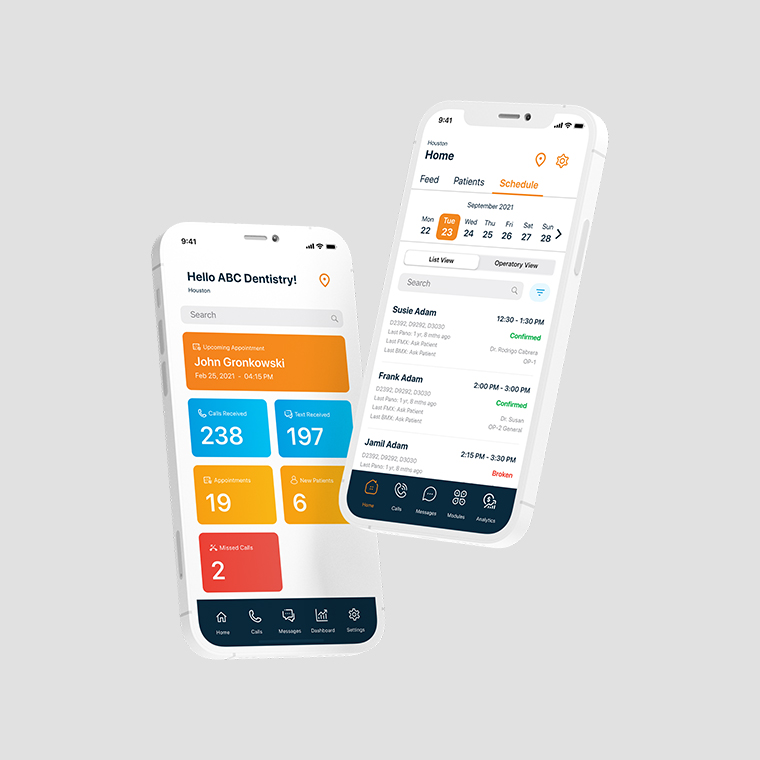 Centralize and Automate Communication
Balancing the workload in your office involves more than simply streamlining charting and billing duties. Communication in your office and with patients is often time-consuming when the right tools aren't in place. For example, if your front desk team has to constantly stop what they're doing to track down a team member for information, an internal chat feature could eliminate this issue.
A VoIP (voice over internet protocol) phone system can populate patient EHRs when the phone rings and completely automate your reminder, confirmation, and recall processes. With integrations like Adit Voice, your team can send a batch text message reminding patients about everything from an upcoming holiday your office is closed to customized messaging with a link to your online schedule to book a follow-up appointment.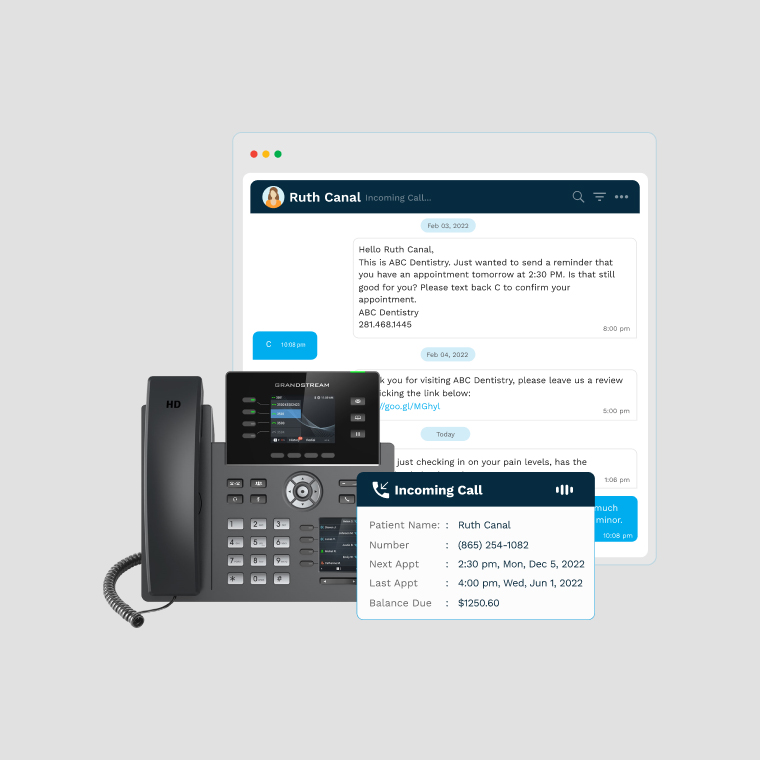 Track How Your Dental Office is Performing
Another important aspect of balancing and streamlining your dental practice involves knowing how your practice is performing. Understanding production per employee and the popularity of some dental procedures versus other treatments can help you identify areas of your clinic that are struggling and determine what solutions would be the best benefit.
Also, consider incorporating a practice analytics feature like that provided by Adit, which gives you an instant snapshot of essential key performance indicators for your office. Use this information to work with your existing team to stabilize workflows and better define what staffing is needed.
Future Proof Against Staffing Shortages in 2023 with Adit
The current dental staffing shortage doesn't have to be a constant cycle of transitioning roles and workloads if you have the best digital practice management solutions in your toolbox. While it's important to recognize the employment crisis presents significant recruitment challenges, creating a work environment that helps your team to be more empowered and balance workloads will prove attractive to new and existing employees.
Adit has developed a cloud-based dental practice management software solution that helps your office achieve these goals. Our team designed this solution to empower your office by supporting productivity and workflows with over 15 digital tools designed specifically for the dental industry, including:
Adit Pay
Patient Forms
Adit Voice
Online Scheduling
Appointment Reminders
Patient Recall
Call Tracking
Telemed
Pozative Reviews
Internal Chat
2-Way Patient Messaging
Practice Analytics
And so much more!

Discover the difference Adit practice management software can make in your dental office, and book a free demo to learn more.