Are you proud of your dental practice website? Is it meeting its potential and attracting new patients or customers? Adding the experience of an expert design professional to support your marketing efforts can help you create a great website.
Your Practice Page Should Attract More Patients and Cases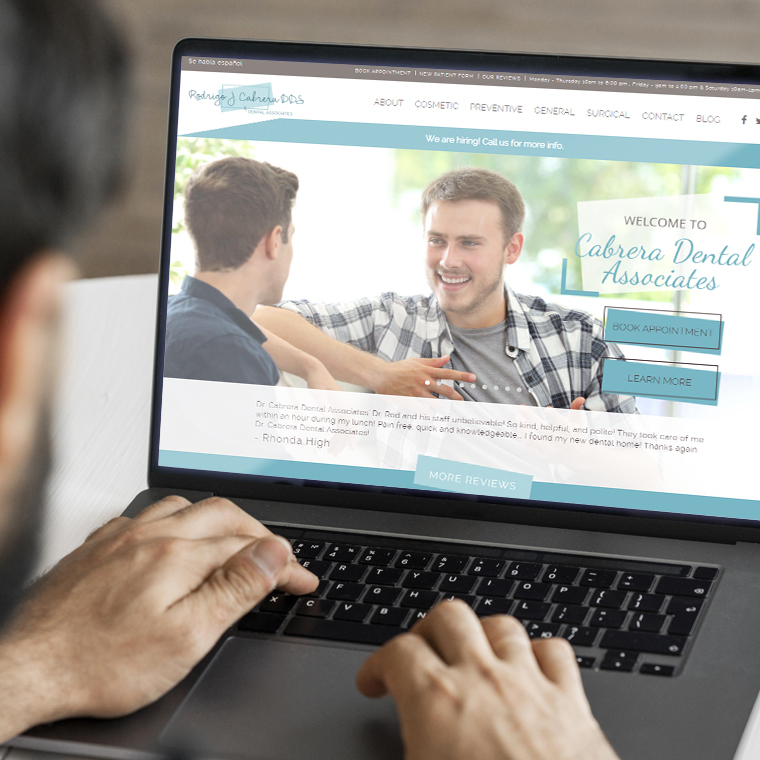 Your website's primary goal should be converting site visitors to booked appointments. Use your website to connect with customers, as opposed to using a generic website.
Designers should focus on user-friendly sites rather than ones that are only focused on statistics or design.
If your website doesn't have the effect you want, perhaps it is due to one or more flaws in its design. For example, the website may have suboptimal architecture, and the content might be too sparse. When a dental website is not performing well, it may be due to 1 of thousands of possible causes. It's best to identify the potential problems and try fixing them to increase the rate of new patients coming to your practice.
Web Pages Should Load within 3-4 Seconds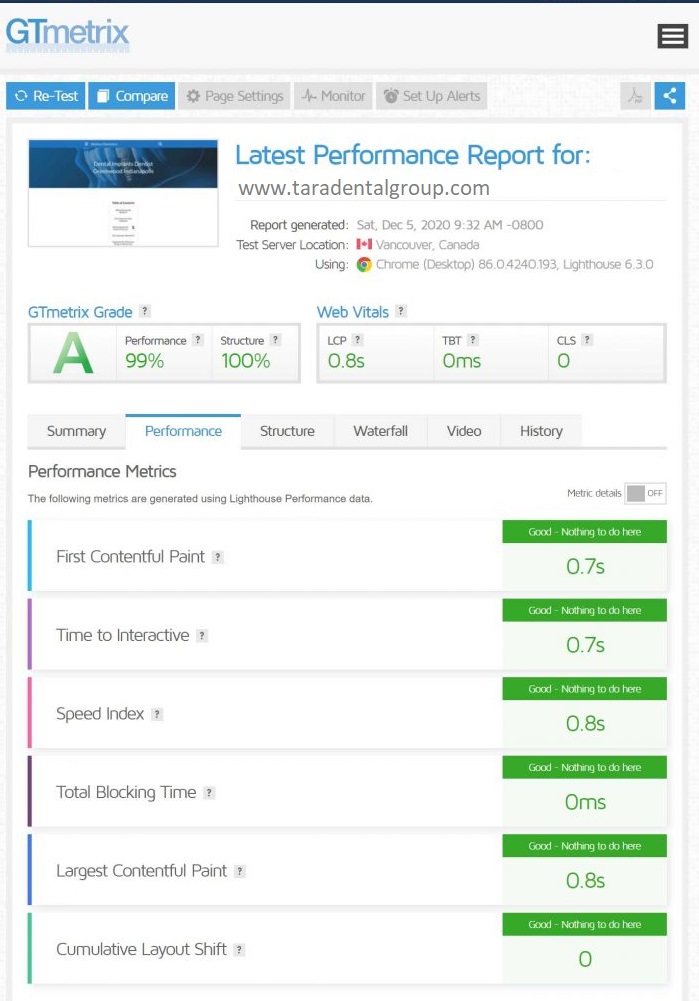 Your website design is only as good as your page load time. People often bounce between websites and pages, which means that load time and page speed are vital considerations. If your website loads slowly and scores poorly on website speed tests, either replace it or fix it. Google prefers sites that load quickly, both on desktops and mobile devices. You want your website to load within 3-4 seconds, even on a slow connection.
If your website loads slowly, it can significantly impact search engine rankings and SEO optimization. Google will rank a site higher if it loads faster, even if the content is very similar to that of its competitor.
Speed equals revenue when it comes to web browsing, especially when a person is viewing the site on their phone. Studies have shown a correlation between the loading time of web pages and your conversion rates.
Prominently Display Your Credentials on Your Practice Page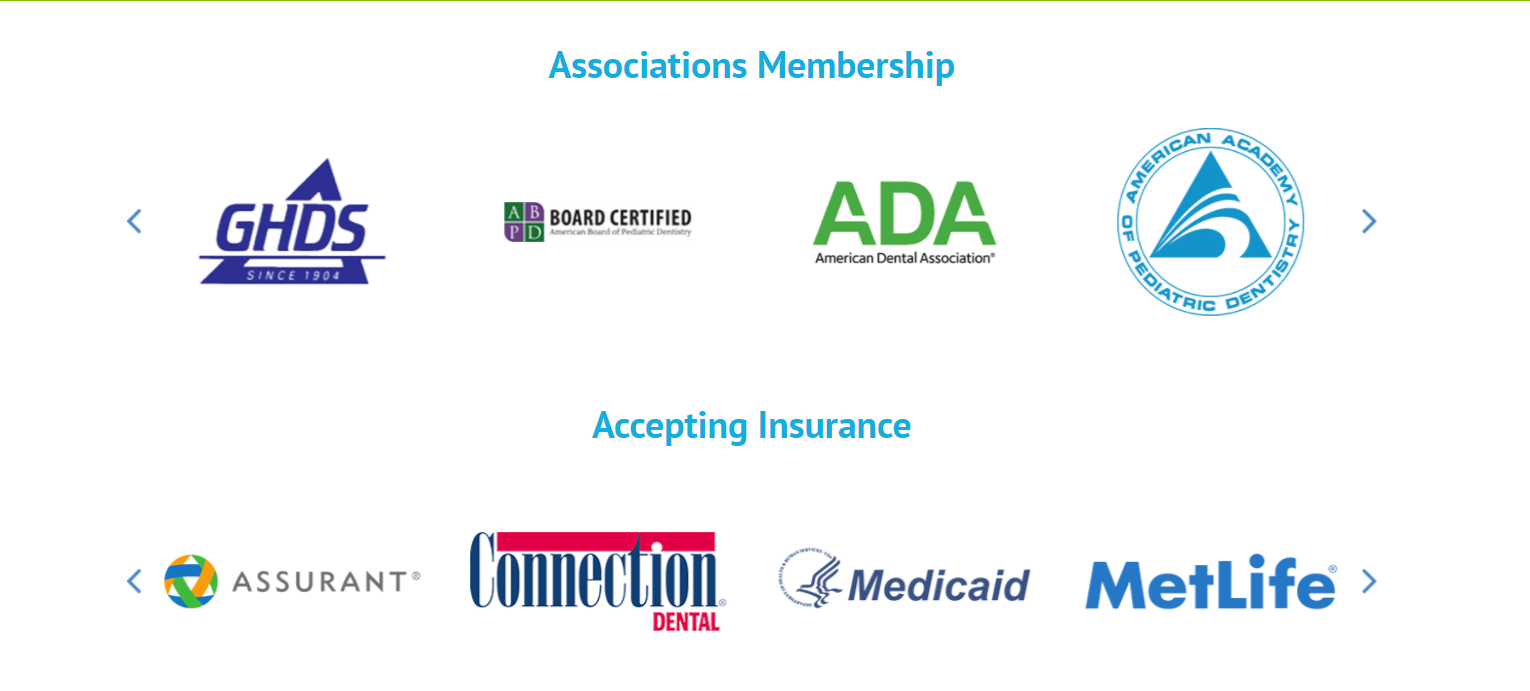 In order to be seen as a credible professional, the best place to showcase these credentials is on your website. Include logos for organizations you're a member of and make them prominent.
Don't bury your credentials at the bottom of a paragraph about your company. Instead, have them easily found on all your site pages.
New patients should be able to see your credentials without them having to search for them. Placing linked accreditation logs on your site will ensure that new patients see these qualifications and feel more confident choosing your dental services.
Expand Your Existing Industry Credibility
Do you have a lot of experience and training about a specific procedure? Have you written any published studies, articles, or papers on a particular area of dentistry? Include content about what sets you apart from others. Record behind-the-scenes videos on the site where you show off what makes you special in a creative way. Convince your patient that your dental practice is full of the care and expertise they need.
Patients will make the drive for miles and right past fifteen other dentists to see a provider they believe meets their needs.
Website Growth Means More Online Visibility
Building an online presence is a difficult task that doesn't happen overnight. It takes considerable effort and a lot of patience to learn, which is why Adit offers website building as part of our comprehensive dental marketing toolkit. However, a reaching online presence is critical because it allows your potential patients to find you, interact with your business, and learn more about what you do.
Keeping your online presence alive is important. The more you emphasize your brand, the more it will be recognized and gain momentum. Your online presence encompasses all your interactions with the web, from social media to blogging. Regular updates make for a more prominent online footprint.
Our team of digital marketers understands that your practice already keeps you busy and is available to handle this crucial aspect of getting your brand out there being profitable. In addition, our web designers and skilled marketing team are proficient in maximizing your online presence.
Use Calls to Action and Testimonials Advantageously

For successful campaigns, call-to-actions must be prominent and should appear in all the right places. Make sure that visitors can find your phone number and other contact information as easily as possible. And they should never have to scroll through the website to locate a consultation request form or button.
Patients typically look online for a new dentist by checking reviews. Google takes factors such as the number of active years in practice, past good reviews, and clinical knowledge when ranking local medical professionals. Online reviews are an integral part of building your business and should be approached as such.
Dentists should automate the feedback and review process because patient experiences are a crucial part of any practice. Adit provides patient reviews and feedback to understand how your practice is performing. In addition, you can use Adit insights to make assumptions about your marketing strategies, including messaging and ads that lead conversions.
Invest in Quality Before & After Photos

In order to have your preferred procedure pages taken seriously, you need before and after images, and they need to be convincing.
Photos of the entire head are better if your patient is willing, and lots of before-and-after images help prove your point. You should do your best to add new pictures frequently. If you can, film before and after examples of your work, patient experiences, and testimonials to include on your website. It will help you stand out from the competition.
Take an Upfront Approach about Your Dental Service Costs
Searches for dental practices often boil down to their pricing. It's understandable if you're hesitant to publish pricing for your services since every patient has unique needs. You can beat your competition by adding a note to your site that price estimates are only general outlines. Patients love to have price transparency and see prices before they come for care. A website with pricing doesn't scare away new patients but rather gives them the knowledge they need to determine a good value for their upcoming procedures.
Add basic pricing information to your website, and Google will reward you by assigning more traffic from shoppers interested in the cost of dental work.
Most other dental practices in your area do not have pricing listed on their website, which gives you a unique opportunity to offer more competitive rates.
What is the Average Cost of Dental Website Design?
Dental website costs vary widely. Instead of focusing on pricing, partner with Adit to create a comprehensive digital marketing strategy that incorporates all the necessary elements of successful branding, not just a practice page.
If you've ever been frustrated with your existing web design provider and the costs associated with switching to a new one, know that there is now an alternative. You can get premium dental website design with Adit.
We offer quality websites that give you fast and effective work. Our team doesn't just build websites but designs them for maximum SEO optimization to show off your brand loud and clear. Our web design for dentists is customized to suit their needs and target audience. This produces top results, which can be converted into revenue through our online tools.
How Can Adit Create a Dental Website Design that Fits My Dental Practice?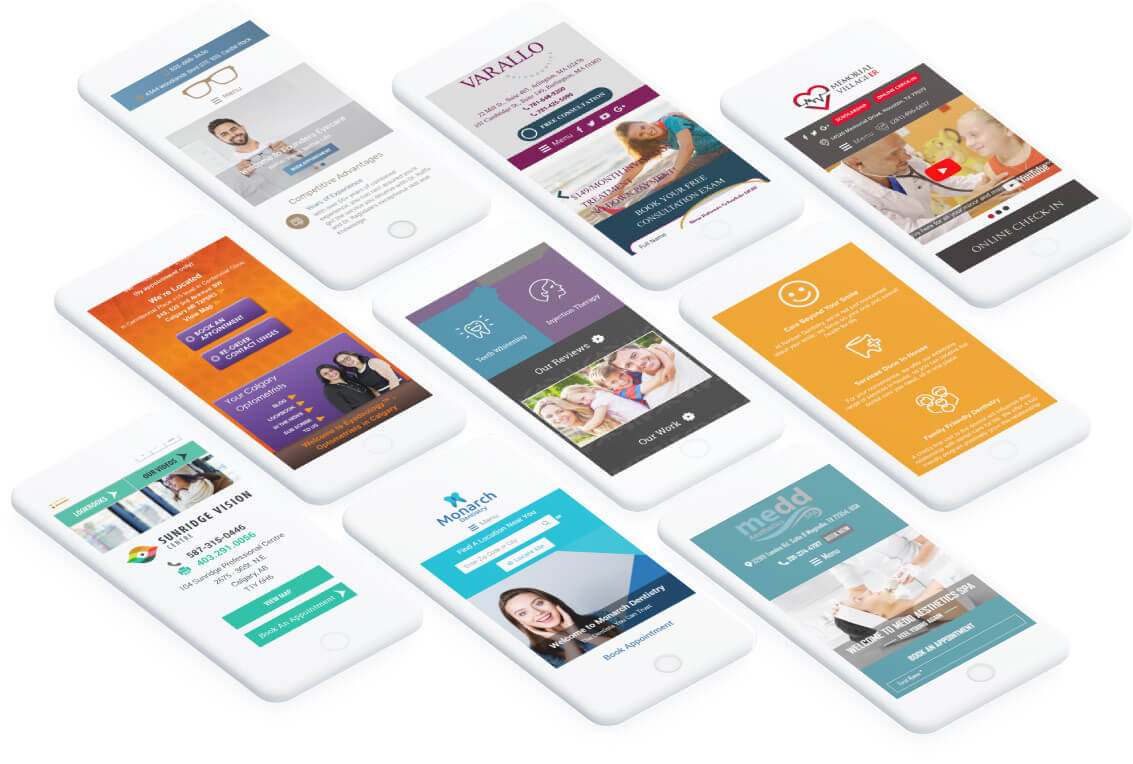 Adit creates aesthetically appealing premium websites that establish your brand identity in the minds of prospects and patients. At the same time, we structure your site to drive traffic effectively and convert visitors into booked appointments.
How can we help you create the perfect design for your website? Check out what sets us apart from other digital marketing agencies:
We Get Results and Can Prove It
Adit is the most up-to-date in digital marketing and provides clients with access to cutting-edge solutions. Adit also has years of experience satisfying large enterprise needs. We invite you to review the many case studies that show the results we get for our clients. You can learn more about how satisfied our clients are through their own testimonials about how our services helped them achieve sustainable growth, streamline their operations with automated tools, and boosted their revenue streams.
Transparent Progress Reporting
Transparency is imperative to your success; you need to know what's working and what isn't. Adit provides an all-inclusive online solution to help you evaluate your digital marketing campaigns and presence on the Internet. Adit will save you from logging in to multiple sites or having to go through time-consuming spreadsheets. Our platform provides you with a complete and easy way to run all of your data, analytics, and marketing in one place.
We also provide you with monthly metric reporting, and your assigned dedicated practice coach will go over the numbers with you and answer any questions you have when breaking down this data.
A Track Record of Success
Adit only provides qualified and experienced web designers. Check out our reviews and testimonials from satisfied dental practices.
We are Top Digital Experts
Most digital marketing companies that grow their business allocate at least 35% of their staff for sales or marketing. Meaning a third of their staff focuses solely on acquiring new customers, not serving existing ones. At Adit, we are committed to the success of all our clients. So, 95% of our staff works exclusively with current clients to help them grow their businesses. We put a lot of effort into taking care of our customers, which is why we only hire the best.
Consequently, the success of your career also helps our organization grow. The majority of staff at Adit are rewarded for their work based on the success of clients. Meaning if our clients succeed, each and every one of our team members does as well!
Local Area Exclusivity
We provide exclusive marketing to our clients in a specific market area. We want your practice to be the only option for customers in that region. We cannot accommodate requests for clients that pose conflicts with our existing ones. Avoid web designers and digital marketing agencies which do not offer exclusive rights in a single area.
We're Process Oriented
Adit is a scaling organization. In order to scale, we invest time in developing new systems and processes.
We've already eclipsed the difficulties most small content marketing agencies experience. However, for our company and its clients to grow, we understand that new processes must be productive. As a result, we are keen on efficiency. We will provide you with speed and proficiency in record time at reasonable prices, helping your practice thrive.
Innovation Drives Us
In addition, we put the majority of our revenue into training and caring for our employees. To stay ahead of the curve and continue to innovate for your dental practice goals, our staff constantly trains, researches, and innovates.
As our company grows, we invest more and more time into building software or service-based solutions that will help your practice flourish. These include our recently-released products such as Pozative, Call Tracking, and Online Scheduling.
We Never Settle
At Adit, we always want to be improving. One of the most important things in our industry isn't just beating out the competitions but continuously improving to impact our clients' patients. As a result of Adit's growth, our R&D budget is growing faster than our profit margin level. As a result, we've been dedicating more of our resources to improving the quality of our team, processes, strategy, and technology.
Patient Booking Guarantee
We guarantee our clients will be satisfied. Our marketing program profits only when you've made a return on your investment. In other words, we set up a quota that keeps your practice in the green before you pay any money to us.
To learn about our Patient Booking Guarantee program, schedule a free demo today!
Discover Adit's Dental Website Design Services
A website should be tailored to your brand for maximum exposure. When browsing the Internet, you've likely come across websites with robust features. Inspired by some of these top-notch services, we're happy to offer customizable dental website design.
Website design can be overwhelming at first and has a steep learning curve. The good news is that you don't have to do it alone. Trust Adit to not only handle creating a dental practice site that is fast, intuitive, and chock full of features your patients will love but also gets the best ROI possible with SEO optimization of its content.
We have the experience and resources necessary to support your dental practice's long-term patient growth. Contact us today with any questions or for more information about how we can help you succeed!
Request your free demonstration today!