Whether starting up a new practice fresh out of dental school or have spent years growing your dental clinic into a multi-office franchise, you may be considering ways to delegate some of your day-to-day duties. Having professional support to handle your administrative responsibilities and marketing strategy could be just what your office needs to excel.
A dental service organization (DSO) is a corporate solution to manage many aspects of your practice so you can focus your efforts on your patients. If you're unsure about what exactly a DSO does and if it fits your practice's demographic, read on to learn more about these companies and why dentists are joining these large dental groups.
What is a DSO?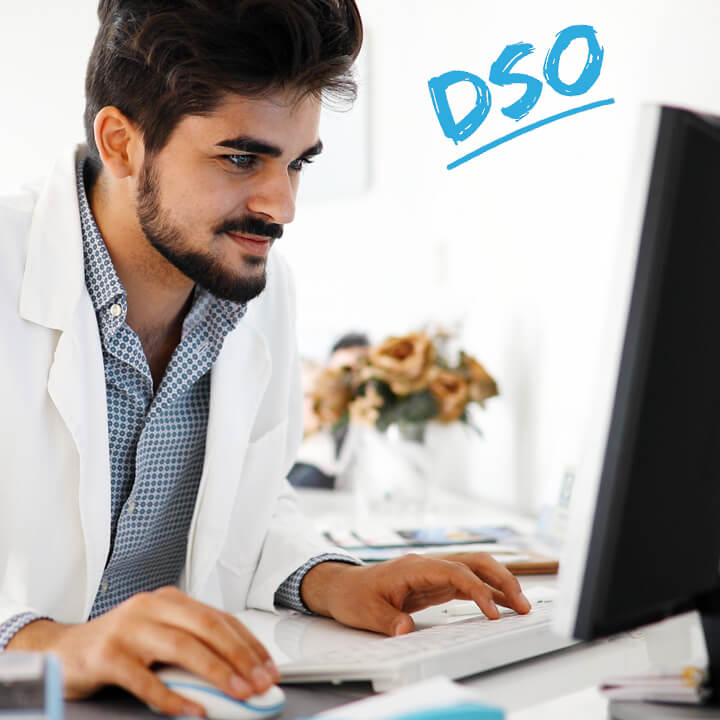 A DSO handles the administrative side of your dental practice. To establish this partnership, you could sell your clinic to one of these organizations, set up a service contract, or partner your clinic. Any of these situations can provide you with a more flexible dental practice management experience. Agreements made with a DSO are completely customizable though many of these organizations have a standard arrangement.
The ultimate goal of teaming up with a professional support company is to create a streamlined administrative process that the DSO manages. This relationship empowers you and your staff to create outstanding patient experiences because the administrative workload is no longer on your plate.
What Makes Joining a DSO Attractive to Dental Professionals?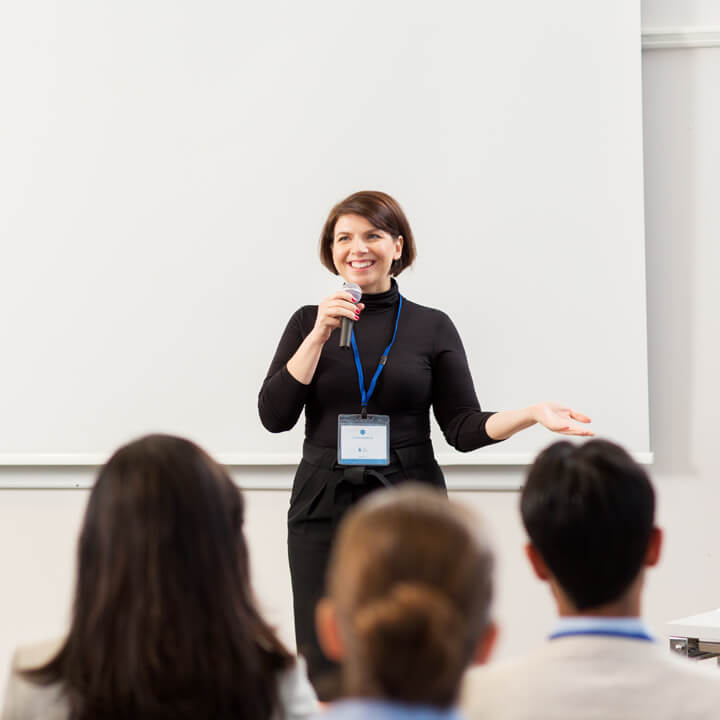 For many dentists, the ability to focus on patients can get disrupted throughout the day because of administrative tasks and everyday operational challenges taking up their availability. So, a DSO's ability to manage these challenges is an appealing benefit to many dental professionals.
But, what draws dentists to DSOs really depends on their current career circumstances. Maybe you're fresh out of school and have significant tuition loans to repay. The idea of starting up your practice from scratch may seem like a fantasy because of the investment required. Plus, you have the stigma of being fresh in the field. DSOs give you a shortcut into the industry and can help you pay down your loans sooner.
From an established dentist's point of view, a DSO may be an ideal partnership to consider as one nears retirement from dentistry altogether in the near future. One could limit their availability to part-time hours and let one of these organizations handle most of the business responsibilities that come with running a practice.
These are just a few of the reasons why DSOs have gained popularity over the past twenty years and continue to grow. However, it's important to understand the DSO demographic if considering selling your practice to or merging with one.
Comparing the DSO Demographic to Your Practice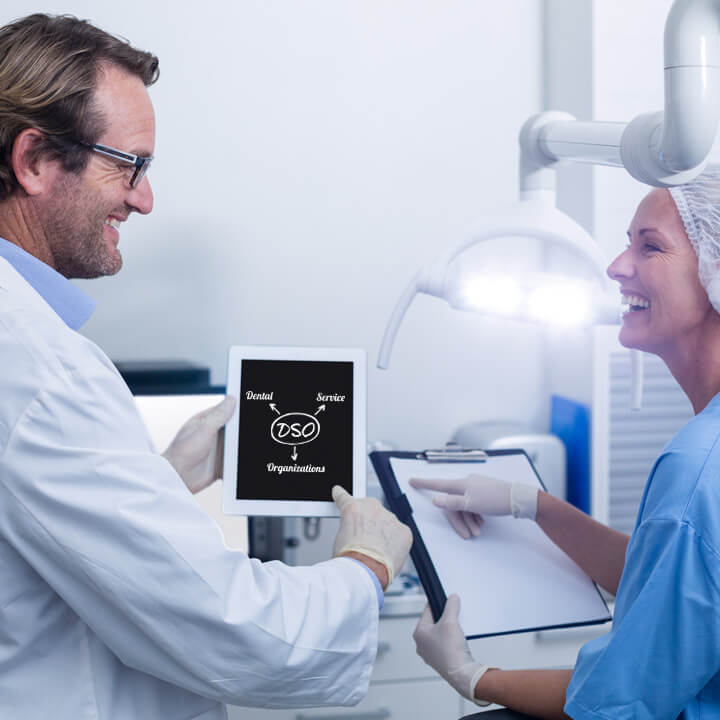 When thinking about DSOs, focus on what these organizations do well. While assessing these qualities, compare your practice's capabilities and whether incorporating the features you lack would make a difference in your ownership experience.
DSOs Understand the Business Side of Dentistry
You went to dental school to become a dentist, not a business major. DSOs specialize in business management, so these organizations understand metrics and can make critical decisions without emotional attachment to the practices they manage. Being able to approach running your practice as a business owner instead of only viewing your financial goals with the mindset of a dentist is challenging.
If you decide to partner with a DSO, it will know everything about your competitors, including profit and loss numbers, patient demographics, marketing strategy, and more. Can you do the same on your own for your dental practice?
A Culture of Constant Improvement
As a practice owner, how challenging is it to hire top talent for your office? The competition faced by dentists involves more than getting new patients and keeping ahead of other local practices. Hiring team members who share your vision and maintain high performance standards is no easy task.
DSOs, however, have access to some of the most gifted hygienists and dentists in the industry. They have the benefits and perks to attract these individuals and create a dental team you've always dreamt of having in your clinic.
DSOs Can Scale Quickly
One of the downsides to growing a business is that it will have an immediate impact on the capacity of your dental practice. From availability constraints to not having enough hygienists or dentists to meet demand, scalability is crucial to match growth. DSOs already have access to dentists, hygienists, and other dental specialists and can help your practice manage times of expansion without missing a beat.
They Have Mastered Insurance Claims
Does your practice submit insurance claims to only dental carriers? Or, do you have trained billing staff that can process medical reimbursements claims too? Submitting medical insurance claims is a must-have skill your team needs to maximize patient oral healthcare outcomes. DSOs are experts at navigating the complex and often frustrating claims submission process.
Because these companies focus on administrative management, their billing team has the necessary training and experience to know what should or shouldn't be filed as a medical claim. Cross coding is also something you won't have to concern yourself with if you partner with a DSO since their billers handle this process daily.
However, an intuitive practice management software like Adit has easy-to-use billing features that can automate the coding aspect of your reimbursement process and submit your claims electronically to the carrier. This may be a better option to boost your financial strategy than selling your clinic to a DSO.
DSOs Have Significant Marketing Power
Is your marketing strategy adequately funded? Are you focusing on specific advertising tactics to draw in business instead of creating a brand that stands apart from your competitors? DSOs understand that successful marketing requires one to view their ad spend as an investment. They also understand that funding advertising goals early on allows them to control how well their dental practices will profit. This mindset is something you can develop for your dental practice without a DSO's assistance.
Work with a knowledgeable dental digital marketing agency to guide you through the advertising process and develop best practices that support the goals you wish to achieve.
Location is a Crucial Practice Characteristic for DSOs
A great location for your dental practice is important whether you're part of a DSO or not. Your office needs to provide patients ease-of-access, have prominent street view placement, and drive patient traffic opportunities. This business feature could impact your clinic's chances of becoming part of a larger dental group, especially since lack of public visibility is disadvantageous.
But, it's not just streetside awareness of your practice that is important, other features that could hurt your chances of selling your dental office to a DSO include:
Poor or lack of signage
Outdated office features and dental equipment
Having competing dentists in the same medical complex you're renting a workspace
Inadequate parking
The building is in significant disrepair
Dental professionals hoping to partner with or sell their offices to one of these companies need to provide a dental service that is not only remarkable but features modernity.
A Diversified Approach to Dental Care
Most DSOs offer comprehensive dental services for the entire family. This approach is one of the reasons that these organizations are so popular with consumers. Instead of having a separate dentist for one's children and another for oral surgery needs, patients want a provider that operates like a boutique practice.
For a solo or small dental group, offering a highly diversified service model is challenging, if not impossible, due to the investment and talent required. DSOs already have the necessary funding and attractive compensation packages to rapidly expand specialty services in one of their practices.
Phone Calls Never Go Unanswered
Round-the-clock access for patents is a feature of DSOs that your office may be able to match with the right phone system in place. Many of these larger dental organizations have a dedicated call center or answering service to answer calls 24/7 so patients can reach their dental providers when they need them most.
Digital communication platforms like Adit Voice provide a host of benefits for dental patients, support brand awareness, and create a path to achieving financial goals. Accessibility is a highly-valued quality in dentists and their practices. VoIP systems that leverage automation and artificial intelligence will help you gain an edge over competitors providing only limited call availability.
Cloud-based practice management platforms like Adit centralize your office's communication and improve how information gets shared with several innovative features:
Call prioritization
Smart routing
Customized call flows
Cross-module integration hacks
Call tracking
After hours call-forwarding
Is a DSO Model a Good Fit for My Dental Practice?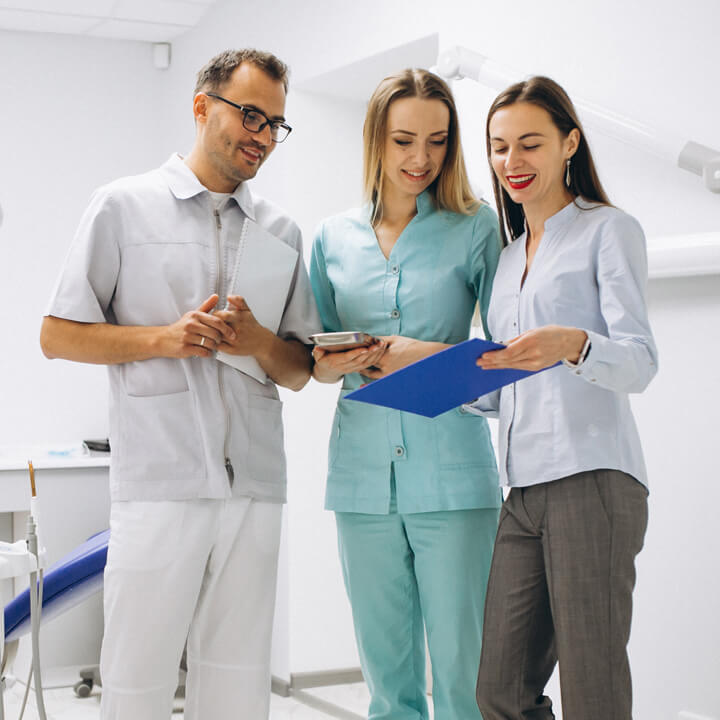 At the end of the day, it's the business plan and vision for your dental practice that will ultimately help you decide to join a DSO or not. Before working with a DSO, first evaluate the different processes and strategies supporting your dental business. You may find that -implementing tech-forward solutions can streamline practice workflows and maximize your profitability.
While it's true that a dental support organization can provide long-term benefits on a quicker timeline, there are significant challenges you might face as a member of these groups, including:
Being locked into an unfavorable contract. Any agreements you enter into with a DSO need to support your goals. A poorly created contract can have costly legal and financial consequences. You could find yourself unable to access promised services and equipment or not receive the compensation you are due.
The costs of joining a DSO can be significant. We recommend hiring an attorney to represent your dental practice when partnering with one of these corporations. You can expect many upfront costs, especially if you want to sell. Those who choose to partner may have to give up a percentage of their ownership stake to help cover the business administration costs the DSO is taking on.
Your profit margins may suffer. Large dental companies are all about their bottom line, and in addition to the initial expense of joining, you might have to pay a percentage of your profits. How much this amount will be depends on what is in your contract. It's not uncommon for a DSO to recoup some of their investment, but if you are a larger dental practice, this cost may still be worthwhile.
There are costs associated with running a practice that you will need to pay regardless if you ultimately join a dental business management group. It's still on your shoulders to keep your calendar full and operations efficient. A comprehensive practice management system will still be key in driving profitability and positive patient outcomes.
Discover the Full Potential of Your Dental Practice with Adit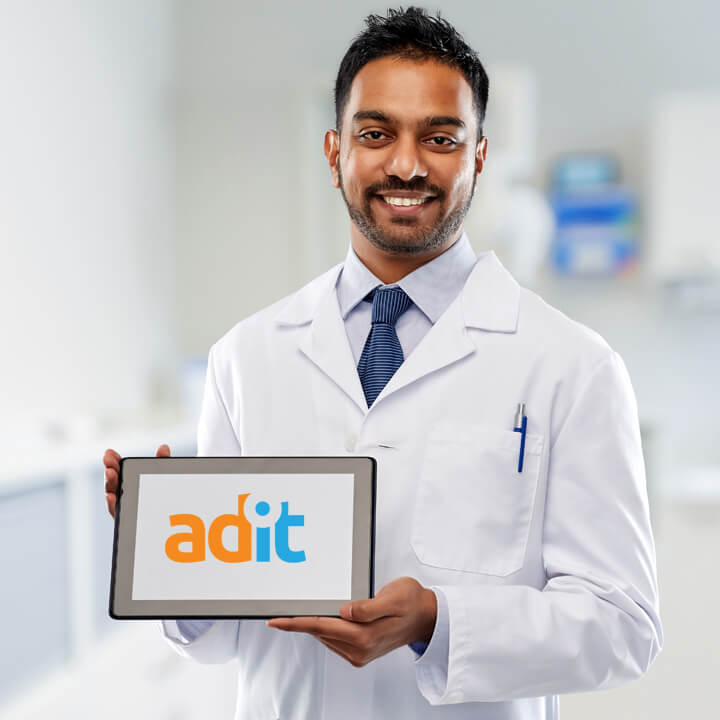 Deciding whether your dental practice fits in with a DSO's business model and demographic will likely be one of the biggest decisions of your career. You want next-level efficiency and profitability for your office, but you may doubt it's possible to achieve these two goals without the backing of a larger support network.
Before deciding to sell, join, or partner with one of these large dental corporations, assess your practice for areas of improvement you could handle without a DSO. You may find that the challenges you've been facing could be better managed with a modernized practice management system instead.
At Adit, we help dental professionals and practice owners achieve their patient and financial goals with our 15+ innovative digital management tools designed specifically for your industry. We understand dentistry and the fierce competition you face to establish a successful practice. Our platform provides next-level scalability to meet the challenges your team faces every day.
Centralize your communications
Automate routine tasks
Provide in-depth practice analytics to guide marketing and financial decision-making
and learn how our state-of-the-art dental management software can streamline your workflows to build stronger patient relationships and outcomes.