Some of the problems that dental practices with limited time or management tools face include missed appointments and follow-up calls to patients for further treatment. These significantly impact your revenue and are lost opportunities to improve your brand's visibility. Dental patient recall systems are a simple solution that can address these issues and many others that plague busy dental offices.
The built-in automation that comes with this type of software automates recall processes and notifications, which enhances how you manage your practice.
The Basics of an Effective Dental Recall System
The primary reason a dental practice implements a patient recall system is to ensure continuous support of patient care, retention, and minimizing no-show rates. This is achieved by communicating through various channels, including SMS messaging, phone calls, email, or a dedicated patient app. It also eliminates the need to manually review patient treatment records to determine if they are due for a check-up or overdue.
Dental patient recall systems come with a host of advantages you should consider to enhance your current practice management. Below are some of those benefits:
Boost Your Dentist-Patient Relationships
Patients want to feel valued, and reaching out to ensure their oral health is up-to-date and treated shows this care. Through an automated recall system, like the type ADIT provides its clients, this process is streamlined and requires less effort.
Improve Your Dental Patient Retention Rates
With a dental patient recall system, you are better equipped to provide the best possible care to your patients. Whether they are new, existing, or prospects that called for general information, you can set up automated notifications to these patients. This saves on time and allows your office to dedicate more productivity toward patient experience at your office.
Further, Reduce No-Shows and Missed Appointments
Whether your patient is a lawyer, a clerk, or a stay-at-home mom, their schedules are hectic. It's easy to forget about upcoming appointments or opt not to bother showing up because life gets in the way. ADIT and other digital marketing agencies have found that when reminders get automated, the rate of no-shows happening drops significantly. This means you minimize the number of billable hours you're missing out on!
Even better? ADIT's dental patient recall system makes it possible to eliminate the need for your team to go through the time-consuming process of calling patients' individually to remind them of their upcoming appointments. Now your workflows get streamlined and patient experiences improved when visiting your office.
Dental Patient Recall Systems Saves Time and Money
One of the biggest misconceptions about a recall system for dental patients is that it's a significant investment. The reality is that you actually save time because of the automated features it provides. For example, mass or individualized automated texting, follow-up appointment reminders, and more all save on time. And you know what time is in a dental practice? An opportunity to make money.
Don't waste productivity mailing reminder postcards and performing manual recalls. Instead, make it possible for your front desk staff to have more availability to upsell your services and engage with patients.
Best Practices When Enhancing Your Practice with a Dental Patient Recall System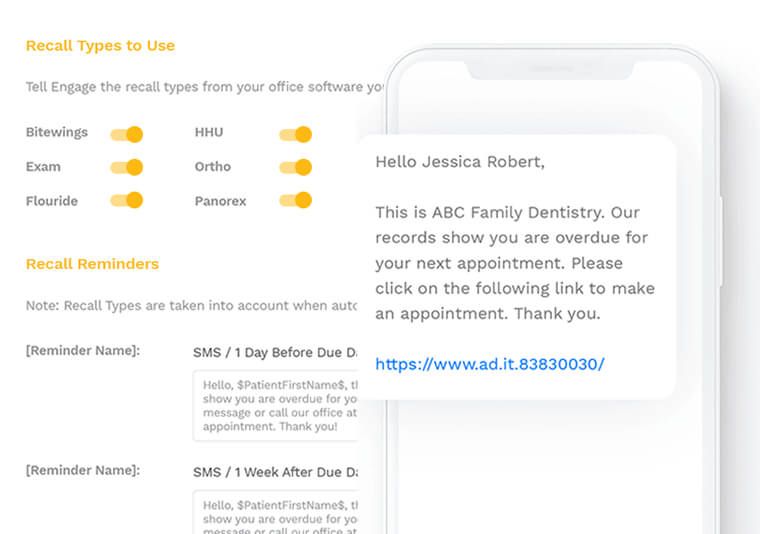 To further boost the overall success of your dental practice, you need to use automated patient recall and retention practices effectively. You need a system in place that improves your relationships with your patients and keeps them returning for more care. Your recall system should also have an impact on patient referrals and your practice's growth.
Below are some best practices that will ensure your dental patient recall system will help you retain your patients and boost your revenue:
Be Transparent with Your Patients
Patients want a dental provider they can trust, which means you need to operate your business with integrity and transparency. The relationships you forge should last a lifetime. To achieve this level of trust, you need more than one-time appointments.
This means you need to provide superior service and guidance that meets their oral healthcare needs. However, finding the right balance will also give your patients a level of satisfaction they can't stop bragging about and keep them returning again and again.
Make Early Bookings Routine
Don't wait until after a patient has left to book future appointments. To ensure they come back, always set up their next visit before they leave. While this may be something you're already doing, make sure it's being practiced consistently by your scheduling staff. Even when patients are unsure of their availability, encourage them to book now and reschedule later if necessary.
Your dental patient recall system can automatically send them a reminder and provide a link to reach out if they need to change the date.
You Need to Communicate Regularly
Many dental offices don't reach out to their patients except when they are due for an annual cleaning or exam. Worse, patients sometimes forget why they even have an appointment scheduled! Dental patient recall systems address these problems head-on by providing details about upcoming care. You can even include information on what they can expect during their visit.
Also, when you have your patient in the chair undergoing their whitening or cleaning, take time to discuss their overall oral health. Simply telling them they're all done and ready to go isn't enough. They want your opinion so they can maintain their dental health for a lifetime.
Encourage Patients to Visit Regularly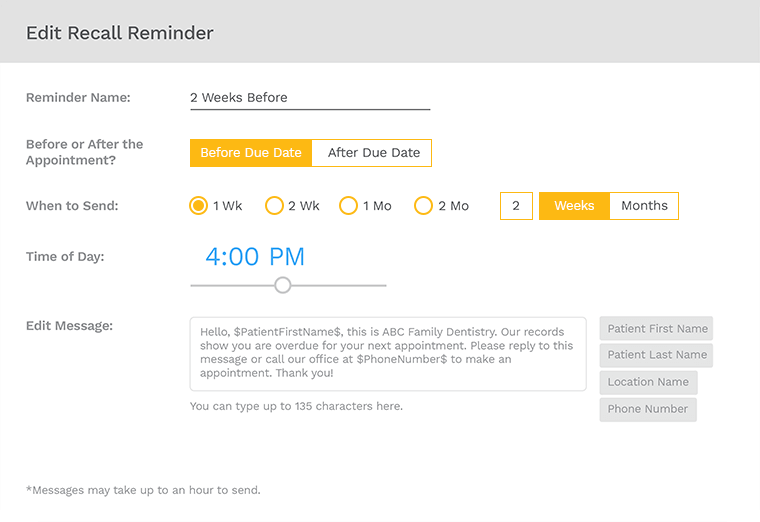 A sure way to ensure your patients are coming to their appointments regularly is with a dental patient recall system. During their visit, let your patients know that the more often they come to see your practice, the better their oral health will be. Send automated reminders about upcoming appointments, care recommendations, and more. You make your job easier in treating their dental issues if they regularly visit instead of waiting until they're experiencing an emergency.
You can also educate them about common oral health issues that arise at certain ages in life. This helps convince them to book regularly with your practice to stay ahead of any serious teeth issues that might arise. Emphasize how much less expensive it is to get treated early than waiting until their condition has worsened.
Improve Patient Recall with ADIT Dental Marketing
You may believe that your current recall rates are well within the industry average, but are you sure you're providing the best possible care? ADIT frequently uncovers significant amounts of lost revenue that dental practices are missing out on. Could this be your situation?
With ADIT's dental patient recall system, you don't have to wonder. You can be sure you're maximizing your profitability through easily managed text and email messaging automation. We provide a fully customizable product that can match your practice schedule. Plus, it easily integrates with online scheduling, so your patients can simply book their next appointment through their mobile device!
Whether you need to send a text message to multiple patients at once or want to create targeted patient lists based on your EHR, we can help you create customized messaging that embodies your brand. Also, discover how our convenient online scheduling integration makes it possible for dental patients to schedule through text messaging!
Request your free demonstration today to learn more about this guarantee and the comprehensive digital marketing strategies and tools we offer!