Evaluating a Voice Over Internet Protocol (VOIP) phone system for dental office phone service can be daunting. With the latest advancements in communication technology, you're likely discovering terms and features you've never heard of before.
You probably already have call waiting, music playing while on hold, and several lines for patients to call in. But, how different would an auto-attendant, custom greeting options, and dial plan editors make in your busy dental practice?
At ADIT, we would wager it would significantly improve your workflow and boost your patients' interactions with your staff.
Factors that Can Impact Your Dental VOIP Phone Service
Prior to shopping around for a VOIP system for your dental practice, you need to evaluate several factors that could impact the quality of your service, including:
User reviews
Overall industry rating
Features included in the cost
Scalability
You also need to determine if your internet provider is reliable and can supply the bandwidth necessary to handle a VOIP phone service.
Features VOIP for Dentists Must Have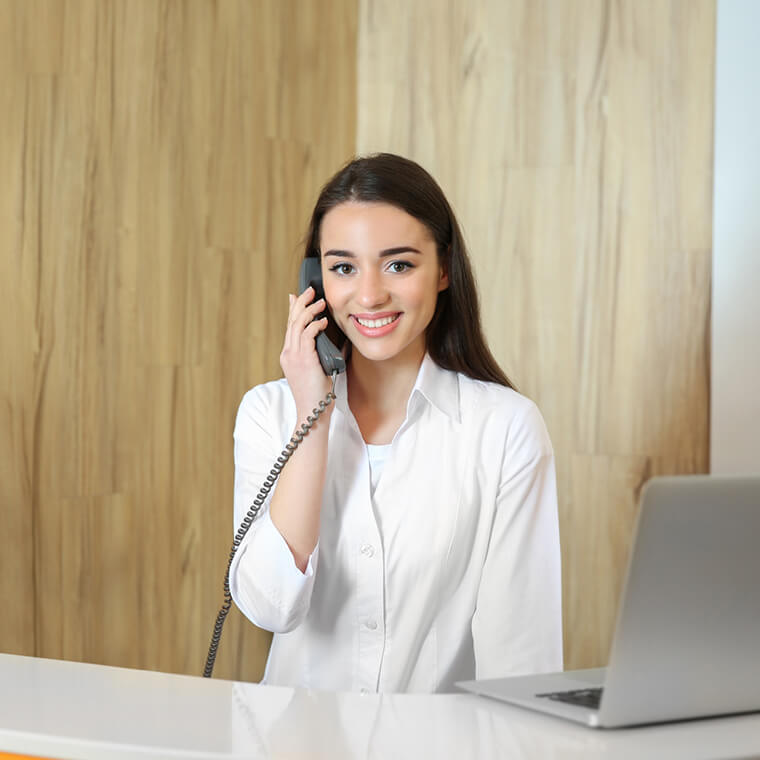 To help you research how the latest dental office phone systems work, we've listed some top features your VOIP should provide. Don't worry! We've also provided a brief overview so you can understand how each will benefit your operations and help you make an informed choice. Keep in mind that these are just a few of many VOIP phone service characteristics.
If you have specific VOIP communication needs, consider reaching out to one of our team members to learn more about the countless customizations available for a comprehensive phone service system for dental offices.
Call Recording for Your Dental Office
A valuable feature of a quality VOIP phone system is the ability to record calls that come into your office. Not only can you play them back later, but you can assess your front desk's ability to provide the standard of customer service you expect when speaking with your dental patients. Instead of only getting one side of the conversation by standing by as your receptionist answers the VOIP phone, you can hear the entire discussion and full context.
This can help you determine if additional coaching is necessary, what marketing aspects need to be addressed when scheduling appointments, and more!
Dial Plan Editor for Your VOIP Phone System
A dial plan editor is essential to creating a master call plan. This feature ensures that you control where phone calls get routed, who should be answering them, and the greeting or information your patient hears.
ADIT can assist you in mapping out your call flows and use automation to correctly guide callers to the contact person or business information they're trying to get. This means your front desk has more time to focus on the patients in your office and pick up the phone less.
Curious what kind of information you could share depending on the option your patient chooses?
Wait times
Auto-attendant information
Team voicemail options
Sounds clips of operational hours and/or services
And more!
As you can see, even when you can't answer the phone right away, there are plenty of techniques to keep prospective patients on the line. From informative oral healthcare tips to important reminders about upcoming product availability and holiday hours, comprehensive VOIP phone service is essential.
Create Customized Greetings
Another way to personalize caller experiences with your dental office's VOIP system is through the use of customizable messages. For example, you can set them up to greet patients automatically when they call. This is important because your brand is unique, whether you're an established dental practice or a new startup. Every point of contact your prospects and current patients have with your office needs to reinforce your company message.
When you get a call, this is your chance to create a meaningful impression. Using a customized VOIP greeting on your dental office phone system can make this a memorable moment that helps them remember your practice.
Streamline Your Front Desk with an Auto Attendant
An auto attendant is a unique feature that uses a pre-recorded message that provides a menu for callers to choose from for every phone call received. Compared to manually transferring phone calls to the correct party, you can imagine how this feature can help your staff make much better use of their time. Further, patients in your dental office get a better experience because there are fewer distractions during their visit.
Being overwhelmed with phone calls and patients is a thing of the past with VOIP.
Create Custom Messaging Schedules
Message schedules are an important function of VOIP because it helps route calls to voicemail or dentists operating on an on-call status. This is particularly useful when your dental office might be closed for the day, but you offer after-hour dental emergency care.
It's also not uncommon for prospective patients to reach out to your dental practice outside of normal hours for the sole purpose of getting information. Using an automated and custom messaging can provide them the details they seek no matter what hour they call.
VOIP Phone System Desktop Integration for Dental Offices
Investing in a VOIP that can integrate with your current desktop system makes it possible to respond to voicemails and connect with patients even more quickly than ever before. This technology works by merging your dental office phone system to your computer, allowing you to call and text directly from the convenience of your computer, including importing your call lists from programs like Outlook.
Say goodbye to searching through your database for a patient's number or entering incorrectly manually. Instead, desktop VOIP integration for your dental office means one-click dialing!
Voicemail to Email Features
Google Voice already offers this amazing feature, and investing in a VOIP that can send voicemails received directly to your dental office email is a must. Sick of having to listen through a long line of patient messages? Now you can read through them quickly from anywhere you can access your inbox!
ADIT VOIP services can also ensure you don't miss out on prospective patients seeking information or important follow-up requests from your current patients.
Line Failover for Your Dental Office Phone System
Have you ever been short-staffed in your dental office, and the phone is ringing in another part of your office you can't get to? Line failover is a feature that can auto route calls to the line you want it at when you can't reach it. So, if you have a team member covering front desk calls but they need to be at their regular station, line failover features on your VOIP can ensure patients still get in contact with someone.
Screen Pops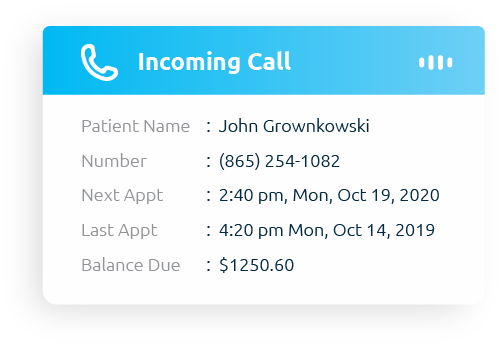 Are you expecting a call from a particular patient with crucial insurance information? Screen pops are a type of caller ID feature. It contains essential information about the caller, including:
Name
Insurance details
Balance owed
Treatment information
Pending care
Patient status
Because a patient's experience calling your dental office can impact their perception of your practice, screen pops help you personalize their interaction and make it more substantive. Another great feature is being able to retrieve these insights from the convenience of a mobile app if you're away from your office.
So, no matter where you or your patient is, they get the best customer care possible when contacting your dental practice.
Fax to Email
One of the headaches many dental offices experience is paper waste produced by mail, patient forms, and faxes. With VOIP fax to email features, you can eliminate wasteful paper use by having faxes go directly to email in the form of a readable attachment.
This is especially useful in avoiding important fax transmissions getting picked up by the wrong person, thrown away, or simply just not coming through. In addition, by having it delivered directly to a specified email address, you can pull it up and easily organize your fax records without taking up desk space.
Being able to have these important messages available digitally also means you can more easily share this information with your team to ensure your patient is getting the care they need when needed most.
Call Whispering
When you need to train team members or bring others in on a patient call without the caller hearing their voice, call whispering is the VOIP feature you need to do this. Call monitoring and recording allow you to listen in, but whisper features will enable you to bring team members up to speed in real-time.
This feature is an excellent tool for training your team members on marketing techniques to upsell your dental services. Being able to coach in real-time can help you reach your overall business goals faster and more efficiently.
Video Conferencing
A comprehensive VOIP system for dental offices will enable you to hold online video conferences within a predefined group. This is especially useful when you need to speak with other team members about upcoming offers, training events, and documentation changes when everyone isn't in the same office location.
Call From Anywhere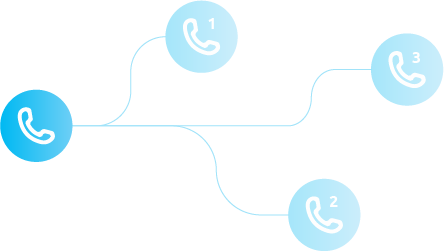 VOIP phone service for dental practices makes it possible for multi-practice providers to stay connected. No matter where in your network your staff member is located, you can work collaboratively.
For example, if calls are overloading one of your office locations, you can divert calls to one of your other branches that isn't as busy. The receptionist will see a screen pop letting them know where the call was diverted from which ensures the correct booking schedule is used when setting up the patient's appointment.
As you can see, a VOIP phone system can help improve your dental business in countless ways.
Learn What VOIP Phone Features Your Dental Practice Needs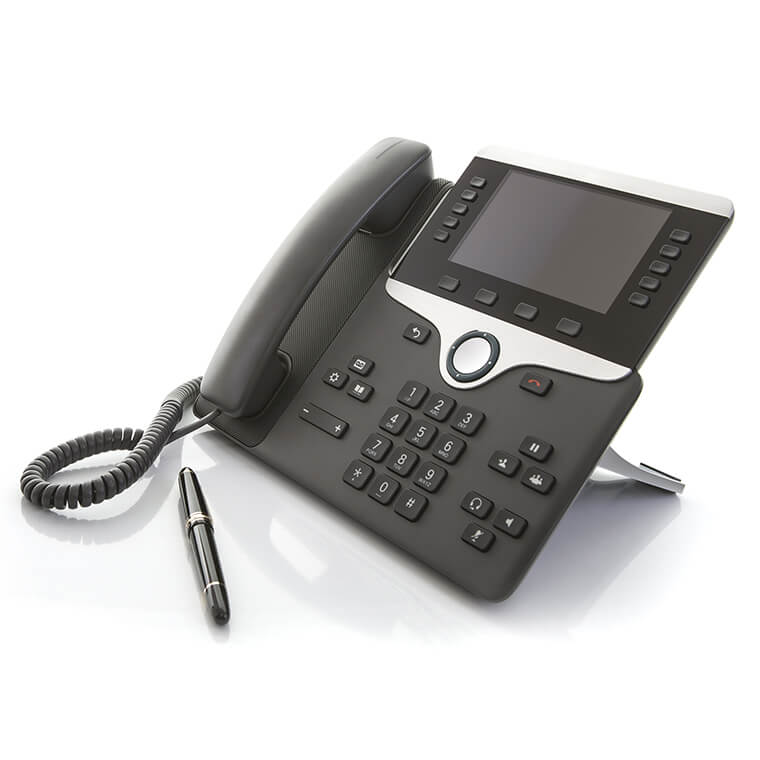 Figuring out what features of VOIP are available can be overwhelming. There's a lot of terminologies and advanced technology involved, but working with a knowledgeable digital marketing firm like ADIT can help. So, whether you've already decided on the type of VOIP service you want or you need someone to handle it for you while focusing on growing your dental practice, our team of marketing professionals is your premier choice for implementing a state-of-the-art phone system in your dental office.
We have years of experience helping dental offices like yourself create a fully integrated and intelligent VoIP platform that works with your current practice management software. Not only will it integrate with your current EHR, but it can centralize your communication, ensure follow-ups are timely, and provide coaching opportunities for your staff.
Even better? At ADIT, we provide a comprehensive VOIP phone service that will maximize your advertising strategies and increase your overall ROI. We also offer a Patient Booking Guarantee where if you don't do better than breaking even, you won't have to pay.
Request your free demonstration today to learn more about this guarantee and the comprehensive digital marketing strategies and tools we offer!