How much does your dental practice spend on digital marketing every month with the hope of attracting prospective patients to your website? Is it enough to simply draw patients to your online pages to convert them? Probably not.
One way to push engagement further and increase your conversion rate is to add a chat feature to your site. But first, you have to decide if a live chat option or chatbot is your best option. So which is best for your dental practice? Let's find out!
What is Live Chat?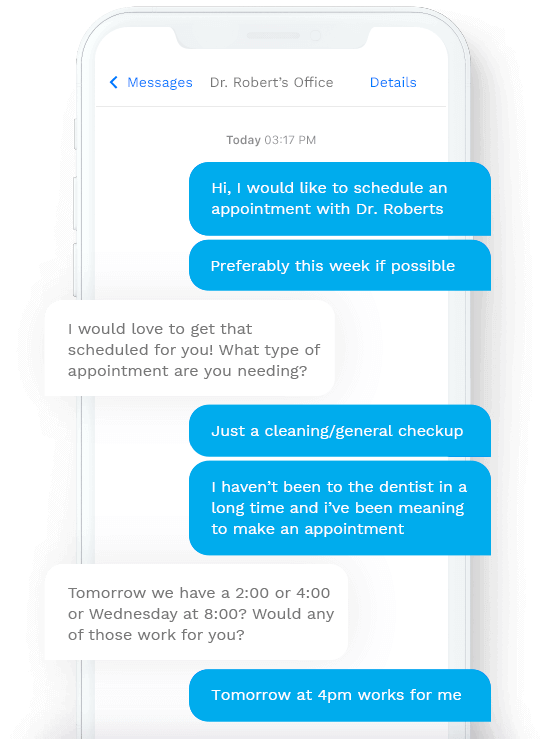 Live chat is one of the latest features available for dental websites that allow visitors to connect with a representative to answer their questions. Typically, this is a great option to handle general inquiries about your services, hours, location, and availability.
Keep in mind that the representative in the chat won't actually set any appointments but pass the prospective patient's contact information along to your scheduler. The important thing to remember is that these are high-quality leads ready to book.
Benefits of Adding Live Chat to Your Dental Website
One of the biggest benefits of implementing live chat on your dental site is it provides a direct call-to-action (CTA) for your visitors to schedule an appointment. But, the advantages of this feature go even deeper than delivering an extremely effective CTA:
Increase Your Team's Productivity
Having the ability to chat with prospective patients in real-time boosts your support team's ability to manage multiple conversations instead of only one at a time while on the phone. Even better? Many of these applications also provide much-needed flexibility, like transferring a current chat to a different team member. Directing patient questions to the appropriate team member is crucial to receiving accurate information.
Live Chat Helps You Get An Edge Over Competitors
One of the greatest advantages over your competitors is a quick response time. Having the ability to engage your patients in real-time not only gets them the answers when needed most, but it builds trust. Prospects want to know that your practice and its staff have time for their questions and concerns, and a live chat feature meets this expectation.
Convert New Dental Patients Faster
If your two primary options for contacting your dental office are email and phone calls, you've probably realized how problematic this is. Not only do phone calls require several minutes of pre-recorded messages, navigating prompts, and then additional hold time, but calls can be missed entirely or get routed incorrectly. How annoying!
Email brings even longer response delays and can become forgotten by your office team and the patient who sent the initial inquiry! As you can see, neither of these choices are ideal for contacting you online. Fortunately, Live Chat has created a more efficient avenue for direct communication when your prospects are most likely to convert to a booked appointment.
Build Relationships with Patients
Like mentioned earlier in this article, patients want quick responses to their questions from a real person. The level of satisfaction one gets from receiving a reply when they need it is undeniable. We've all been that consumer with an urgent matter requiring answers and have felt that relief being able actually to talk with someone that can help us right away. Live chat makes this possible.
Improve Your Dental Marketing Efforts
Once implemented, you can monitor the trends in the queries sent by patients during live chat sessions. Analyzing these patterns will give your marketing team crucial insight that can be used to create and/or adjust your current strategies.
For instance, if patients send constant questions regarding your teeth whitening services. You may consider creating an FAQ page addressing the entire process. However, this information could also mean that you aren't advertising this service enough and should run a targeted campaign.
Improve Patient Outcomes and Brand Reputation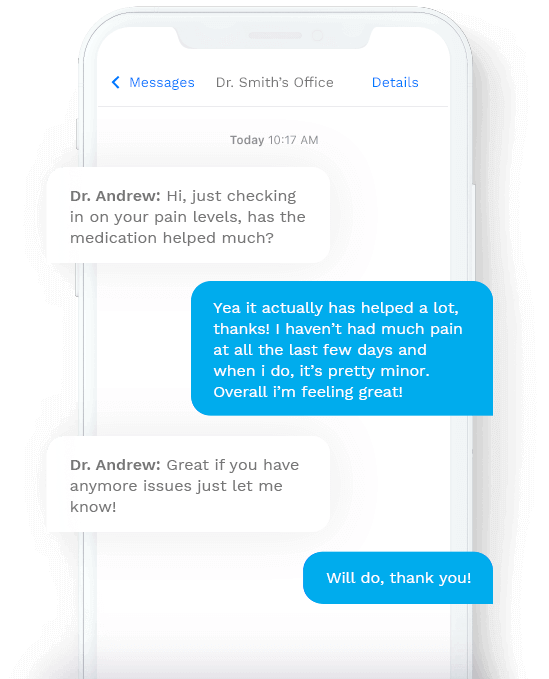 The online reputation of your dental brand is tied to patient experiences. This fact is evident in the reviews and feedback left on your Google My Business page and other web profile sites you have. As you continue to improve your services, operations, and patient care, converting prospects becomes easier and occurs faster.
One of the ways that live chat improves your reviews is because it provides immediate answers to patient questions. Also, when a visitor knows that they can connect to an actual representative in real-time, they feel more connected and safe in choosing your dental practice.
This feature can also help your team deal with negative feedback and potentially rectify a service issue. Reaching a fair conclusion to the problem often leads to updated reviews which are more positive and beneficial to your brand.
What is a Chatbot?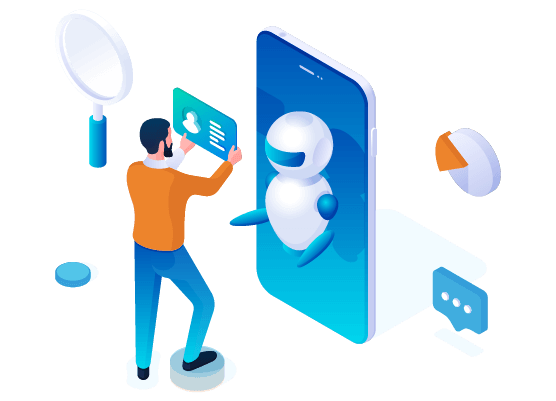 As the name suggests, a chatbot is an automated response feature on your website that can provide answers to pre-programmed questions about your dental practice. This integration is usually driven by artificial intelligence (AI) and relies on keywords used to respond to a patient's inquiry.
Because typos can happen, these programs don't always understand what is being asked. And any answers it can give are pre-programmed, so if a question gets submitted that isn't part of this database of information, a response may not be available. This can be frustrating for patients who can't call your office at the time of their inquiry.
Benefits of Adding a Chatbot to Your Dental Website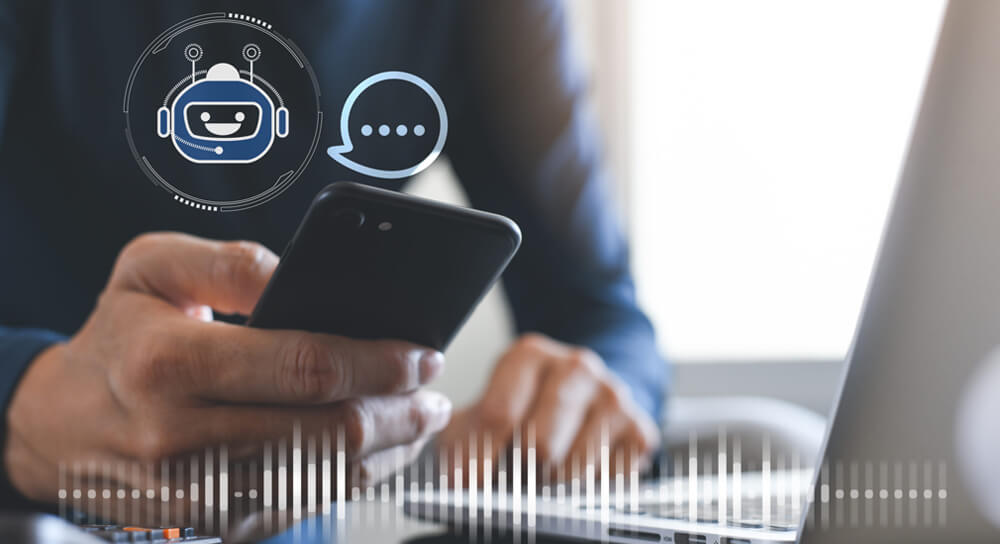 So, even though this section led off with negatives, there are a lot of positive advantages to using a chatbot on your dental site!
Dental Practice Open 24/7
One of the biggest challenges patients face are dental emergencies outside of regular business hours. One way to reassure prospects your office is available whenever they need you most is by providing a way to contact you 24/7/365. Using a chatbot to request an emergency consult after hours is a lifesaver for many patients. Instead of leaving a voicemail and waiting hours for a response, this program can send you and your staff direct alerts, ensuring your response time is fast.
Educate & Inform
Did you know that chatbots provide many of the same features that email does? From sending intake forms to be signed to sharing procedure videos, all of these capabilities can provide your patients with the information they need to maximize their outcomes.
Imagine how much more reassured a prospect will be after watching a virtual tour of your office through a chatbot? Plus, this saves your staff time because patients will already know what to expect. In addition, this feature provides convenient access to your library of educational videos, treatment forms, and more, thanks to a simple chat feature.
Streamline Appointment Setting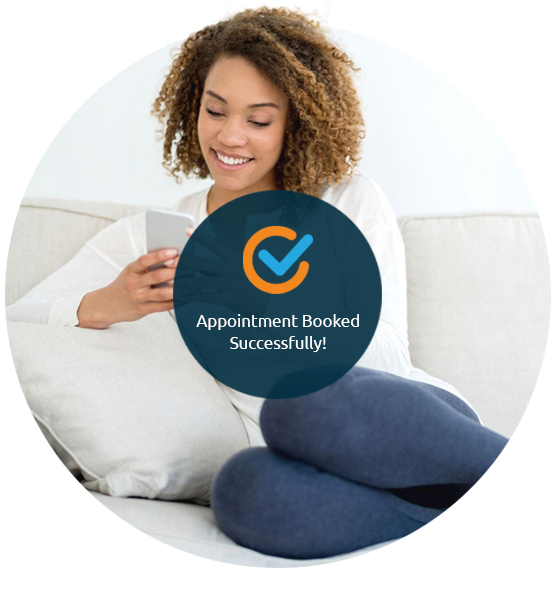 Dentistry calendars always seem full when patients try to schedule a cleaning or procedure. They don't see the other side of the reception desk where there are no-shows and last-minute cancelations. What if you could set up or cancel appointments through a 24/7 chat window that automates the entire process? Having a real-time schedule ensures you reduce no-shows and maximize your dental patients' availability.
Chatbot technology has come a long way since its inception, and now most of these features seamlessly integrate with your current API.
Chatbots Improve Dental Patient Experiences Too
While live chat may improve patient satisfaction with customer service, chatbots achieve the same as an extension of your team when outside of business hours. They can also target the specific needs of your patients and website visitors with an AI program that grows its knowledge with each interaction with your audience. This translates into more refined communications that provide your patients with relevant information.
Live Chat Vs. Chatbot: Things to Consider
As you can see, while both live chat and chatbot services have the same goal of assisting your prospective patients and converting them into booked appointments, their features vary significantly in strengths and weaknesses.
Below are some key factors to consider when trying to decide which is best for your website:
Ease of Implementation
Your dental office is busy, so choosing a chat feature that offers quick implementation and intuitive operation is crucial. Don't hesitate to ask for references, a demo, and even case studies from providers before making your choice.
Availability
One of the most challenging aspects of providing dental care is meeting the needs of instances that occur after hours. Any chat service you choose should have round-the-clock availability, even on holidays. This means having a representative available for live chat at all times, where a chatbot can forward messages to a designated team member who can decide the best response as they come in.
Response Speed
Speed is key to staying ahead of your competitors. Any dental chat service you invest in should immediately respond to patients' requests.
Appointment Conversions
Regardless of whether you choose a chatbot or live chat, the goal is to convert prospective patients that visit your dental website. Any integration you select should be HIPAA-compliant and can quickly process appointment requests.
Languages
Dental offices care for patients from all walks of life. If your practice provides translation services in different languages, make sure the chat service you choose does. Often, chatbots only provide answers in one language, so you will need to research multilingual providers.
Results Tracking
Live chat and chatbots should also provide results tracking, including data regarding the time of day you receive the most inquiries or the number of conversations that led to a booked appointment. Adit provides a comprehensive practice management system (PMS) that integrates these results into its reporting.
Cost-efficiency
Another important consideration when deciding which chat program is best for your practice is its cost-efficiency. For example, does it save on productivity time for your staff? While not delivering the same real-person conversation, Chatbots can perform the work of hundreds of agents at once. This means no salary costs, lost productivity hours to answering queries and gaining a streamlined workflow.
Chatbots tend to scale faster and can handle larger volumes, but they may not connect with dental patients on a more personal level. On the other hand, live chat connects directly with your prospects because you have a real person interacting with the patient. This also requires having dedicated staff to handle these inquiries.
So, Should Your Dental Practice Use Live Chat or a Chatbot?
If you haven't already guessed it, your dental company should use both! Each of these features functions independently, but they complement one another.
There are countless situations where a chatbot can fill the gap that live chat cannot, for instance, after-hours inquiries or requests for basic information about your practice, like what time you open. If you're a smaller practice, chatbots are perfect for handling routine questions so your live chat agents can focus on more technical issues like payments, service inquiries, and more.
Together, these two features create a powerhouse of support that will faster drive patients to your dental chairs. Check out some of the top ways chatbots and live chat complement one another:
Engage Proactively
With chatbots, you can initiate a conversation with your website visitors and then transfer them to a live chat session with your dental staff.
Improve KPIs
When it comes to improving your overall operations, chatbot and live chat features directly impact many of your KPIs, including:
First Response Time - bring this number down with instantaneous response and communication thanks to the automation driving these chat services.
Average Resolution Time - Using both live chat and chatbots means your customer service team can focus on more complex issues and let automated responses resolve routine queries.
Conversion rates - Since chatbots resolve basic inquiries quickly, this pushes prospective patients further along the sales funnel more quickly, leading to increased conversions.
Churn Rate - Tired of visitors disengaging before your CTA? Chat features can keep dental site visitors engaged by providing the answers they need when they need them.
Customer Satisfaction - By relying on live chat to give the real-life personalization of your dental office and chatbots to engage patients after hours, your customer satisfaction scores will get a healthy boost.
Take Patient Communication and Satisfaction to the Next Level with Adit
Undoubtedly, live chat and chatbot services on websites have improved patient communication and satisfaction rates for many dental companies. Why are these features so effective? Because they take proactive actions to convert prospective patients visiting your site.
Your website on its own isn't enough to convince visitors to book an appointment with your office. You need a tool that can immediately provide relevant information when patients need it most. At Adit, we developed AI-driven chat options that easily integrate into your practice's web page and existing PMS. You can provide near-instantaneous responses to queries with live chat representatives and chatbots by centralizing your communication.
Discover how we take patient communication to the next level so that your dental office can improve overall satisfaction and boost your brand's reputation. Request a demo and learn more today!