When interacting with your patients at appointments, it's a limited experience in that they only are there for their scheduled visit. But, this doesn't have to be the only moment you can build your relationship with them.
Instead of only contacting them for reminders about an upcoming six-month appointment or bill, create a more meaningful connection through dental email marketing. This can fill in the time of slow communication between their routine visits and reinforce their trust in your dental services. Using this type of email marketing tool will help ensure their loyalty and build a sense of community between you and your patients.
Below are the best practices for leveraging this type of email marketing effectively and boost your reach:
Build a Subscriber List
Without subscribers, where will you send your emails? Building a subscriber list is essential for your email marketing campaign. One of the quickest ways to get contacts subscribed is through web forms on your website, PPC ads, blogs, and on social media pages you have. Doing this makes it effortless for your patients to submit their contact details and subscribe to your email content.
Try to remember that to maximize the size of your audience, you need to link up all of your digital marketing channels. Individuals are unique and have their own preferred methods of connecting with others online.
For example, some may prefer the visual appeal of Instagram, while others like Facebook's layout better. By providing links to all of your many channels on every platform you use, you'll be sure they have access to a communication method they prefer.
It's also important to ensure that your subscriber list sign-up form has an opt-in option. There's nothing patients hate more than receiving a constant flow of unsolicited emails. By selecting to opt-in, you'll also minimize dental emails ending up in a spam folder.
Dental Email Marketing Requires Effective Personalization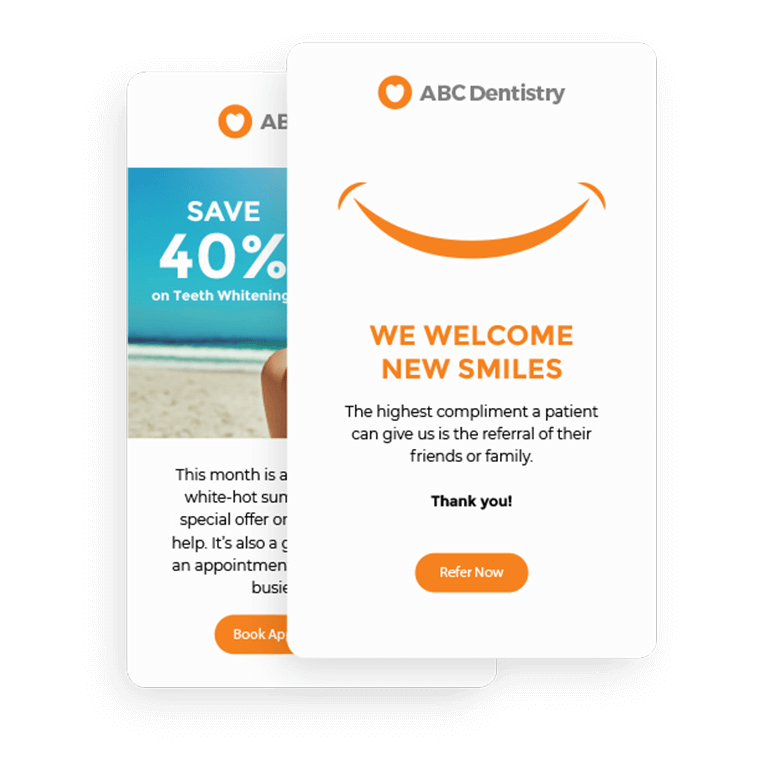 You value your patients, and they appreciate being made aware of that fact. This makes it crucial to use email marketing to meet this expectation, which will increase their trust in your dental practice's brand.
With the use of ADIT's email marketing for dental offices, we can help you build a stronger doctor-patient bond by creating personalized emails that directly address an individual patient's needs. In addition, by keeping your target audience more connected with your dental practice, you can boost brand loyalty that spans generations of patients.
For example, simple steps like using their names instead of impersonal "sir" or "madam" can go a long way. Even seasonal, birthday, and other important life event reminders from your office in an email help to leave a lasting impression they won't forget and probably brag about.
You also need to ensure your tone is appropriate for the message you are conveying because it reflects on how your patients can expect to be treated by your staff. Taking time to mention previous treatments and appointments will also boost the effectiveness of your dental marketing email campaigns.
Emails Need to Be Targeted
Just like with the personalization of emails, you also need to take time to target your audience. You have a wide variety of patients with different service needs. Sending personalized content that has the same message isn't practical.
Instead, you need to send out different types of content based on the audience receiving it. By ensuring they receive relevant information in your email message, you increase their interest.
A good example would be for your more elderly dental patients. Braces to straighten their smiles make little sense if most are wearing dentures or have weakening teeth. Instead, you want to use email marketing to address implant options for a missing tooth or denture fitting. Doing this reinforces their belief that you care about them and genuinely understand their oral health needs.
All it takes is one email chockful of irrelevant content to make them want to unsubscribe and treat your content as spam. Worse, knowing you're sending out offers that don't appeal to their specific needs could form a negative opinion of your dental practice in your mind and make them look elsewhere for care.
Maintain and Reactivate Current Patient Relationships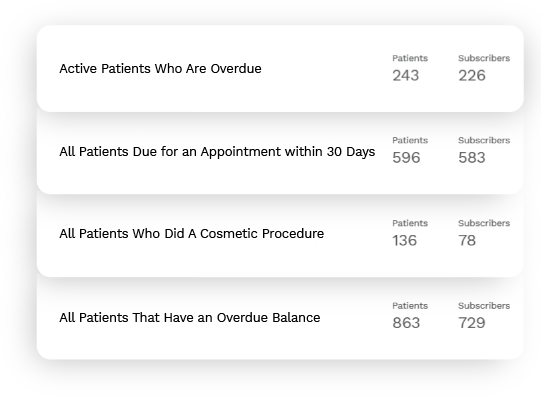 Once your patients have signed up to receive your emails, use this opportunity to build additional loyalty and trust. You need new patients, sure, but you want them to return. This requires regular contact to maintain your connection with them.
If you're only using their contact information to send occasional reminders, you're missing out! Instead, provide relevant information and tips that they can apply to their everyday oral care routine.
You should also ensure you aren't sending too much content their way, as well. In your email marketing content, ask them for feedback about what you're sending them. Do they want more details about cleaning services? Are they in the market for cosmetic work? Maybe they are expecting a baby soon and want to know more about pediatric oral hygiene.
Let them know their opinions are valued, and knowing what information they wish to receive is essential to you.
Email Marketing for Dentists Can Provide an Educational Opportunity for Patients
Another email marketing for dentists best practice is to use your content to educate your subscribers. Not only can you personalize any information you send to specific patient groups, but you can send them to specific blog posts, service pages, and even special deals you may have available.
Your emails will only drive traffic and convert leads to booked appointments if a value is provided within the content. Remember, you have complete control over the type of information you share with them directly through dental email marketing campaigns. So whether you send them to your latest infographic about gingivitis or share your latest social media live event, make sure whatever they are receiving is relevant to their needs.
By sharing your expertise, variety of services, and answers to common questions patients might have, you are reinforcing your standard of care, commitment to their safety, and satisfaction.
Keep Patients in the Know
Dental patients like opportunities to save on money, book appointments at more convenient times, or get access to a hard-to-find service. Email marketing for dentists keeps patients up-to-date on the latest happenings and discounts a practice has to offer. While you may feel this is a bit sales-like in nature, the reality is your patient will be more disappointed they missed out.
You want your patients informed and engaged about your dental practice's latest services and treatments. This shows you care about their health and well-being because you let them know these opportunities are now available. If you want to avoid your email sounding like a sales pitch, send this information in the form of a newsletter.
Patients enjoy scanning through this form of content because of the valuable information provided and the concise format it's presented in.
Drive Traffic to Your Dental Practice Website
As mentioned earlier, linking between all your marketing channels is critical to ensure you maximize your audience. When using email marketing strategies, you can include these links to your website, blogs, and social media, which benefits your dental SEO efforts.
By driving traffic to these sites, you will encourage your patients and prospects to explore your brand. With adequately structured social media profile pages and website pages, they will get exposed to engaging content which lends credibility to your professionalism, experience, and dental services. All of this ultimately will further encourage visitors to convert to booked appointments.
Configure Your Emails to Display on Multiple Devices
It seems everything we do is on the Internet nowadays. This is especially true when checking our emails. Because there are a plethora of technologically advanced smart devices to do this from, it's crucial that your email marketing is responsive to different display requirements.
Digital marketing agencies like ADIT understand the importance of optimizing email communications to display correctly no matter what device they get accessed on. Patients like convenience, and you can bet they will be reading your content on their iPhone or Samsung tablet. This means you need to consider screen sizes between mobile devices and desktops.
You want to ensure that your content is straightforward, easy to read, and not cut off in the margins no matter if it is an email or social media post.
Always Use Call to Actions
You got your message across and provided engaging content, but what are they supposed to do with it all? A Call to action (CTAs) is not just for a web page or Facebook Ad campaign. You need to provide clear encouragement to contact you and the means to do so in your dental emails. Using a CTA is a tried and true email marketing technique to push your patient that final inch and contact your practice to book an appointment.
A typical CTA in an email may include:
Asking them to visit your website and include a hyperlinked button to do so
Encourage them to read your latest blog article and have a link taking them to it
Announcing a new product for them to try and providing a web form to book an appointment
Not only do CTAs help customers complete the process of scheduling an appointment, but new patients could end up signing up for more information if you include a referral link in your email. That's right. You can implement a call to action that encourages current patients to refer friends and family to your dental practice for a discount or other reward offer.
Email marketing for dentists is also essential to boost patient reviews. Every message you send should remind them to leave feedback about your dental practice somewhere in the CTA. This not only helps your SEO efforts but reinforces your credibility and online reputation.
Monitor Your Progress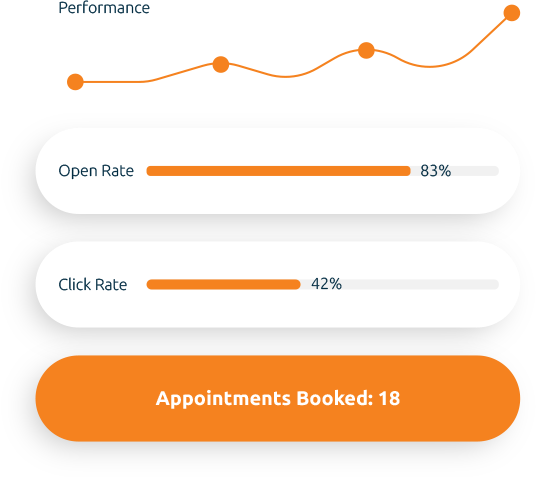 Another best practice you should implement when using email marketing campaigns to garner new patients and reactivate current ones is to track the effectiveness of your campaigns. ADIT provides software services that not only help you improve workflows with automated messaging but we help you manage the different segments of your market and the performance of your email ad campaigns within those sectors.
With a dedicated email marketing team by your side, you will have the ability to analyze critical metrics, including:
Whether emails you send are actually opened or not
How many emails made it to their destination
Click-throughs on your links within an email's content
Patient conversion rates from an email campaign
Based on these insights, knowing what progress your dental email marketing efforts have made means smarter ad spending and letting you adjust your campaign as necessary. Imagine maximizing your reach, increasing patient connection, boosting brand visibility, and improving patient growth all at once.
Take Your Dental Email Marketing Strategy to the Next Level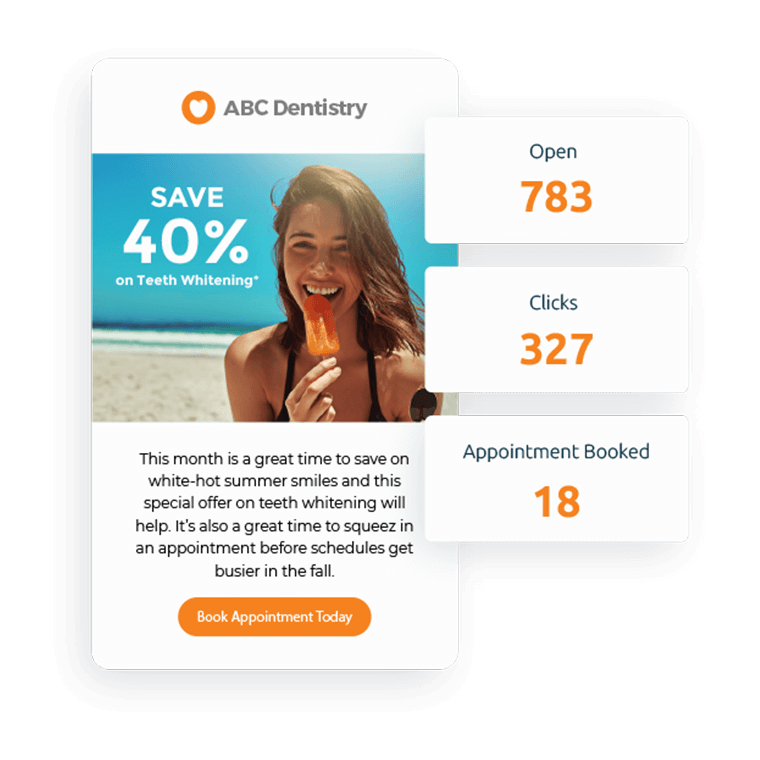 By investing in a customized email marketing platform, your dental practice can unlock another avenue of creating brand recognition that incorporates your other SEO efforts. At ADIT, we have created a robust email design service that can get tailored to your needs as a busy dental professional.
When you choose our email marketing agency, you get numerous state-of-the-art advertising tools that will benefit your email campaign strategies in many ways, including:
Branded emails that set your dental practice apart from the rest
Easy integration of your current EHR/PMS to send personalized emails to your patients
Increase your bookings and boost your retention rates
Discover your drive-up treatment acceptance rates
Fully integrated online scheduling for your website
Receive actionable insights to improve your patient experience and ROI
Cross-module integration hacks
Ready to learn how ADIT's dental email marketing campaigns can transform your current digital advertising strategy? Reach out and request your free demonstration today!