A visit to the dentist's office can often evoke feelings of anxiety and apprehension in patients. However, the atmosphere and culture within a dental practice play a crucial role in shaping the overall experience for both patients and staff. Creating a happy and supportive dental office culture improves employees' well-being and enhances patient satisfaction and loyalty.
In this article, we will explore some effective strategies to foster a positive environment in the dental office, where smiles abound both inside and out.
Communication is Key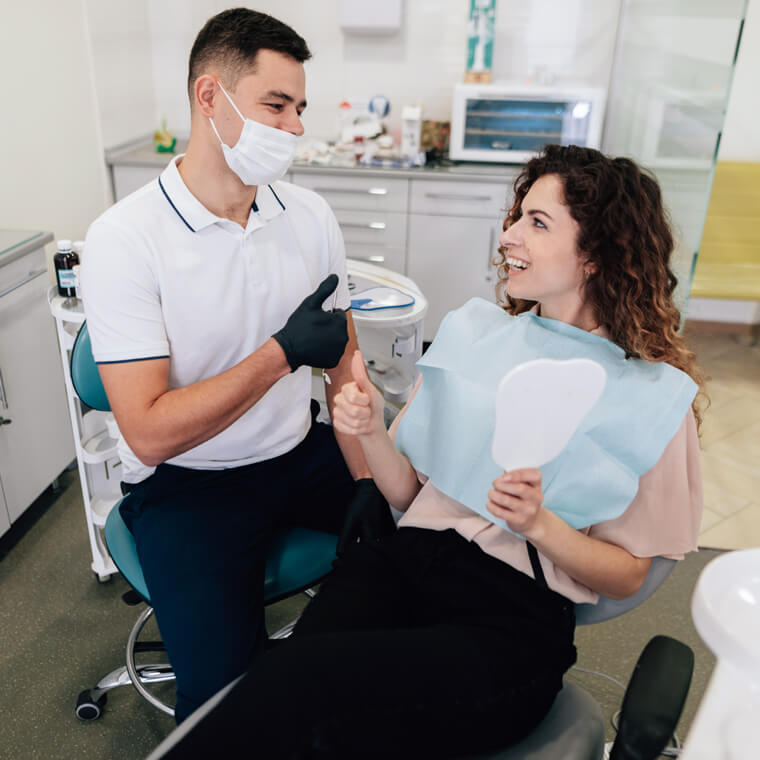 Effective communication is essential for a harmonious and productive work environment in a dental office. Dentists and dental staff should encourage open and transparent communication among team members.
For example, holding regular team meetings where everyone is encouraged to share their insights, concerns, and ideas. These meetings can also serve as a platform to celebrate achievements, such as reaching patient satisfaction goals or successfully implementing a new patient care protocol. Actively listening to your employees' perspectives makes them feel valued and understood, strengthening camaraderie and collaboration.
Lead by Example
Positive leadership sets the tone for the entire dental office culture. Dentists and practice owners should lead by example, demonstrating professionalism, empathy, and genuine concern for their team's well-being. For instance, a practice owner who takes the time to greet staff warmly every morning and express appreciation for their hard work fosters a friendly and supportive atmosphere.
By showcasing a positive attitude and acknowledging staff contributions, leaders inspire their teams to approach their work with enthusiasm and dedication, ultimately fostering a more positive and motivated work culture.
Practice Transparent Leadership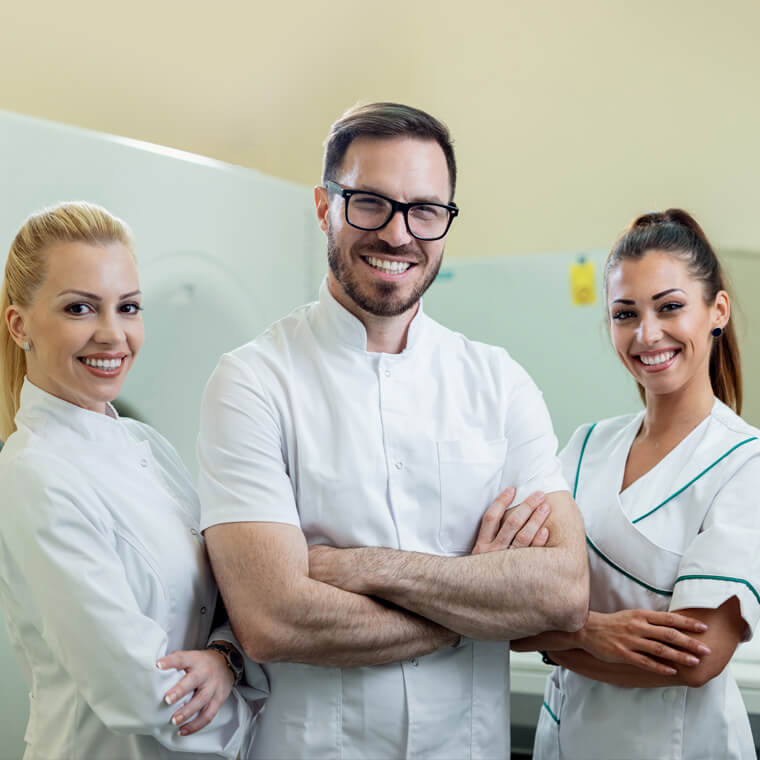 Transparency in leadership is fundamental for cultivating trust and engagement within the team. When important practice decisions are to be made in a dental practice, such as adopting new technology or implementing changes in patient care procedures, involving the entire team in the decision-making process can make a significant difference.
By seeking their input and explaining the rationale behind decisions, leaders demonstrate respect for their team's expertise and insights. This inclusive approach fosters a sense of ownership and accountability among staff, leading to a more invested and satisfied workforce.
Empower and Invest in Staff
Valuing and empowering your dental staff leads to higher job satisfaction and overall happiness. For example, offering opportunities for professional growth, such as supporting team members' attendance at industry conferences or workshops, demonstrates that your clinic is invested in their development. Recognizing and appreciating their efforts regularly, whether through verbal praise or organizing team-building events, boosts morale and encourages a positive work ethic.
Additionally, investing in staff well-being, such as offering wellness programs or providing access to mental health resources, shows that the practice genuinely cares for its employees' health and happiness.
Team-Building Activities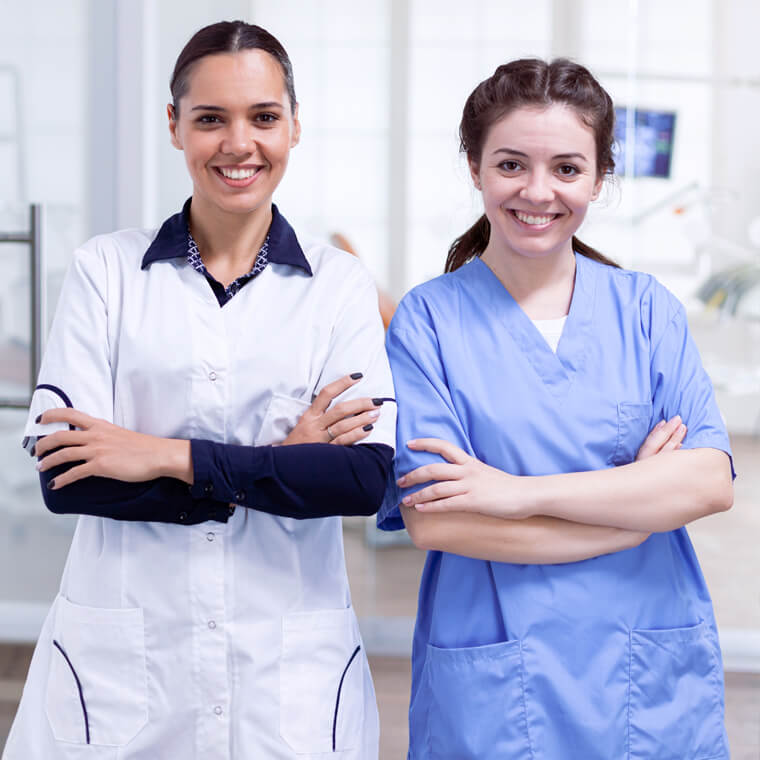 Team-building activities are more than just fun outings; they foster strong bonds and camaraderie among dental office staff. For instance, organizing practice events like a staff retreat, where employees engage in group exercises, team-building games, and social activities, can lead to improved communication and collaboration within the team.
Building these strong relationships can positively impact patient care, as staff members who feel connected and supported by their colleagues are more likely to work together cohesively and provide a more unified patient experience.
Create a Comforting Environment for Patients
A happy dental office culture extends to treating and caring for patients. By ensuring patients feel welcomed and comfortable, you enhance their overall experience. Reviewing and practicing staff greeting scripts that focus on warmth and empathy from the moment they step into the office creates a positive first impression.
Additionally, designing a cozy waiting area equipped with ample reading materials and soothing decor can contribute to a relaxed and pleasant atmosphere, easing patient anxiety and promoting a positive perception of the dental practice.
Prioritize Work-Life Balance
Recognizing the importance of work-life balance shows that the practice values its employees' well-being. Encouraging staff to take breaks, use vacation days, and avoid overworking prevents burnout and stress. Consider offering flexible scheduling options that allow staff to attend to personal commitments, such as family events or medical appointments, foster a sense of work-life balance, and empower employees to take care of their overall well-being.
A healthy work-life balance leads to a more motivated and committed workforce, ultimately benefiting patient care and the overall practice environment.
Embrace Feedback and Continuous Improvement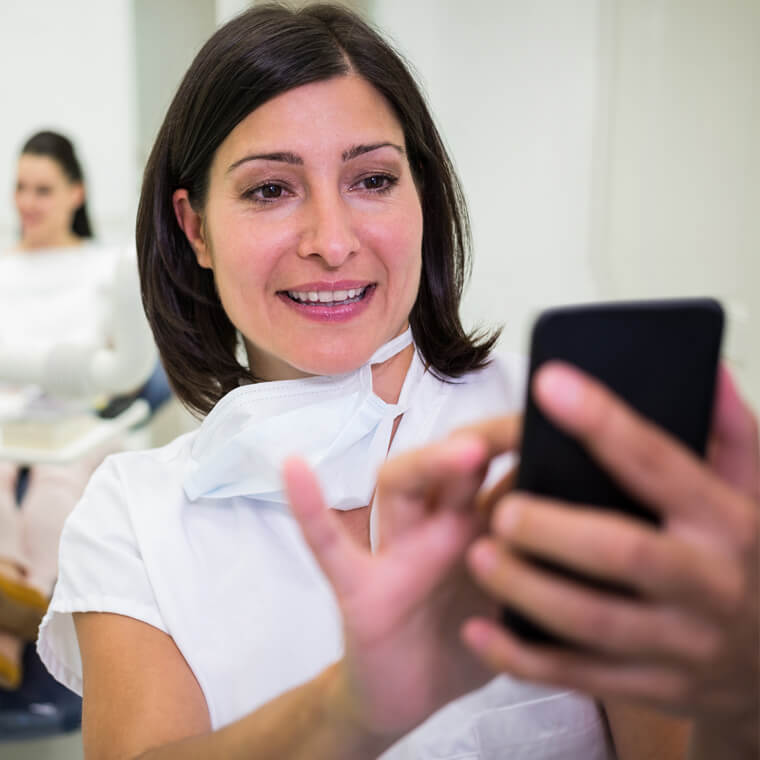 A culture of continuous improvement encourages staff and patient feedback as a means to enhance the practice's operations. Regularly soliciting staff opinions on the effectiveness of workflow processes and patient care protocols can identify areas needing improvement.
Your office should also actively seek feedback from patients through surveys or follow-up calls and take action on their responses. Review integrations, like Adit's Pozative Reviews, can automate this entire process and simply the response process. This effort will demonstrate your practice's commitment to providing excellent patient experiences and is eager to address any concerns. Creating an environment where sharing concerns and recommendations is appreciated fosters your employees' growth mindset.
Celebrate Successes, Big and Small
Recognizing and celebrating achievements as a team reinforces a positive dental office culture. For instance, celebrating a significant milestone, such as achieving a high patient satisfaction rating or completing a successful complex treatment, by organizing a team celebration or acknowledging team members during staff meetings.
Additionally, recognizing staff members' personal accomplishments, such as completing advanced training or certification, and publicly acknowledging their hard work and dedication fosters a culture of appreciation and encouragement. These recognitions boost team morale, inspire others to strive for excellence, and contribute to your clinic's success.
Cultivating a Healthy Office Culture with Practice Management Software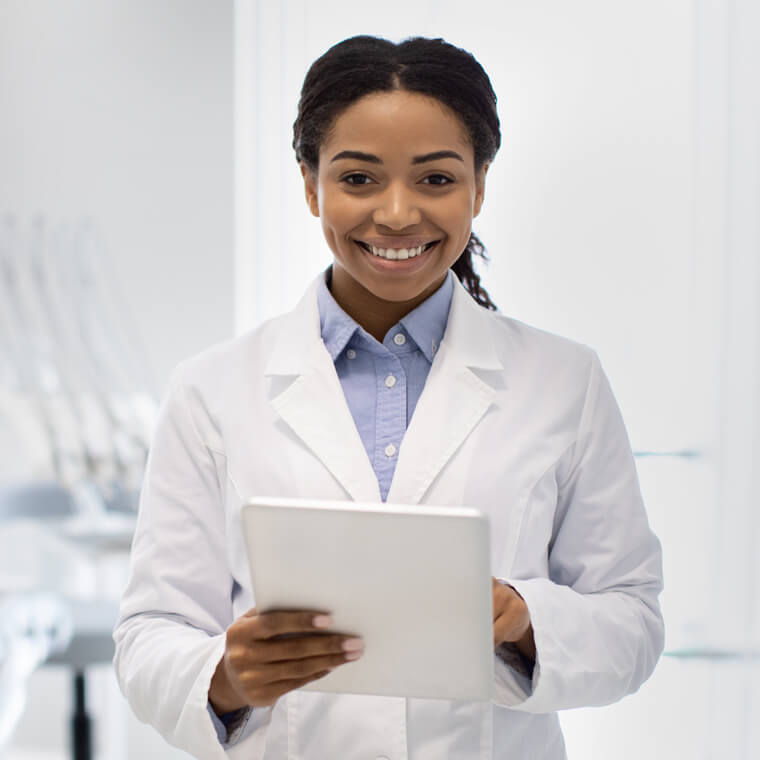 One way to nurture and support a positive dental office environment is to ensure your clinic has the necessary tools and processes in place to create it. Modernized practice management software provides several advantages for your clinic to boost employee morale and foster a happier workplace.
Let's explore some of these invaluable perks:
Cloud-Based Solutions Increase Flexibility and Enhance Productivity
As the world of dentistry progresses, the shift from conventional on-premise software to cloud-based dental practice management systems has become a game-changer. Cloud-based solutions bring forth a multitude of advantages, primarily centered around improved accessibility, scalability, and data security. By simply connecting to the internet, dental staff can instantly populate patient records, update schedules, and share critical information from any device, introducing unparalleled flexibility in handling appointments and patient data management.
Integrated Electronic Health Records (EHR)
Opt for a dental practice management software that offers integrated electronic health records (EHR). This feature allows seamless coordination of patient information, treatment plans, and progress notes between different departments within the dental practice. Having a centralized database that automates recordkeeping, synchronizes with your internal calendar, and automatically reminds and recalls patients eliminates many of the manual tasks that bog down productivity in your clinic.
Online Self-Scheduling and Automated Reminders
Choose software that includes an intuitive online scheduling system and automated reminders for patients. This not only reduces no-shows and late cancellations but also enhances patient satisfaction by providing convenient communication channels to manage their oral healthcare needs. Patients will appreciate timely reminders via email or secure text messaging, helping them stay on top of their dental appointments and showing that the dental practice values their time.
Simplified Billing and Payment Processing
Modern dental practice management software like Adit can provide payment flexibility through online processing. This means a more convenient invoice experience for patients and improved collection by your billing staff. Streamline invoicing and insurance claims processing, reducing paperwork and the potential for billing errors and claim denials. This convenience translates into a better patient experience and improved cash flow.
Practice Analytics and Reporting
Look for software that provides comprehensive practice analytics and reporting capabilities. These insights can help dental practices monitor key performance indicators (KPIs), track patient trends, and identify areas for improvement. Data-driven decision-making enables the dental office to optimize workflows and enhance patient satisfaction continually.
Training and Support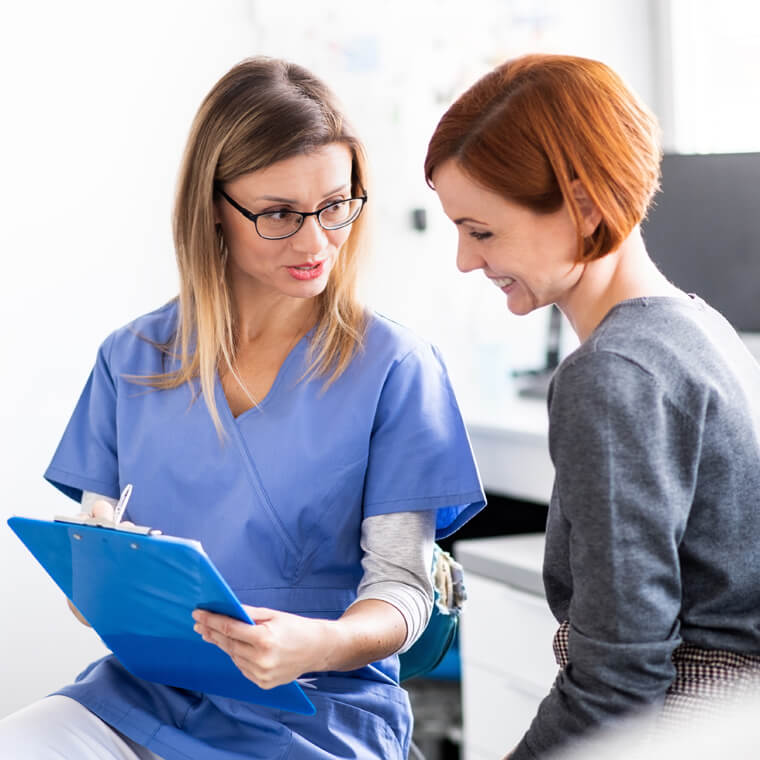 When adopting new dental practice management software, ensure that the provider offers robust training and ongoing support for the staff. A smooth transition to the new system is essential to avoid disruptions in daily operations. Comprehensive training will empower the team to make the most of the software's features, improving productivity and reducing stress levels.
Compliance and Data Security
Modern software should prioritize data security and compliance with relevant regulations, such as HIPAA. Ensuring patient data is protected and handling it in a compliant manner is critical for maintaining patient trust and avoiding potential legal issues.
Modernizing your dental practice management software can elevate overall operational efficiency, create balanced workloads for your team members, and enhance patient outcomes. A user-friendly and feature-rich software solution contributes to a positive and supportive office culture, where staff can focus on delivering excellent patient care with confidence and smiles abound inside and out.
Foster a Supportive Dental Office Culture with Adit
Discover the next generation of dental practice management with Adit PMS! Designed to revolutionize your dental office, our cutting-edge software brings a multitude of benefits to both dentists and staff.
Efficiency is at the core of Adit's software suite. Say goodbye to manual administrative tasks that consume valuable time. Our user-friendly interface makes appointment scheduling, patient record-keeping, and billing seamless and hassle-free. Free up more time to focus on what matters most – delivering exceptional patient care and engagement.
Not only does Adit enhance workflows, but it also boosts your patients' care experiences. Use automated reminders to keep patients on track with their appointments, which reduces no-shows and late cancellations. Our online payment integration, Adit Pay, adds further convenience for patients by offering multiple ways to pay online, through text messaging, a patient portal, or our intuitive Mobile App.
However, the advantages of Adit practice management software extend beyond patient care and operational efficiency. Your staff will experience a noticeable boost in morale and job satisfaction because of how our digital tools help them balance their workloads and automate inefficient processes that bog down their day. Empowerment comes naturally with our intuitive software, leading to increased confidence and productivity among your team members. With streamlined communication and centralized data, your dental office will foster a more cohesive and collaborative work environment.
Embrace a happier dental office culture with Adit practice management features. Join the ranks of clinics that are already transforming their operations and delivering exceptional patient care with a team brimming with positivity and motivation. Experience the future of dental practice management – book a free demo today!