If you have been looking for the best method to advertise your dental business locally, you have probably heard a lot about Google My Business listings. As the world's largest search platform and marketing giant, this free tool helps companies expand their online brand reach and drive traffic to their websites with their free Google Business profile.
But, knowing how to use your listing to its full capabilities effectively is a challenge. There is a ton of information to absorb, and if you're running a busy dental practice, you may not have the time to study up.
So, to make things a quicker read, this article will break down the top GMB optimizations you need to know about to boost your office's revenue.
What is Google My Business?
Let's first dive into a quick overview of what exactly a Google My Business Listing is.
Essentially, it is a business profile that Google makes searchable. When set up correctly, you pop up in dental search results, including on Google Maps. In addition, this Google business profile acts as a quick snapshot of your company, so patients can decide if they want to continue to your website or not.
This snippet includes many important details about your dental practice, including:
Business name
Business location on Google Maps
Contact information
Business hours
Patient reviews
Business category
Images shared by your office and reviewers
Links to your website and other pages you want to share
All of this information on your business listing will ensure your dental practice shows up in relevant Google search results and contribute to your local SEO efforts.
Why Your Dental Practice Business Account Needs Google My Business
The primary reason your dental marketing strategy should include a Google My Business listing is local search ranking. It's well-known that patients don't rely on word-of-mouth as much as they used to. Instead, they've taken their search for a new provider online.
Search platforms like Google help them find a dental office by prioritizing the metrics they're researching, which include:
Ranking
Reviews
Geographic proximity
So, if you're a dentist in Cincinnati, OH, a patient can enter a search phrase like "dentists in Cincinnati" or "dentists near me," and your GMB listing should pop up at the top of the search engine results page (SERP) with other local businesses in your industry.
So, if you have claimed your GMB profile yet, it's time to do it!
Claiming Your GMB Profile
Initially, claiming your Google My Business listing and setting it up is fairly straightforward. All you need to do is go to the GMB home page and click on the manage now button in the upper right corner.
From there, you will navigate through several prompts that will have you complete your profile, including entering some basic details about your dental company:
Business name
Location (You can do a separate GMB listing for each branch)
Your specialization/category (oral surgery, orthodontics, etc.)
Link to your dental website
Once you get through the initial setup process, Google will send you a postcard in the mail with a verification code you will enter to finalize your listing.
8 GMB Optimizations Your Dental Practice Business Listing Needs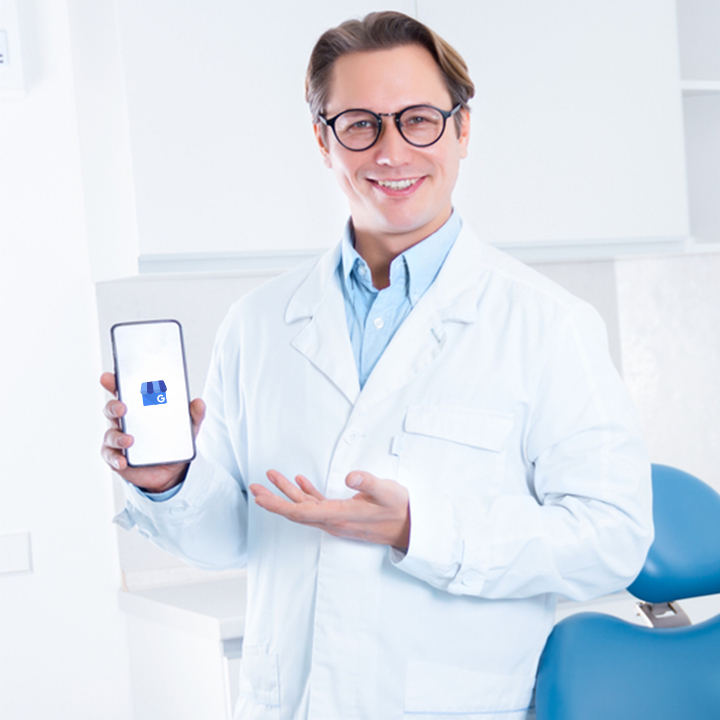 While setting up your business account page on Google, you may have noticed that there were a lot of options for you to customize. To maximize your local search exposure with this free listing, at the very least complete the following optimizations:
Categorize Your Business Description Accurately
Dental practices have as many variations as there are flowers in the world. So, it's essential that you accurately categorize the type of dental services you provide.
Google offers several category descriptions for dental professionals, including:
Pediatric dentistry
Emergency Dental Service
Denture care
Dental lab
Cosmetic dentist
Dental clinic
Oral surgeon
Dental hygienist
Teeth whitening service
Dental school
Dental supply
Dental insurance agency
Dentist
Dental radiology
Of course, your office probably provides many of these services, and this optimization allows you to pick up to three categories for your Google my business listing. But, make sure to set whichever is most important as your primary so that Google search results are accurate.
Review Management
One of the most important marketing features of your GMB listing is the review system. Since most patients trust online reviews when deciding on a dental company, it's crucial that your team monitors and responds to any feedback received.
While this may not sound like a Google My Business optimization, per se, dedicated review management optimizes your listing for search algorithms. Whenever you engage with your market audience on your GMB profile, you actually help increase your SERP ranking.
A simple acknowledgment of a compliment or resolving a complaint adds to your practice's trustworthiness and online reputation.
Google Questions and Answers
Google My Business listing features are constantly being updated and added all the time. The recent addition of the Questions and Answers feature adds another free marketing opportunity for dental organizations trying to boost their brand reach online.
Google allows you to use this feature either proactively or passively. You can even allow users to post answers to questions others ask about your practice, but if you do, make sure you enable notifications to get pushed right away so you can manage these responses. You don't want inaccurate information about your dental practice to make potential patients pass you by.
Ideally, you will answer inquiries yourself, which in turn boosts your engagement rating. Doing this can also add authority to your office and help patients in your service area recognize your industry expertise.
Be prepared for some questions you receive to require information that isn't part of your GMB listing. For example, dental companies frequently receive inquiries about the type of insurance accepted, payment options, and holiday hours. Suppose your staff gets asked about specific treatment advice or shares any protected health information (PHI) of a patient in an answer. In that case, this could violate HIPAA law and Google's community standards. So, be vigilant in avoiding these situations.
One method to avoid potential legal issues is to post your own FAQ. This passive approach is ideal and helps minimize your listing getting inundated with questions that aren't relevant to your practice or spammy.
Include Online Scheduling Links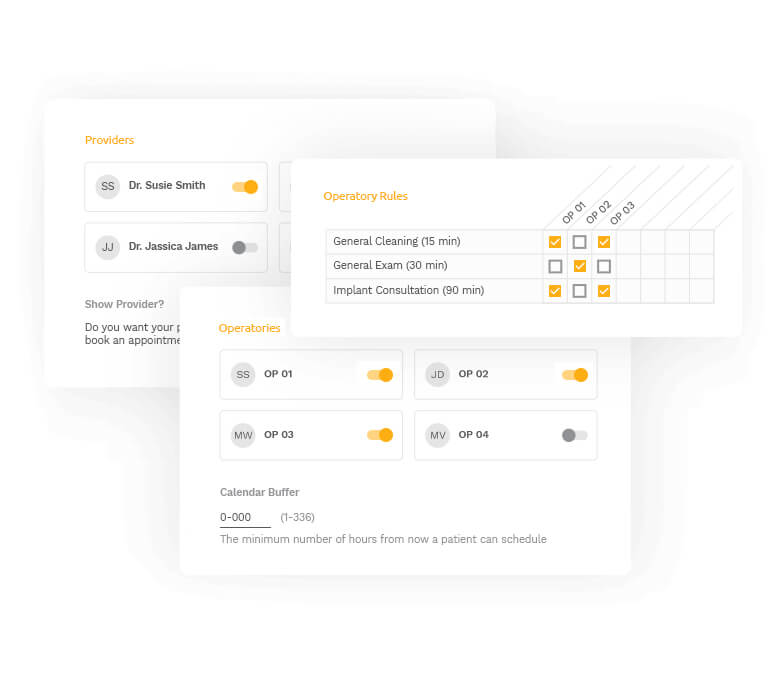 If you currently offer online scheduling through your website or a third-party service provider, make sure to include a link to help prospects convert. However, for dental practices who haven't gotten that far in their site design yet, don't worry! You can still add a link that takes visitors to your contact page so they can request an appointment.
The goal is to make access to your scheduling options as easy as possible.
Use the Services Section of Your GMB Listing
Since its introduction in 2018, the Services section of GMB has quickly become one of the most important optimizations to date. This feature does more than allow you to enter all of the dental treatment options your office provides, but you can include a description, as well. Not only that, but you can even categorize your services to make them more search-friendly for users visiting your listing.
This is also a great marketing opportunity because you can use keywording in the descriptions, which will boost your SEO strategy further.
Post Updates, Announcements, and More
When optimizing your Google business account, don't forget about the posting features that come with your free listing. You can further optimize your posts by choosing what type of category it falls under:
Offers
What's New
Events
Products
All of these come with their own unique features and provide you additional marketing opportunities for free! Of course, you can also choose just to add a new image or create an advertisement. Just keep in mind there is a character limit as well as specific content guidelines you must follow. But, optimizing your posts with a clear call-to-action (CTA) makes this an important feature you should regularly utilize.
Below is a quick overview of how to optimize each post category on your GMB page:
Uncategorized Postings
One of the primary reasons you want to use any of the post features is to increase your reputation as an expert in your area of dentistry. This can be done by sharing important oral care tips, providing general treatment information, or sharing the latest news on research affecting your services.
Remember, general posts are a great place to share thought leadership on important topics that prospective patients are concerned about. You should also use your SEO strategy when creating this content by using the best keywords for the subject to maximize your exposure and ranking.
Offers
Everyone loves a special discount or offer when going to the dentist. Just make sure that you incorporate SEO strategies like keywording when advertising your latest promotions. This free advertising is one of the most significant Google My Business Listing optimizations you can use to maximize your local reach.
What's New
Did you just get back from a dental conference or expand your whitening product line? This category is the best space to share this kind of news, and anything else you think is worth announcing.
Maintain Your Contact Information
One of the most frustrating experiences someone has when searching for a dental provider is receiving inaccurate contact information. If you recently moved, created a brand new website, or changed your phone numbers, you need to reflect these changes in your GMB listing.
Out of all the Google My Business listing features out there, this is probably one of the easiest to overlook. Can you imagine how a patient might feel if they show up at your old address and it's just an empty building? Not only did you waste their time and travel, but now they think your dental company closed down.
Regularly check your NAP data (name, address, phone number) and ensure it's consistent not just on your GMB listing but across all profiles that contain these details. From social media to email templates and Yelp listings, Google's search crawlers will find inaccurate data, and this impacts your SERP ranking.
You should also regularly check your shared links to ensure they function correctly and take you to the correct location. If your visitors aren't getting directed to the website you want, your traffic numbers drop, as does your ranking.
Only Use High-Quality Images
You want patients to see your dental office as modern, technologically advanced, and providing quality service. Using low-quality images that appear tiny, blurry, or grainy doesn't create this impression. When optimizing your listing, take a few moments to visit your GMB page using different types of smart devices. This will help you get a better idea of the image quality you're using.
Swap out anything too difficult to make out. Consider taking newer pictures of your office and team members too. Everything changes over time, and you want your prospective patients to have an accurate understanding of your dental business.
Adit Makes Optimizing Your Google My Business Listing a Cinch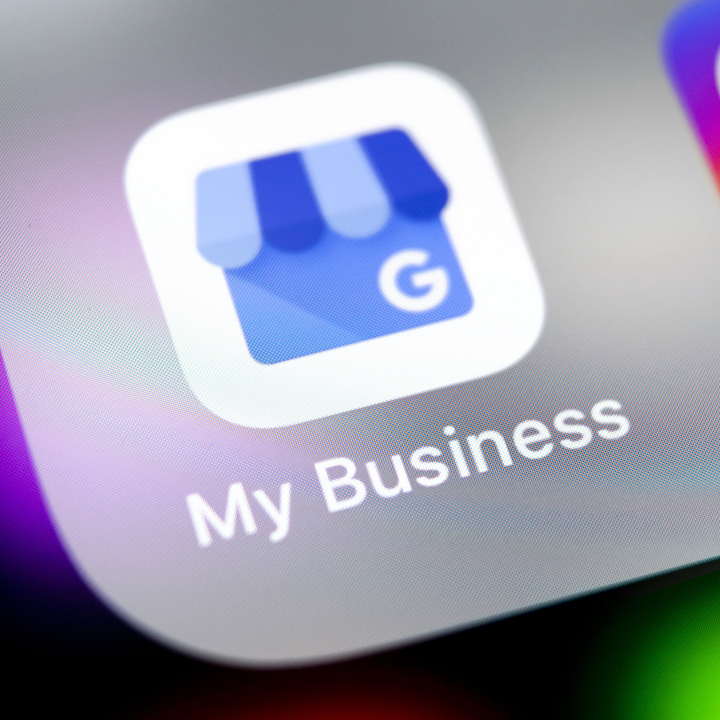 The majority of your new patients will be converted online, which makes optimizing your local business presence crucial to your digital marketing strategy. Making business account optimizations not only puts you in front of prospects in your service area but can boost your SEO efforts. This means more brand awareness and patient engagement because of your improved Google search ranking.
At Adit, we understand that you may not have the time to complete this process on your own because you have a busy dental practice to manage. Our team of digital marketing experts can help create a robust local search presence for your company through the use of GMB business listing posts, ad campaigns, and so much more.
We also provide an extensive range of dental advertising services that maximize the ROI of marketing tools like Google Ads. Our team can transform your Google My Business listing and other marketing channels into profitable revenue sources that build sustainable growth for your practice.
Reach out to us today to learn more about our company, the latest special offers we have available, and our Patient Guarantee.