One of the most significant improvements for dental practices has been implementing two-way text messaging with their patients. It's no surprise that this form of communication is still the most popular, thanks to smart devices like mobile phones and tablets. If you're a dentist who hasn't added texting to your contact options, check out these top ten ways that text messaging can benefit your practice.
Better Handling of Missed Calls
Every missed call is a potential lost patient. One of the challenges in running a busy dental practice is ensuring every call missed is appropriately handled. Text messaging makes it possible to retain prospects who couldn't get through the first time. A follow-up text message can be sent immediately to their number and initiate an automated conversation to keep them engaged. This can buy you the time you need to call them back and book their appointment.
Instantaneous Text Response
Of course, missing text messages from your patients can be equally damaging to your business. If a message is sent, patients expect a response almost immediately. AI-powered messaging options can ensure replies get sent right away to avoid your patient thinking their needs are being overlooked.
Turn Web Queries into Real-Time Conversations
When designing a practice page, keep text messaging in mind when deciding how site web queries will get answered. You may believe that your staff can keep up, but the reality is that other demands often get in the way, leaving website messages going unanswered longer than intended.
Instead, convert your web chat features to text messaging, which will ensure that simple queries can become deeply engaging. Once your prospective patients chat with you via SMS, conversion should be even easier.
Increase Patient Reviews
Getting positive patient reviews is vital to your brand reputation in your service area. Plus, this valuable feedback is just one more metric you can analyze to determine your patients' experiences with your dental office. However, reminding them to visit your Google My Business page to leave a review can be challenging, and often it's all about convenience.
Text messaging for your dental office can help streamline this entire process and make leaving a review even more convenient. With Adit, you can create an automated review request with a link embedded in the text message that routes patients directly to your preferred feedback site.
Handle Scheduling, Reminders, and Confirmations
How often do you check your emails every day versus text messages? We live in a world where smart devices like mobile phones keep us up-to-date on every aspect of our lives. The same is true for dental patients when it comes to scheduling appointments, being reminded of upcoming visits, and confirming they will be there.
Two-way texting simplifies this entire process and relies on automation to help patients easily set up appointments via an embedded link in the body of the message. It's even possible for rescheduling, confirmation, and canceling. If you want to reduce your no-shows and last-minute cancellations, communicate through the method your patients rely on the most: text.
Keep Patients Engaged and Recalled
As mentioned previously, patients are more easily engaged through text messaging than any other communication platform. Because their mobile devices and tablets are always nearby, patients are always aware of new messages received. This means your dental practice can keep them engaged through informative texts that relay important details about upcoming appointments and treatment options they might find appealing.
Adds Another Layer to Campaign Outreach
Like any business, your dental practice has a marketing strategy to drive growth and revenue. For example, if your company holds an annual event, you want to get the word out as quickly as possible and ensure a good showing. Using text messaging for campaign marketing is a great way to get patients on board with these happenings and ensure your message doesn't get lost in an email spam folder.
Funnel General Communication Away from Office Lines
Communicating with patients about upcoming appointments, holiday hour changes, and other general messages is time-consuming. Text messaging streamlines this process because mass messages to your patients or customized messaging to specific groups of patients are possible.
Whether there is a power outage and you have to reschedule your entire afternoon calendar, or you just want to let everyone know that you won't be open on New Year's Day, SMS simplifies the whole process.
Payment Processing
Tired of sending out multiple reminders in the mail only to have them sent back due to an address error? Dental text messaging features can also help with collections and provide embedded links to your secure payment processing site.
Provide an Instant FAQ Resource for Patients
Save your front office staff precious productivity time by using an automated FAQ feature in your text messaging application. You determine what questions will have answers, and patients can save time by submitting their questions through SMS and getting an instant response from the built-in answers you have programmed.
Still Unsure About Text Messaging for Your Dental Office? Here are the Benefits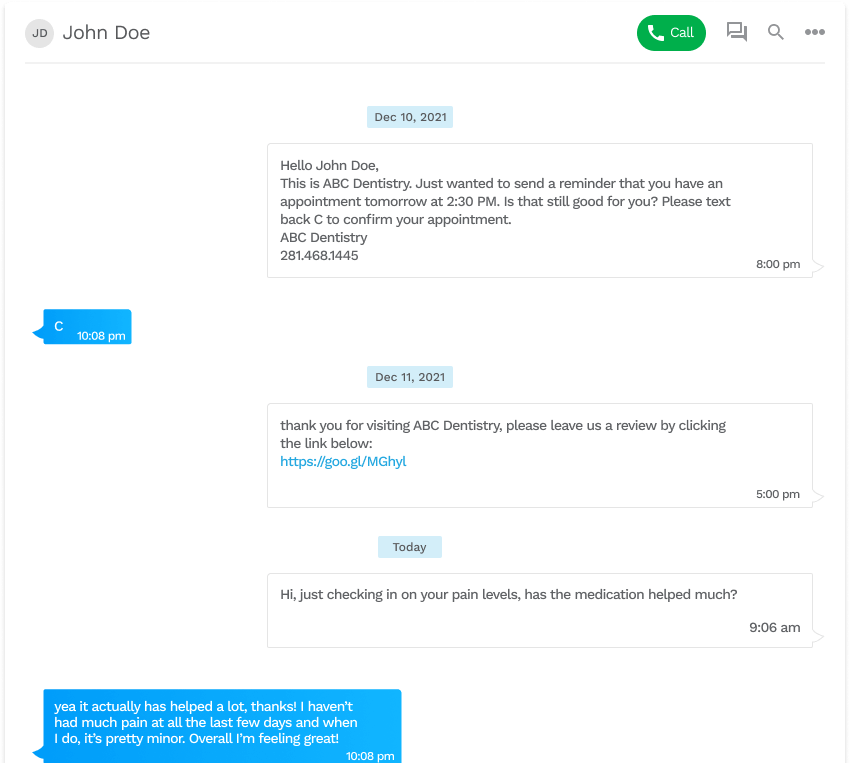 With the increased usage of text messaging in dental practices, the mutual benefit between dentists and their patients is undeniable. The simplistic nature of texting makes this communication popular because it's intuitive and easily accessible.
Below are the top four benefits of using text messaging in your dental office:
Increases Engagement
Patient engagement is crucial to your dental company's success. Keeping them engaged with your company between appointments can be challenging, but text messaging bridges this gap. Sending essential practice updates, educational information about oral health, and appointment reminders are just a few of the ways to keep your office at the forefront of patient minds. For example, you maintain contact with just a quick text message sharing your recommended flossing tips.
Enhances Communication
Because sending a text message is often easier than making a phone call, many patients will respond to your texts and follow through on treatment plans. Many offices also rely on SMS to send patients requests for additional information about their dental problems. This creates a more personal communication approach and reassures patients that your team wants to provide the best care possible for their situation.
Imagine the time it saves for your team, as well, not having to make thirty calls in a day to remind patients about upcoming appointments and needed paperwork. This means your front desk has a more efficient workflow because they aren't tied up on the phone.
Reduces No-Shows
Just like dentists, patients have busy lives. Unfortunately, this can translate into forgetting about a scheduled appointment they have at your office. Fortunately, text messages can be sent automatically days and even a few hours prior, ensuring patients remember their upcoming visit time and can reschedule ahead of time if needed. This also means that you can quickly move another patient into this time slot that had a longer wait previously.
The ability to reduce no-shows through the use of SMS reminders can significantly improve the productivity of your team and dentists while keeping your service chairs full.
Simplifies Communication
Having a dental website is an excellent way for patients to submit queries to your office, but it's not the most efficient or engaging. Not only does your staff have to read through a bunch of emails and respond to each individually, but it may not be the same day. Prospects prefer near-instantaneous responses when they reach out, and text messaging makes it possible to automate real-time chat options.
Getting Started With Text Messaging for Dentists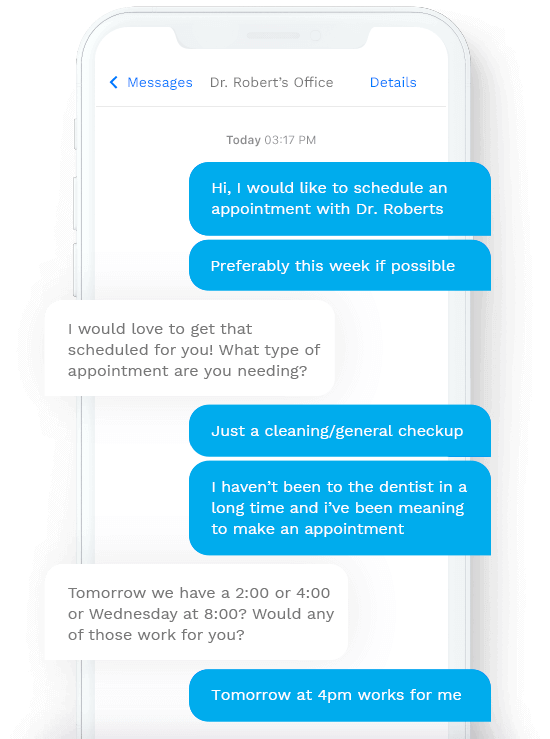 With an effective text messaging feature in place for your dental office, you can focus on what matters—serving your patients and growing your practice. Adit has developed state-of-the-art communication tools to modernize your office and streamline how you engage your patients.
Our texting platform is innovative because it makes patient engagement a nearly effortless process that communicates via SMS in real-time. It's also HIPAA compliant, so you can ensure that when your patients reach out to your office, their information is secure and protected.
Overcome the struggle and engage your parents by providing a texting option that is not only convenient but easy to use. Regardless of their age or technological capacity, Adit has the platform you need to maintain your current patient relationships and attract more. You will also learn more about your patients' experiences when visiting your office and what factors impact your retention efforts through this type of communication.
If your reminder emails and phone calls are not receiving patient responses, or you want to broaden how your office communicates and engages, request a demo from Adit today. We offer a comprehensive practice management solution that can help your company achieve the vision you have for it.