Advancements in technology have been transforming various industries and dentistry is no exception. Among the innovations that have revolutionized dental practices, dental treatment plan software stands out as a game-changer, offering numerous benefits for dental professionals and patients alike. This digital approach to treatment planning has streamlined the process, improved patient communication, and resulted in better treatment acceptance rates.
With its ability to save time, reduce costs, and maintain comprehensive treatment records, dental treatment plan software has become an indispensable tool in modern dental care. This article will explore the advantages of using dental treatment plan software and how it contributes to better oral health outcomes and brighter smiles for patients.
The Importance of Using a Modern Treatment Planning Software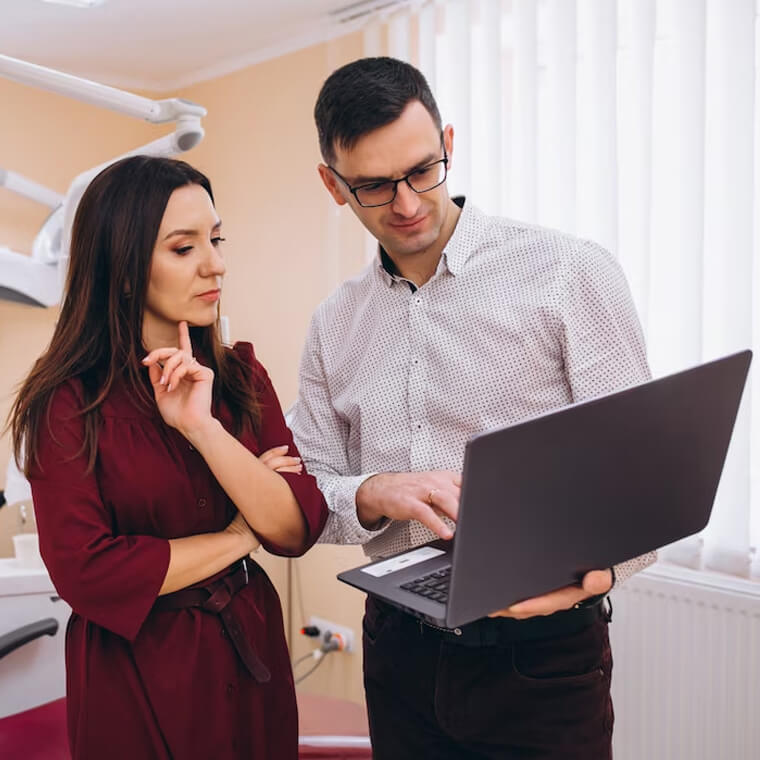 In the rapidly evolving landscape of dentistry, adopting modern treatment planning software has become essential for dental practices looking to stay ahead and provide the best possible care to their patients. It empowers dentists with precision and accuracy, using advanced algorithms and comprehensive data analytics to create personalized treatment plans. The software's integration and compatibility features streamline communication within the practice, promoting efficiency and reducing errors. Time and resource optimization is achieved through intuitive interfaces and automation, allowing dentists to focus on patient care.
Moreover, treatment planning software enhances patient communication and engagement by utilizing visual aids and interactive tools to present treatment options clearly. Patients can make informed decisions about their oral health, fostering trust and strengthening the patient-dentist relationship. The transparency of treatment planning software builds patient confidence and encourages active participation in dental care decisions.
With planning software like Adit, scalability and growth are built in, enabling practices to expand while maintaining efficient operations. Regular updates and support facilitate ongoing professional development, ensuring your team isn't stuck with an outdated solution after just a few years. Thanks to modern treatment planning, your office will be able to deliver exceptional care, improve oral health outcomes, and meet the demands of a technology-driven world.
How Treatment Planning Software is Improving Patient Experiences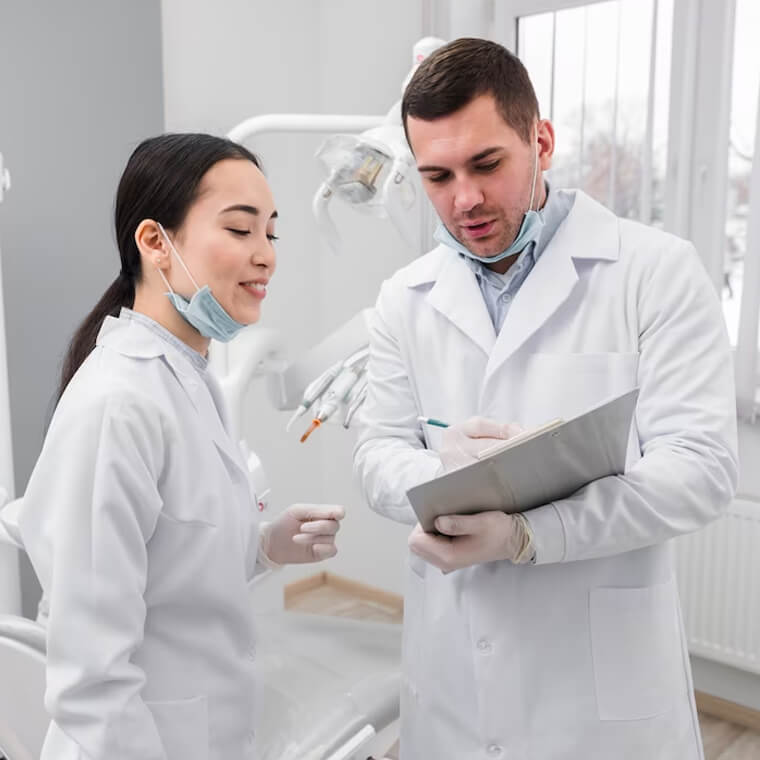 Patient satisfaction and experience are at the core of any top dental practice. Modern treatment planning software has emerged as a powerful tool to enhance outcomes, leading to higher levels of patient satisfaction and clinical success. Here are some ways in which treatment planning software is positively impacting patient experiences:
Visualizing Treatment Options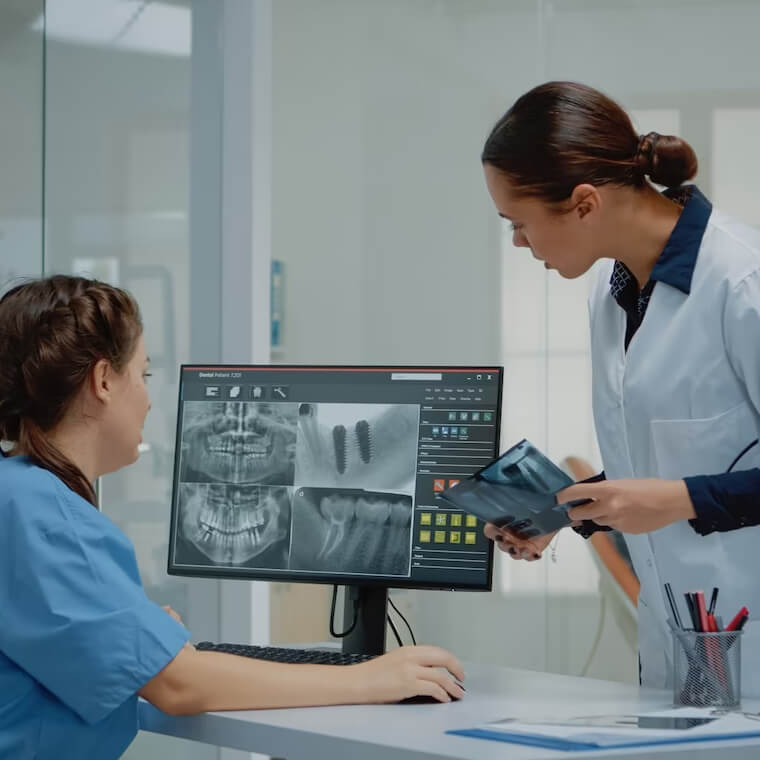 Treatment planning software offers visual aids and interactive tools that enable patients better to understand their dental conditions and available treatment options. Patients can visualize the proposed procedures through 3D models, animated videos, and before-and-after simulations, making complex treatments more comprehensible and less intimidating. This visual representation empowers patients to actively participate in their treatment decisions and feel more confident in their choices.
Transparent Treatment Information
Transparency is a key element in patient-centered care. Treatment planning software allows dentists to present treatment options, associated costs, and potential outcomes in a transparent and accessible manner. Patients receive detailed explanations of their treatment plans, eliminating confusion and ensuring they are well-informed about the procedures and expenses involved. This level of transparency builds trust and fosters a strong patient-dentist relationship.
Personalized Care
Each patient's dental needs are unique, and treatment planning software facilitates the creation of personalized care plans. Dentists can develop tailored plans that align with individual goals by considering factors such as the patient's oral health history, preferences, and budget. Your clients will appreciate the attention to detail and this customized approach, which enhances their overall experience at your practice.
Streamlined Treatment Planning Process
Dental treatment plan software has transformed the way treatment plans are created and organized, making the process significantly more efficient. In the past, dentists relied on manual methods to record and track treatment plans, which could be time-consuming and prone to errors. With the introduction of practice management software, dentists have access to a wide array of comprehensive digital tools at their fingertips. This allows dental professionals to swiftly create personalized treatment plans tailored to each patient's unique needs with just a few clicks of the mouse.
With Adit Treatment Plan Builder, your team can choose from a wide range of pre-programmed dental procedures, such as fillings, crowns, or root canals, and input the patient's specific treatment requirements. Our software then automatically calculates the estimated cost of the treatment, saving valuable time and ensuring an accurate breakdown of expenses for the patient.
Payment Flexibility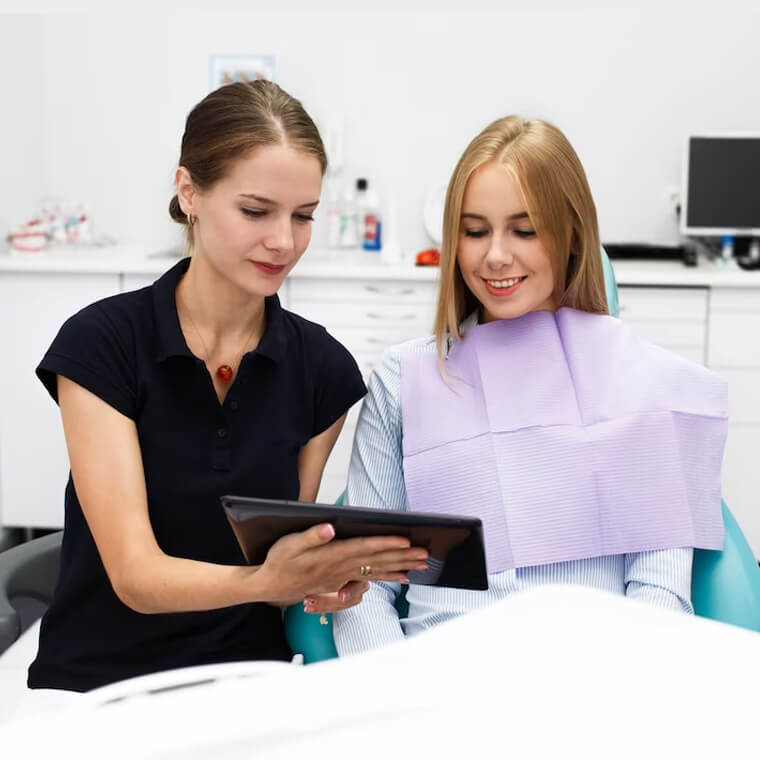 Payment flexibility and the ability to customize treatment plans are other essential aspect that contributes to improved patient experiences through treatment planning software. Modern treatment planning software empowers dental practices to offer patients a range of payment options, making it easier for them to manage the financial aspect of their treatments.
Adit's Treatment Plan Builder module collaborates with Adit Pay so that patients can settle up in a variety of ways, including credit/debit cards, electronic funds transfer (EFT), and subscription plans. This flexibility ensures that patients can access your services and pay for treatments on their terms, leading to greater satisfaction and reduced financial barriers to essential care.
Customized Treatment Plans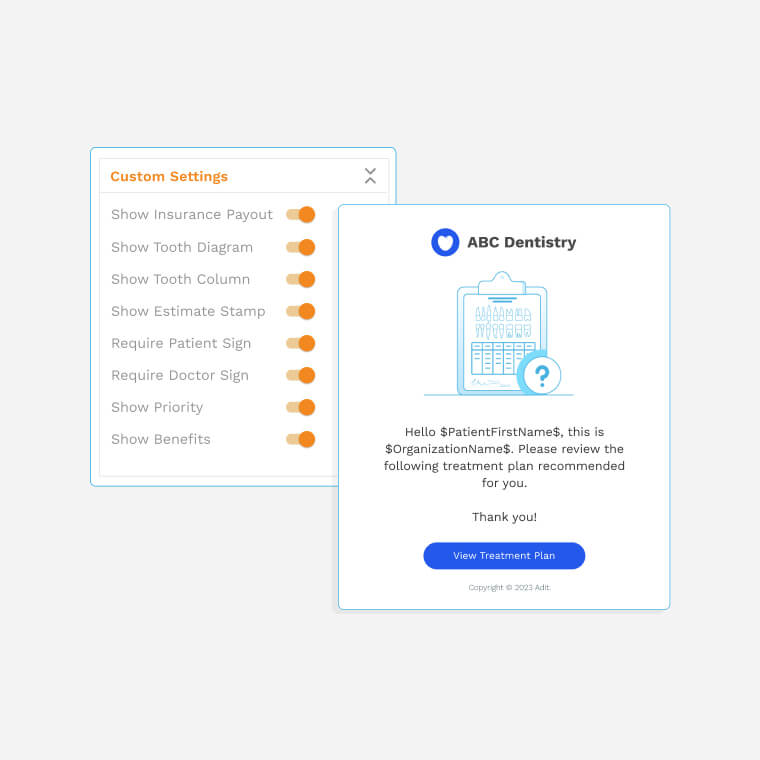 One of the key features of treatment planning software is it allows dentists to create customized treatment plans tailored to each individual's unique dental needs and preferences. By collaborating closely with patients, your team can design a treatment roadmap that aligns with their oral health goals, lifestyle, and budget. The software's ability to generate detailed cost breakdowns for each procedure enables you also to provide accurate estimates and various options for spreading out payments based on their financial capacity.
Streamlined Communication
Effective communication is pivotal in dentistry, treatment planning should streamline communication between dentists and their patients. With Adit Treatment Plan Builder, you can share treatment plans, explain procedures, and answer patient queries efficiently through various channels outside of the office, including secure patient text messaging and email.
Patients can review this information from the comfort of home at their convenience and provide feedback, express their concerns, and actively engage in their treatment decisions. This open line of communication ensures they feel heard, valued, and actively involved in their oral health care.
Enhanced Treatment Acceptance
Treatment planning plays a vital role in improving acceptance rates. By providing patients with comprehensive and understandable treatment plans, they can make informed decisions about their oral health. Patients are more likely to proceed with recommended treatments when they can see a visual roadmap to their dental health, understand the associated costs, and discuss the expected outcomes.
This patient-centered approach fosters trust and empowers them to actively participate in the decision-making process. No surprises, no barriers to care.
Seamless Treatment Coordination
In cases where multiple dental procedures are required, treatment planning software facilitates seamless coordination between different specialists and departments within the dental practice. The software enables efficient sharing of patient information, X-rays, and treatment plans among the dental team, ensuring a well-coordinated and cohesive approach to patient care.
Continued Patient Engagement
Another advantage of modern treatment planning software is how it supports continued patient engagement throughout their treatment journey. Because patients can access their treatment plans online, review their progress, and stay informed about upcoming appointments, they stay motivated, committed to their treatment plans, and connected to their dental practice.
Time and Cost Savings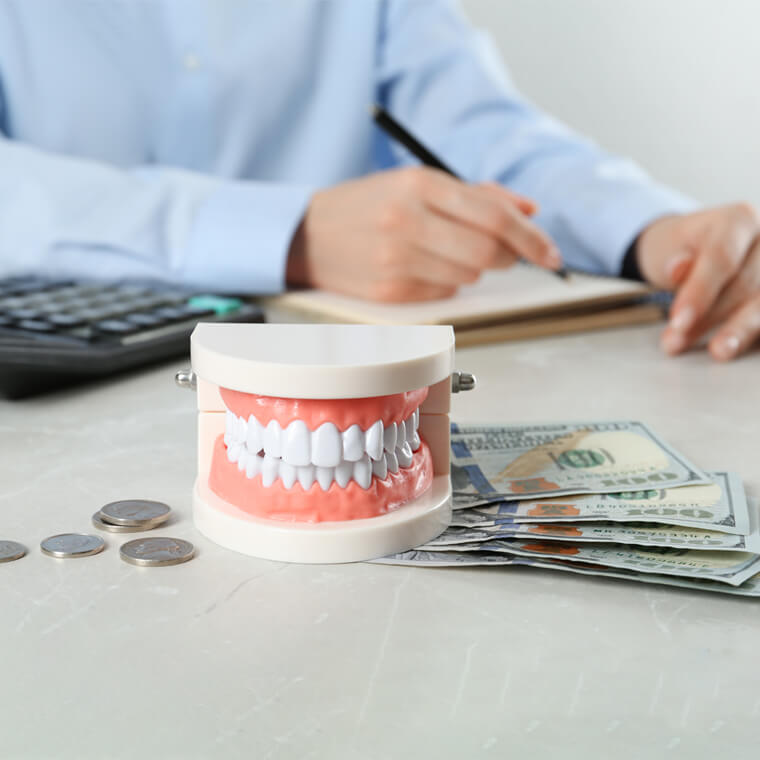 One surefire way to significantly reduce the administrative burden on your dental team is through the implementation of a tech-forward treatment planning process. Not only will your office save valuable production time, but you'll see your bottomline perk up too. Adit's platform automates a large part of the planning process, especially when it comes to documentation, appointment scheduling, and follow-ups.
Say goodbye to hours wasted playing phone tag and reduce long wait times caused by a manual intake process. Using an end-to-end PMS that offers electronic patient forms, online self-scheduling in real-time, and automated reminders, your office can reclaim the time spent on unbillable tasks for more important things.
Comprehensive Treatment Records
Maintaining accurate and detailed treatment records is vital for delivering high-quality dental care and ensuring seamless continuity of care. Practice management software with built-in planning tools provides a secure digital platform to store all your patient data, including proposed treatments, progress notes, finance agreements, and patient data, in one centralized location.
This instant access to comprehensive treatment records enables dentists to provide tailored recommendations and ensure consistent and efficient patient care. Plus, with Adit's cloud-based storage, you never have to worry about data security. We keep it securely backed up, protecting this valuable information from being lost or compromised.
Ready to Elevate Your Dental Practice? Discover the Power of Adit
When it comes to embracing modern treatment planning software, Adit's cutting-edge solution stands out from the crowd. With a plethora of benefits tailored to enhance your dental practice, choosing Adit's treatment planning and practice management software is a game-changing decision that can revolutionize your patient care and practice operations.
Comprehensive Treatment Planning: Adit's Treatment Plan Builder offers a comprehensive library of dental procedures, materials, and costs, enabling dentists to create precise and personalized treatment plans. With advanced algorithms and data analytics capabilities, dentists can ensure accuracy in designing treatment options that cater to each patient's unique oral health needs. This precision leads to improved treatment outcomes and patient satisfaction, fostering long-term patient loyalty.
Seamless Practice Management: Adit's software goes beyond treatment planning, providing seamless practice management tools that streamline administrative tasks and optimize productivity. From appointment scheduling to insurance processing, the software's intuitive interface simplifies practice operations, allowing dental professionals to focus on delivering quality patient care.
Patient-Centric Approach: Adit's patient-centric practice management tools, including its transformative Treatment Plan Builder, revolutionize patient engagement and communication. By fostering a strong patient-dentist relationship and enhancing dental practice success, these tools empower practices to elevate patient experiences and drive growth. Embrace Adit's comprehensive approach to enhance patient care and practice management today.
Adit's Pay Flexibility: With Adit's Pay, the software offers flexible payment options for patients, making dental treatments more accessible and affordable. Patients can choose from various payment methods, including credit/debit cards and installment plans, to settle their bills in a way that aligns with their financial preferences.
Data Security and Compliance: Adit prioritizes the security of patient data with encrypted data storage and compliance with healthcare regulations. Dental practices can rest assured that patient information remains confidential and protected.
Scalability and Growth Potential: Adit's treatment planning and practice management software is designed to accommodate the evolving needs of dental practices, from solo practitioners to multi-location clinics. As your practice expands, the software grows with you, ensuring efficient operations and a seamless patient experience.
Ongoing Support and Professional Development: Adit provides regular updates and ongoing support, keeping dental professionals informed about the latest advancements in dental care. This commitment to continuous learning ensures that dentists can offer their patients the most up-to-date and advanced treatments.
With Adit's treatment planning and practice management software, your dental practice can elevate patient experiences, optimize operations, and deliver exceptional patient-centered care. Join the ranks of dental professionals who trust our innovative solution and have transformed their dental care journey. Take the first step towards a brighter future for your practice. Explore Adit's treatment planning and practice management software and experience the difference today by booking a free demo. Elevate your practice, one smile at a time!