If you feel like your dental practice's patient growth has plateaued or, more alarmingly, has lost a few to competitors, have you analyzed the public perception of your business? It comes as a surprise to many dentists when they start reviewing online feedback about their offices and discover negative opinions or none at all.
The internet marketplace directly impacts your ability to attract, convert, and retain new patients. Managing your reputation online and in the real world are equally important and requires careful nurturing and maintenance to ensure maximum benefit.
What is Dental Online Reputation Management?

In short, online reputation management involves controlling the conversation about your dental practice. It's not a one-and-done process but an ongoing effort to keep your brand in a good light so potential patients will choose your office over competitors offering similar services. Further, public perception will impact your search engine results pages (SERPs) ranking, so there is a two-fold purpose to maintaining a pristine company image.
At its core, your digital identity is built upon several moving components, but online reviews significantly influence your dental organization's long-term success in this competitive industry. Patients rely on internet searches to research their oral healthcare providers. When they find brands with countless 5-star reviews and positive testimonials about impressive care experiences, it bears significant weight on their decision-making process.
You may be wondering how to manage your dental office's online reputation. There are several approaches you should consider, including:
Many dentists will try to handle it independently and respond to reviews one by one a few times a week. This is a short-term solution to a task that needs an efficient, long-term management plan. Letting a negative comment about your company languish for even a few days can translate into lost business.
Adit provides an all-in-one solution that centralizes this communication into one location, so your team doesn't have to log in to multiple sites at once. Even better? Pozative Reviews is more affordable than outsourcing this task but makes it possible to manage your brand's public image on your own efficiently.
Why Your Dental Office Needs Online Reputation Management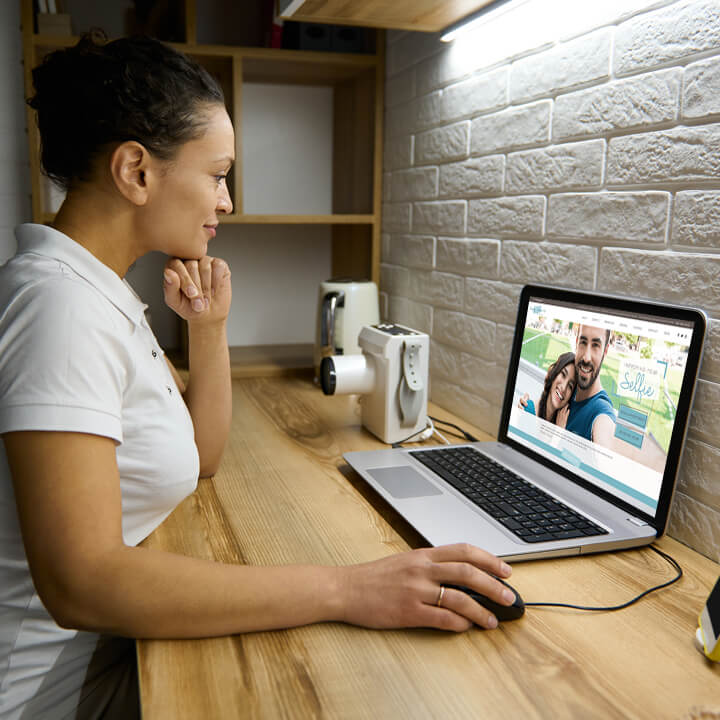 As mentioned earlier, even if you check your online reviews manually every couple of days, allowing negative feedback to go unanswered during this time is likely turning away prospective patients. This translates into more lead generation effort, unbooked appointment slots, and wasted productivity. All of which directly affect your revenue.
Plus, inconsistent online reputation management impacts your search rankings, which are tough to bring back up when they start to sink. So you need as many positive reviews as possible on review sites like Google Business Profile, Yelp, Facebook, and related directories.
What Are the Benefits of Managing Your Brand's Online Reputation?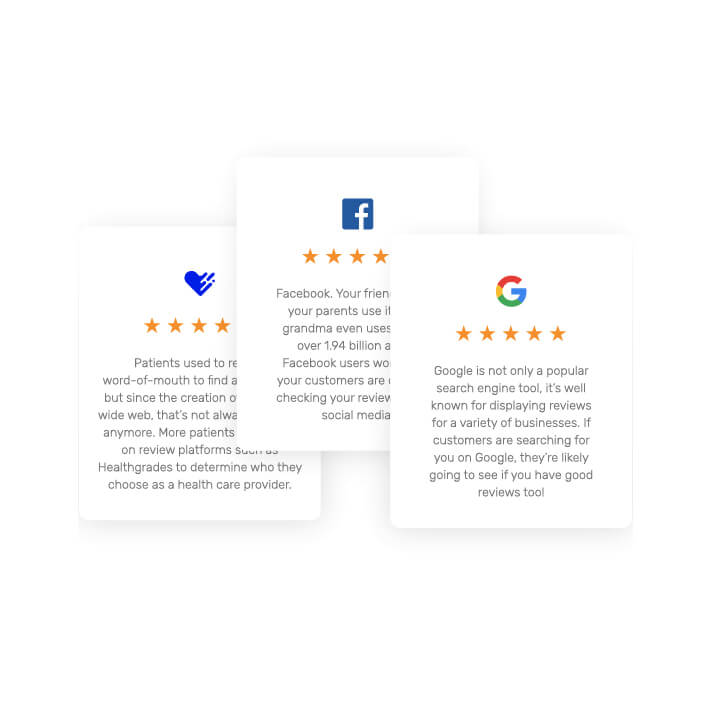 Pristine Online Reputations Attract Leads
Did you know that over 86% of dental patients rely on internet reviews and testimonials to choose their dentist? Let that sink in for a minute because that percentage is astounding. This means that word-of-mouth recommendations have fallen by the wayside. The impact of this reality means if your clinic has less than four stars, prospects may not give your brand a second look.
A sterling online reputation is your ticket to more growth, revenue, and higher SERP rankings.
Your Dental Website Will Get More Traffic
One of your more valuable advertising assets is your dental website, but many dentists treat these as a primary business listing instead of a conversion engine. Your online business profile will link directly to your page, which means you can expect your once neglected site to become the first point of contact for patients as you build up your reputation.
Generating organic traffic with this approach is one of the easiest and fastest ways to get better marketing results.
Enhance Your Dental Office's Competitive Edge
It should go without saying that by increasing your online reputation, you will outrank competing dental offices in your area. Because many dentists still haven't prioritized managing the feedback they receive, this can give you additional room to stand out from the rest when patients begin their search.
Online Dental Reputation Management Scales Up Your Rankings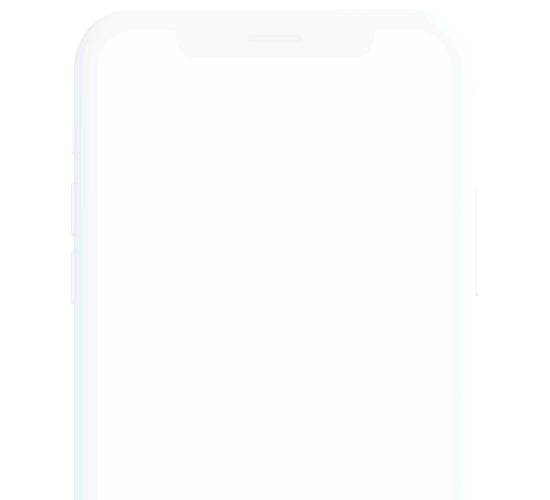 As already mentioned, positive feedback boosts your SERPs rankings. When Google searches or Yelp crawls the interwebs, your content (including reviews) gets rated based on a variety of factors, including "EAT":
Expertise
Authority
Trustworthiness
The more positive feedback your dental practice receives, the better ranking you'll receive locally and organically. You and your team need to engage your existing patients regularly to submit online comments on your preferred review sites to keep this momentum. If you haven't had new feedback in over a month or two, your dental office is probably starting to scale down in search results.
Adit's Pozative Reviews module can simplify the entire process of requesting your patients to go online and leave a good word or two about their care experience. With modern automation and secure SMS text messaging, your team can focus on responding to current reviews.
The Basics of Online Reputation Management for Dentists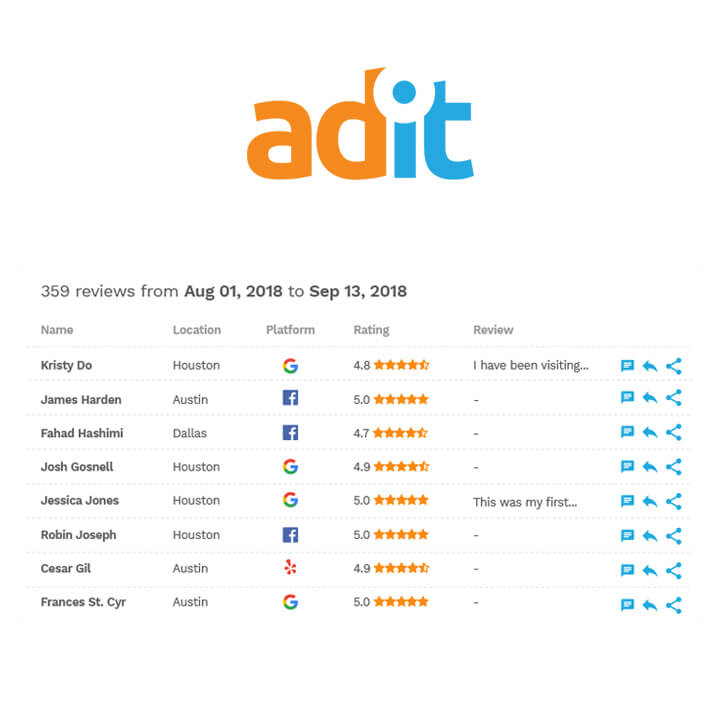 Now that you understand the impact on your dental office and brand, you're probably ready to begin actively managing your reviews. Whether you opt to handle things manually or have an all-in-one practice management platform such as Adit streamline the whole process, your approach to this task is critical.
Below are some tips that can help you maximize the benefit of your online feedback and how to respond when patients don't have a lot of good things to say:
Don't Procrastinate
Managing your reputation should be part of your daily schedule. Positive or negative, when patients leave reviews, they deserve to be acknowledged as soon as possible. Remember, they're helping your marketing efforts by taking the time to contribute their testimonials to your business profile.
You should use a practice management platform that takes a centralized approach to communication, including reviews. This will allow you to create auto-responses and buy you additional time to send a more personalized response later.
Negative Feedback Isn't Always a Bad Thing
When you receive a negative review about your dental practice, your stomach probably drops slightly. Unfortunately, you can't just flag it for removal and act like nothing went wrong. Plus, dental offices that don't have any poor feedback can be unattractive to prospects. The fact is, we all make mistakes.
Any negative reviews you receive should have a response acknowledging the problem and offering to work with an upset patient to rectify the issue. You can often repair the relationship and convince them to update their feedback to a more positive note. This demonstrates your willingness to go above and beyond for those you serve, which is hugely positive in itself.
Kudos Deserve Feedback Too
Even though your automated response may say thank you, positive reviews are your chance to engage with satisfied patients directly and acknowledge the appreciation they've given you. This maximizes the positive influence of your online reputation and is a key piece of your management strategy.
Show Off Your Reputational Record
Be sure to highlight some of your favorite reviews about your dental company by showcasing them in a carousel gallery on your website. This will further support conversion efforts when new patients come to your website.
How to Get Reviews from Patients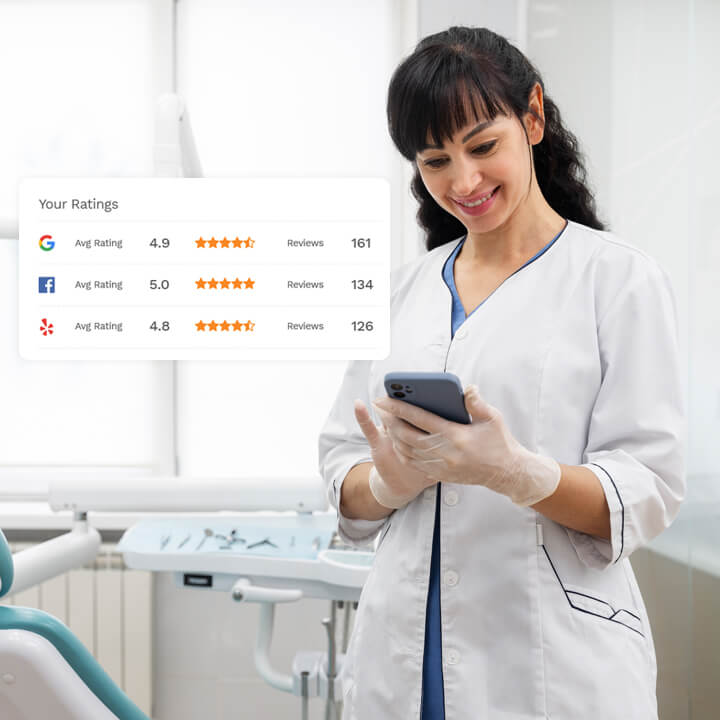 Struggling to get your happy patients to share their experiences? The following suggestions can help address this challenge:
Encourage Feedback
One of the best times to request feedback from patients is as they are checking out from their appointments. Just a simple encouragement is often all it takes. If you realize that a patient isn't satisfied with their care experience, you can address the issue then and there before it ever makes it onto your business profile.
Automate the Feedback Process
Consider using your automated SMS messaging features in your PMS to send reminders for reviews to patients the moment a visit is marked complete. This saves your front desk time and makes your dental reputation management efforts more efficient. Patients will appreciate the convenience of simply clicking an embedded link that takes them to your preferred business profile to leave feedback.
Embrace the Benefit of Adit's Pozative Reviews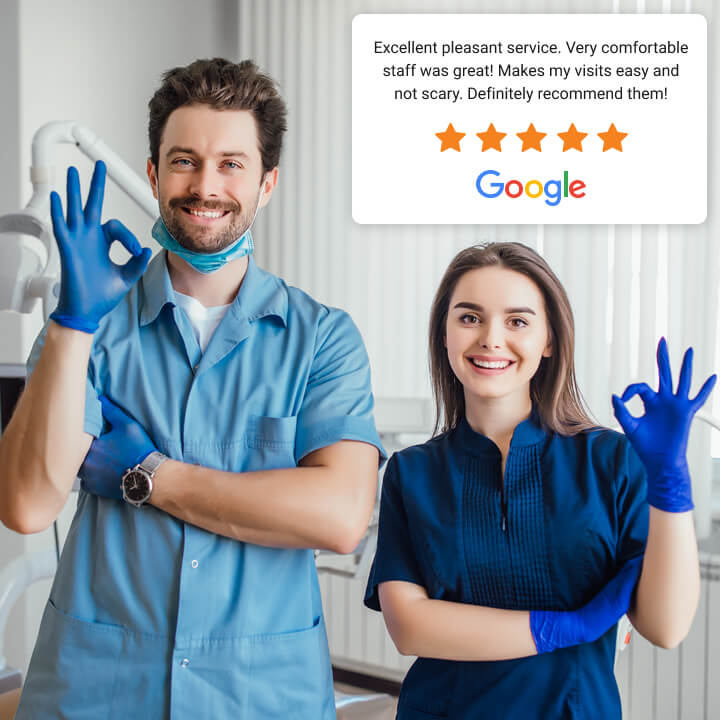 If your current practice management system doesn't offer a centralized approach to managing your online reviews, consider Pozative by Adit. This app provides an all-in-one tool that intuitively streamlines your reputation management efforts by making it easy for patients to leave feedback.
Pozative provides you with dental reputation management services across several of your favorite review platforms, including:
Yelp
Google
Healthgrades
Facebook
Vitals
And more!
Our advanced review application doesn't just stop at getting your clients to leave crucial feedback; it also alerts you when a negative review has appeared. It's vital you respond to these immediately, and our software lets you take control of the situation right away to protect your brand's image.
Interested in seeing what Pozative has to offer your dental clinic? Reach out today and schedule your free demo. We'll show you how easy it is to track online reviews, respond to complaints and praise, and remove fraudulent responses.