As a dental company owner, you want to maximize your brand's reach in every market channel, especially online. Your website will likely be the first point of contact a prospective patient has with your practice. It will also play an important role in converting visitors to booked appointments, which means it should have an attractive presence.
To help you figure out how to create a beautiful dental website in 2023, we have created an updated list of 15 inspirational examples of sites that get it right. When creating this list, we considered the following:
Site appearance
Functionality
User experience
These aren't the only factors that should be considered when creating your dental company website but are essential to its foundation.
Our Picks for 2023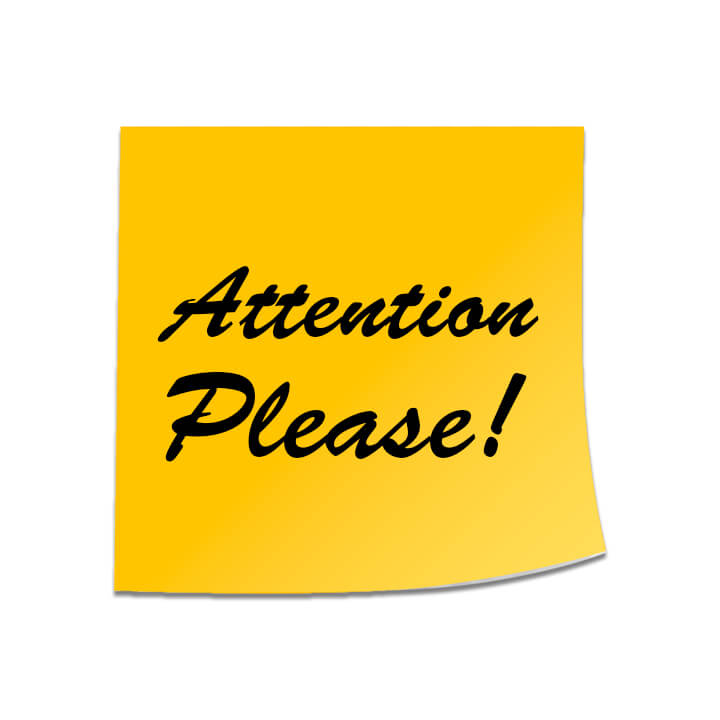 Before you start scrolling through our newest list of the top beautiful dental websites of 2023, make sure you have a notepad ready to jot down some of their features!

If you want to use video multimedia to share your brand's style and vision with visitors, Tend is an excellent example of doing so successfully. This website attracts and keeps prospects browsing by using a clean design with easily understood language and engaging media elements. These features maximize the appeal of Tend's brand and converts.
As a dental clinic that focuses on offering a comfortable and empathetic treatment experience to its patients, East Indy Dental Care's website exudes this message. With calming color tones and stylish grayscale media, visitors quickly get put at ease about the level of care and comfort they can expect.

If your dental practice operates in a small town, this pick is for you! Cedar Village Dentistry provides state-of-the-art surgical procedures and demonstrates its commitment to the Mason, Ohio residents it serves by using a beautiful website design that relates with its market audience. This relatability is achieved by using candid photos and practice videos that showcase the charitable services and community focus its team provides. Couple this humanitarian focus with soothing site colors and easy-to-read language regarding procedures, and you get a winning combination in 2023.

One challenge you might face is creating unique sites for your multi-branched dental company. Atlanta Dental Spa met this challenge and set the standard for quality by creating beautiful web pages for each of its four locations. In addition, by producing high-quality videos that convey the level of luxury and professionalism that each office provides, patients feel encouraged to book appointments with this dental company.

Practice management is an integral part of your dental business, including incorporating important features like online booking and educational information in your website content. Brimfield Family Dentistry includes all of these application tools. It blends it seamlessly into its muted color scheme featuring smooth transitions between sections, animated backgrounds for its site header, and joyous family and staff photos.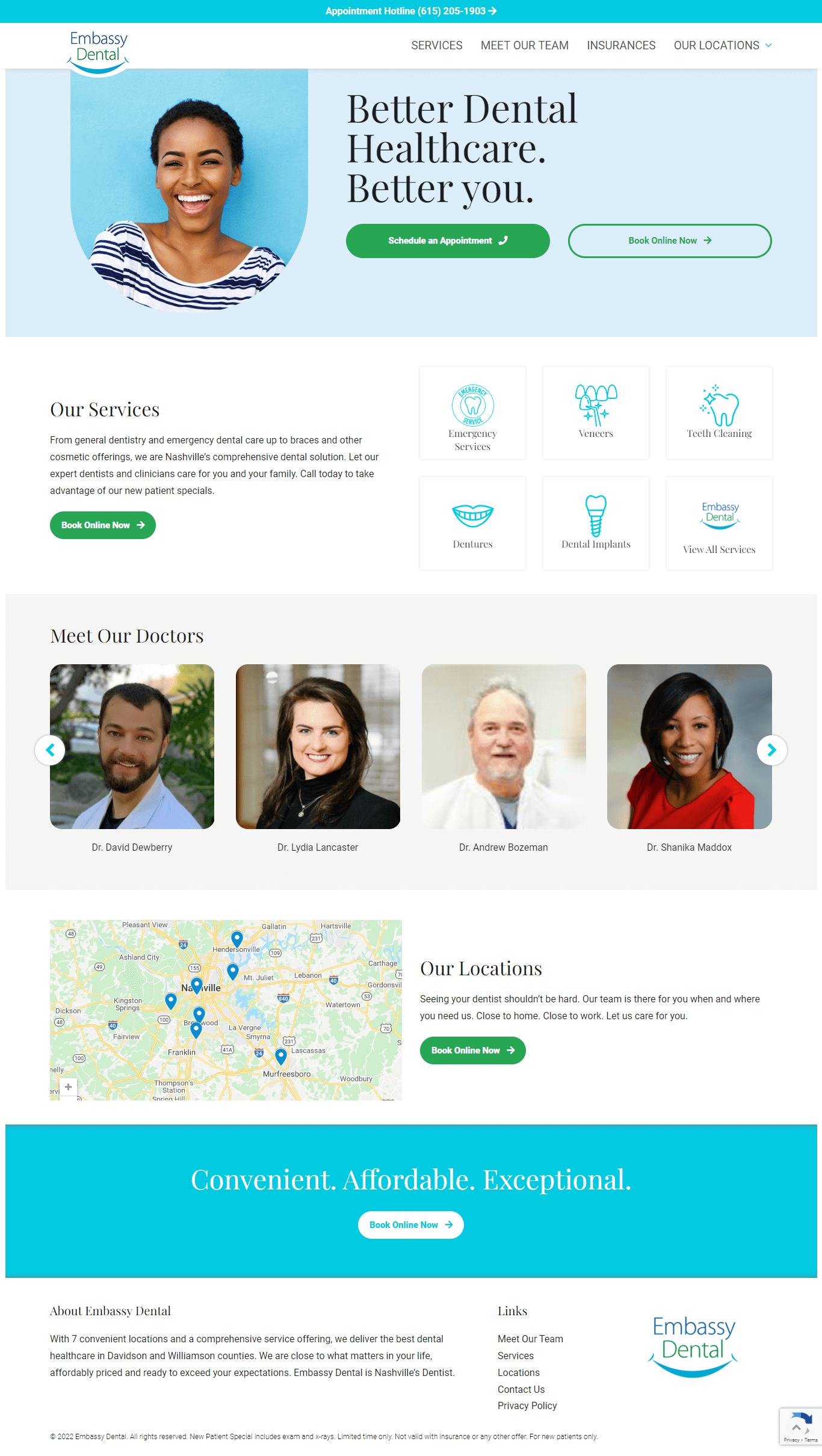 Beautiful dental websites rely on visual appeal when relaying information about services, educating patients, and appointment scheduling. Embassy Dental weaves all of these features together and creates an elegant page filled with easily navigated information, including brief introductions to its dentists and staff and a convenient location map that matches the page's style.
Even more attractive is the navigation bar. It's specifically designed with patients in mind to ensure appointment scheduling is a breeze.

How can you make an emergency-focused dental website beautiful? Bash Dental is a great example of focused brand messaging combined with a pleasing color palette. The services page avoids wordy blocks of text, smartly incorporates page breaks and bullet points, and relies on smiling dentist photos. So, even though a prospect may need emergency dental care, the website already assures them that they are in good hands before ever walking into the office.

Smile Culture Dental relies on a clean white background and muted green headers to grab visitors' attention while providing a pleasant navigation experience. This company uses Instagram to share behind-the-scenes photos and candid shots of happy patients to make their brand even more relatable. Using a video as part of the page's header can provide genuine testimonials from those who have come for care and left with great results. Another aspect that adds engagement to this practice's website is the live chat.

As a pediatric dentist, you may struggle to find the right approach to highlighting your pediatric specialty. However, this dental office was able to find the perfect balance between professionalism and juvenile appeal through the use of funky patterns for header backgrounds and candid pictures of their child-friendly waiting area. Highlighting Dr. Julie's dedication and compassion for children, this website is beautifully cheerful in its overall vibe of being approachable and caring.

Make your orthodontic practice stand out like Dunn does with bright color palettes and professionally created multimedia and photos. It's important to remember those aesthetics are just as important as website best practices, which include:
Frequently asked questions with explanations
CTAs that push patients to book a consultation through the use of appeal
Boost your reputation through the use of testimonials and before and after media
Create engaging copy that further increases the value of your services

If you're a pediatric dentist looking to incorporate a popular story theme into your practice, consider the approach Jupiter Pediatric Dentistry took. The owners of this dental company took ideas from "The Little Prince" to create their beautifully-designed website. While it won't be children searching the site looking for care, the whimsical use of watercolor-style animations is an endearing concept that appeals to parents. This site combines all of the artistry of popular story fandom with strategic SEO concepts and engaging CTAs.

For dental companies operating in highly competitive regional markets like Los Angeles, you may worry about standing out from your crowd of competitors. Glo Modern Dentistry has a gorgeous website that makes its brand memorable to patients through high-contrast and quality media. This practice's main page uses a striking glam photo that exudes fashion and beauty in its introduction. But, it takes more than amazing cosmetic dental services to make a name for yourself in L.A. This provider adds to brand appeal by dedicating a significant portion of its site to education about common oral health issues.

Consider the beauty of a minimalist approach and check out Zen Dental Studio. This website uses a simple but effective layout with quality content that focuses on the message and not the word count. It also has an attractive color and font style that isn't typical for most medical-style dental pages.
We chose this page as one of our top beautiful dental website picks because it still uses an effective marketing strategy despite being minimalistic.

Beauty is more than just soft hues and smooth transitioning multimedia and graphics. The user's experience on your website also lends to its attractiveness. Take Laser Dentistry of Erie, for example. There are cool muted colors, relaxing animations, and reassuring content throughout this site. It stands apart further with the simple flow of information that is intuitive, which gives patients more confidence when deciding to book an appointment.

If you want to get away from the usual, check out SmileSpot: Brea Dentist. The first image to greet you on their website is a classic VW minivan at the beach in a washed-out gray accented with bold orange and teal graphics and lettering. It's pleasing to the eye and makes visitors want to keep scrolling for more.
Dr. Pham's love of the ocean, relaxation, and taking it easy in life is not lost on anyone viewing his dental company page. His practice provides many comforts from home that we all love so that his patients have the best experience possible while in his care.
How to Put Together Your Beautiful and Functional Dental Website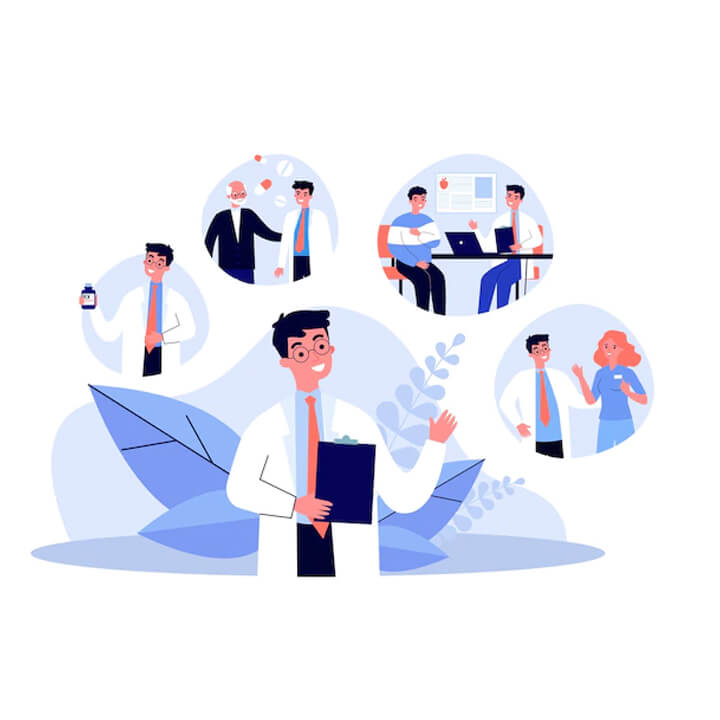 With all of these gorgeous dental websites, you may be feeling ready to start designing! To help you make the most of your site, consider the following factors when creating the perfect web experience for prospective patients who visit:
Know Your Audience
It's important that any content, elements or style that you incorporate on your website will relate to the market audience you're trying to engage. For example, using small print or low-quality images and media isn't ideal on a page trying to convert senior dental patients.
Use Relevant Content
Your dental website is one of the most important marketing tools in your belt. Your patients need quality content that adds value to their lives and not repetitive fluff. So what makes your content worthwhile? Check out these suggestions:
Create a Blog
A blog can be a great draw for any beautiful dental website in 2023. The options and topics are endless in blogging, and it can help you reach patients and other dental professionals. In addition, a blog can do a lot for your practice, from posting thought leadership articles to announcing discounts and providing important answers to pressing oral health questions.
Develop a Brand Personality
Your website is an extension of your dental company brand. Therefore, when curating content for your website, present it in a story format that is relatable to your audience. This means using different forms of media to help nurture trust between your practice and the prospects visiting your page. Storytelling is a great way to achieve this goal, whether by video or blog.
Use the Right Keywords
Creating a beautiful dental website in 2023 requires more than engaging content. Everything you share with your market audience needs to rank on search engine results pages (SERPs). Platforms like Google, Yelp, and Bing are popular research tools for prospective patients trying to find a dental care provider in their area. If you want your page to pop up in those queries, you have to use relevant words and phrases.
Simply using the phrase "dental office" won't be enough, you need to find your niche and the vocabulary most frequently searched in relation to it.
You Need Landing Pages
A confusing aspect of web pages is the difference between a landing page and your company site. Landing pages are designed to address specific campaigns, services, or topics to engage readers and convert them to website traffic. These pages should be equally as beautiful and engaging as your dental site and include the following to be effective:
Clear CTAs
Social Proof
Visuals that engage
Easily Found Contact Fields
Mobile friendly
Brand Everything Visually
As mentioned earlier, patients typically turn to the internet to find a dental care provider. When they find your site, is your brand visible? Or, does your page look like everyone else's in your industry?
Creating a visual brand strategy is vital, especially in this age of social media. You want visitors to know what to expect from your dental company before they ever step foot in your office, and consistent branding across all of your visual and written content is essential to accomplish this. Of course, Keywording and informative articles are important, but you can give a clear snapshot of what your practice is all about through photos and video.
Provide Social Media Proof
Having the ability to communicate with those you serve outside of the office is vital to developing trust with your patients. Social media platforms like Instagram, Facebook, and Twitter give you a direct line into your community and makes it possible to reach prospects on a more relatable level.
More importantly, social media helps you generate social proof of your services and skill through posts, shares, and comments by those you have already served.
Create a Seamless Contact Experience
Your website will have, at a minimum, the following pages:
Home page
Team bios
About us
Services
Contact
While serving a separate purpose, all of these have a common goal: convert prospects into patients. Throughout your website, it should be clear what steps to take to set up a dental appointment at your office.
You should seriously consider integrating an online scheduling application within your site to make the entire process seamless for your patients. Practice management software that handles appointment setting in real-time can not only automate the whole process but reduce your front desk's workflow at the same time.
Create a Beautiful Dental Website in 2023 with Adit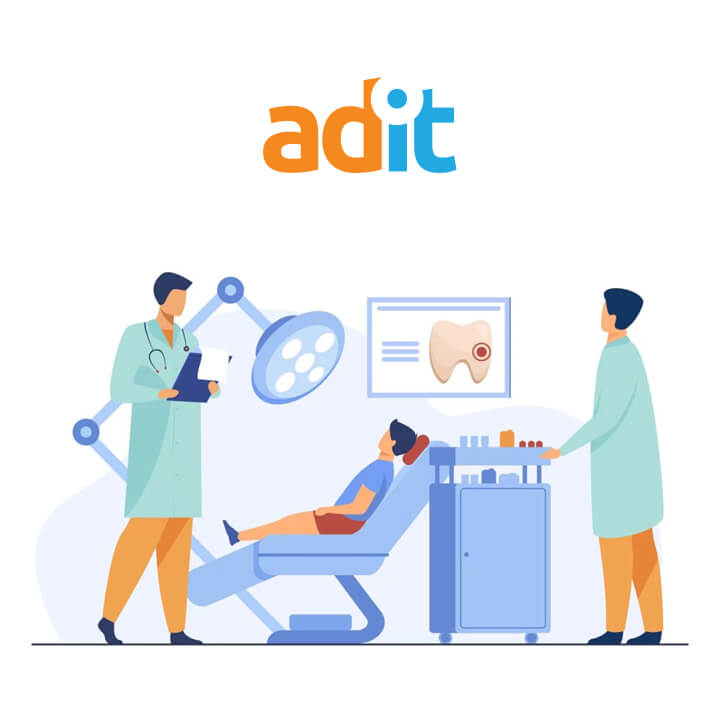 As a leading end-to-end dental marketing firm, Adit understands the importance of your practice website to your long-term business goals. Our team of professional marketers can help you create a custom-designed website that not only engages but converts. We know what visual impacts are crucial to brand recognition and memorability.
Our team of web design professionals knows that for your dental practice to stand out, we need to incorporate essential elements such as real-time online scheduling, automated reminders, SEO-rich content that educates, and so much more.
You want results fast, and Adit can help you accomplish that goal so you can focus on running your busy dental office. Reach out today to learn more about Adit's custom website design for dental practices.