At ADIT, we serve countless dental practices all across the United States. We can't emphasize enough that every call you receive is an opportunity to book an appointment. Many of these initial contacts are also a patient's first interaction with your office, so creating a good impression the first time is critical.
What happens when a patient call gets missed or put on hold? We can tell you from experience that calling you back isn't usually their first choice. This is why call tracking for dental offices is crucial to your patient experience, which fuels your revenue. If your office still uses outdated call software that only offers hold and voicemail options, your overall business performance suffers.
So, what's the ideal solution? Call tracking. Not only can this type of marketing technology help assess the amount of income patient calls generate, but you can evaluate your customer service quality and market more effectively.
How Call Tracking Works in a Dental Practice

No matter what the source of an incoming call is from, call tracking software will reveal it. So you will know exactly which marketing channel is driving patient appointment booking calls, from social media posts to email campaign PPC.
At ADIT, our call tracking tool will help you better measure how successful your dental marketing efforts have been. It can also provide crucial insights to help you create better patient outcomes, including:
Discover and calculate your ROI on marketing campaigns more accurately
Reveal the digital marketing channels that garner you the most patient leads
Learn which advertisements and keywords are boosting your conversion rates
On top of these very beneficial marketing perks, call tracking also aids in improving your staff's customer service skills. With call recording features built-in to ADIT's software platform, you can review calls and better understand the issues that arise and how you can improve response to these situations your dental team faces every day.
Every marketing campaign you create will have a unique contact number assigned to it, acting as a tracking ID. It doesn't matter what type of ad you are using because the activity is traced according to the number called by your leads for more information.
The good news is you don't need additional phone lines to accept calls from multiple advertisements. Instead, when someone calls the tracked number, it will divert to your main office line. Further, when tracking leads generated from offline marketing, you can designate a unique phone number within a call to action for engaged visitors to click on.
Top Benefits of Call Tracking for Dental Offices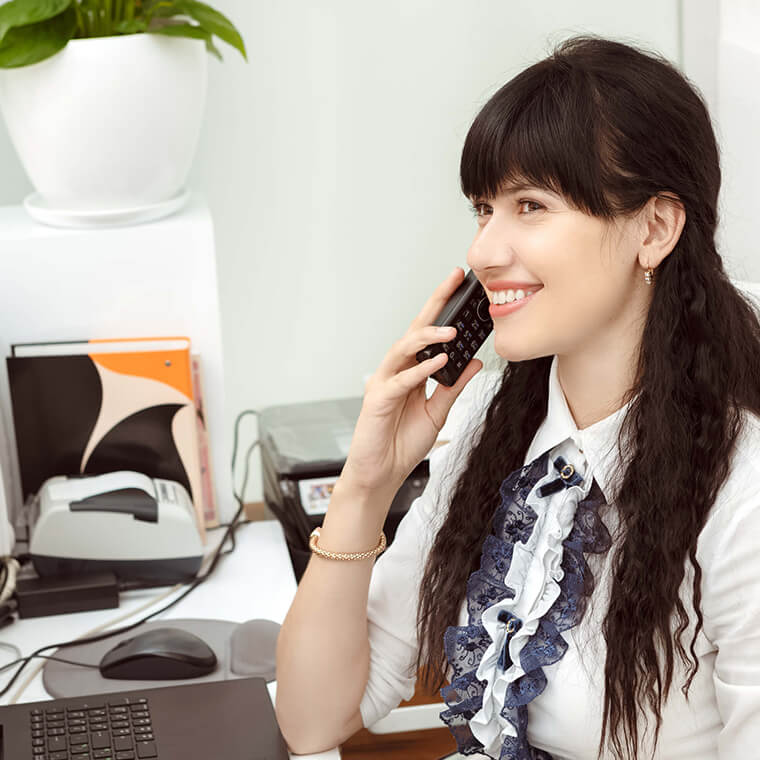 Make Better Use of Marketing Dollars
You will find your market spend is leaner right out of the gate, thanks to call tracking. Because you're utilizing unique tracked phone numbers for your various dental marketing campaigns (website, PPC, email, etc.), you will be able to use those insights to invest your budget more wisely. In addition, having the ability to implement campaigns that you know are working helps prevent waste in your advertising budget.
Get Better Insight About Your Call Handling Practices
Your front office staff works hard to ensure every call your practice receives is taken professionally and provides the answers current and prospective patients need. Call recording can help you review their interaction and the overall customer service experience provided during these calls.
In addition, it can help you determine if their performance matches your expectations or if additional support is needed.
Further, ADIT call tracking provides appointment conversion rate details based on the time of day patients call most frequently, the staff member answering the phone, and other metrics. As you can see, call tracking is about more than just numbers. It provides a customer experience focus that is crucial to your practice's success.
Call Tracking for Dental Offices Provides Engagement and Training Opportunities
By finding out what is happening during patient calls through call recording, you can use the provided reports and recordings for internal improvement. You can take this data and work with your staff directly, through annual reviews, or by conducting regular team meetings throughout the week.
Educating your team on how their phone interactions with prospective and current patients can help you boost your marketing efforts even more.
Call Tracking Can Improve Your Dental Practice's Reputation
Believe it or not, call tracking can directly impact your online reputation. ADIT provides a total service solution that will ensure that all aspects of your practice see improvement. This includes receiving increased positive reviews from new and existing patients who use your dental services.
We make it simple to not only request feedback through phone calls and emails, but you can track these reviews easily and respond efficiently, allowing you to maintain a glowing reputation in your service area and community.
This aspect of call tracking is critical to any dental practice trying to convert leads into scheduled dental appointments. Prospective patients needing services for orthodontics, teeth whitening, or pediatric tooth care want a recognized and upstanding provider.
So, the first place they will look for a dentist to meet their needs will be on the Internet, which makes your online reputation of crucial importance.
Key Metrics that Call Tracking for Dental Offices Measures
The most important metrics you should be watching are:
Number of Calls Each Ad Gets
One of the most significant indicators of how well your ads are doing to generate brand awareness is the number of calls it produces. You want to motivate prospective dental patients to pick up the phone and book an appointment. This metric will tell you if your campaigns are accomplishing this goal.
Number of Calls Your Front Desk Missed
Missed calls include those that are abandoned while placed on hold. So what can this call tracking metric tell you about your office? First, it can give you much-needed insight into how many scheduling opportunities are missed every day. Second, maybe you need additional staff on the phones or time management strategies to need to be implemented. Whatever the cause, this number will make you aware of the problem.
Discover How Long the Average Call Takes
Believe it or not, but the length of a phone call to your dental office can say a lot about how motivated that particular patient is. ADIT's call tracking lets you know who these patients are and makes it easy to follow up with reminders about booking an appointment and rescheduling those they missed.
Find Out Where Your Patients are Calling From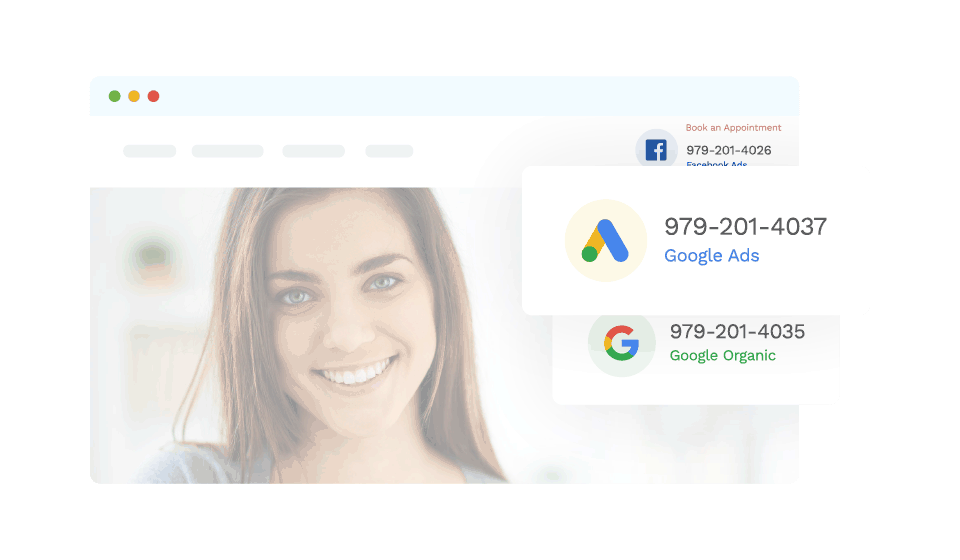 If you're a smaller practice that services a limited area, knowing exactly where your patients are calling from can give you greater insight into how your online ad campaigns perform. Being able to geo-target your marketing efforts is crucial so you don't waste time competing with other dental offices outside your service zone.
Also, you may uncover neighborhoods you didn't know about and funnel more marketing dollars into those communities to boost brand awareness.
Track Times You Get the Most Calls
A great metric that helps you better understand your patient base is the time of day they call the most. Your services have to meet their needs, including hours of operation and appointment scheduling options.
For example, if you live in an area where most dental patients make calls to your office close to when you close, you might realize you need to increase your operational hours or hire an after-hours call service.
It's also important to learn what time of day you should be focusing your ads on marketing channels these calls are driven by.
Call Tracking for Dental Offices Boosts Revenue

With all of the previously mentioned benefits, it's probably becoming apparent the boost you can give your bottom line with call tracking. Having the ability to hone your marketing efforts further and only spend ad dollars on effective channels while improving your overall patient experience is a no-brainer.
So make your dental practice more efficient today and discover how ADIT's call tracking will enhance your revenue and ROI with the analytics we provide for marketing decision-making.
Top Characteristics to Look for in Call Tracking Software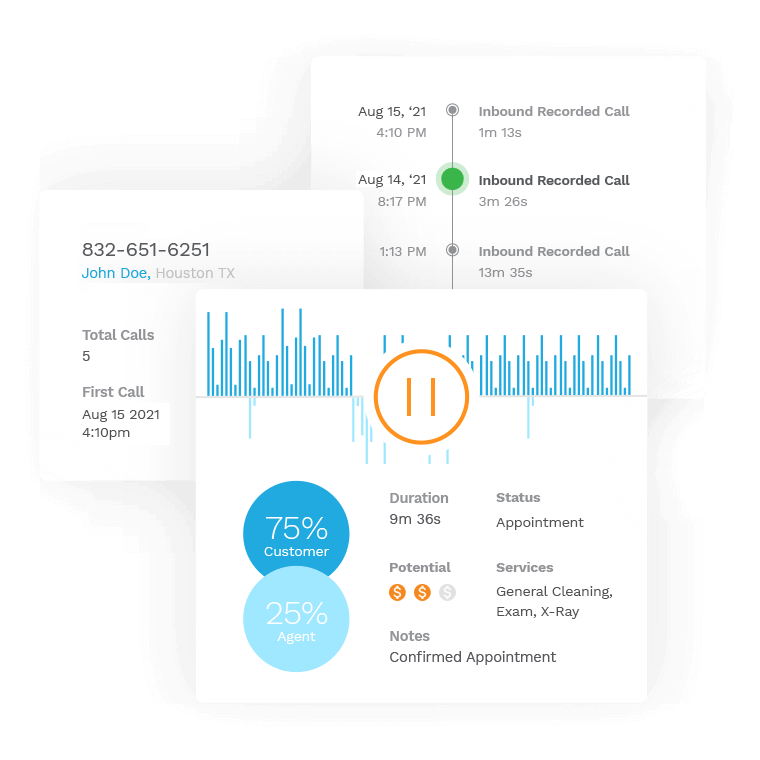 When deciding the type of call tracking software you want to use in your dental business, the features can vary quite a bit. Fortunately, there are some key features you can look for that should be standard to any option you choose.
Ease of Use
Outside of cost, learning how to use software is probably one of the largest barriers to dental companies moving to call tracking. The good news is that quality software is not only easy to install and implement, but providers like ADIT are there to support you throughout the entire process.
Intuitive Interface
As a dentist, you know how frustrating it can be to search through countless menu options and windows to find the information you need. Call tracking should come with an intuitive dashboard that is customizable to your operational needs.
Caller Profiling Capabilities
ADIT call tracking makes it possible for you to create profiles for your callers. This allows you and your team to track important data, such as the time they called, their location, and even the type of device they contacted you with!
CRM Integration
Your CRM system is crucial to your sales, and any call tracking you invest in should integrate and easily merge data it populates.
Call Tracking that Scales
Whether you're a startup dental practice or potentially going to merge with another provider in the future, make sure any call tracking software you invest in can scale to those demands. You should also look into the cost that comes with this type of growth. Remember, you want to ensure you maximize your ROI, and even the software you buy to help manage your dental office is part of this effort.
Get Real-Time Analysis of Data
One feature you shouldn't compromise on is real-time analytics of patients calls. Knowing who is calling your dental practice and what ad campaign they're interested in can help you create a customized call experience. This means a higher chance for conversion.
Real-Time and Historical Reporting
The genius of call tracking software is that you can use the data it captures to make future calls and on-site customer journeys even more effective. But you can only do that if you have access to proper reporting tools, as well as the ability to track conversion rates and measure ROI.
Full Customizability
You run a unique dental office with a team of talented professionals to meet your patients' individual needs. Therefore, any call tracking product you choose should offer customized and flexible options to support your specific demands.
Recording
Call recordings are an essential feature of any tracking system. This is especially true when utilizing it as a part of your marketing efforts. As mentioned earlier, having the ability to review calls linked to your metrics can help you identify development and improvement opportunities.
Track Your Keyword Effectivity
Because call tracking relies on unique contact numbers assigned to your ads, you should have the ability to determine what keywords potential leads are clicking on and what pages they are getting directed to before calling your office. Without this crucial feature, you may not get a clear snapshot of how your patients interact with your dental office.
Automated Call Routing
Another characteristic of quality call tracking is its ability to either integrate with your current Interactive Voice Response (IVR) system or offer one of its own. Improve your front-desk workflows by ensuring that calls get routed intelligently with this state-of-the-art automation tool.
Discover ADIT Call Tracking for Dental Offices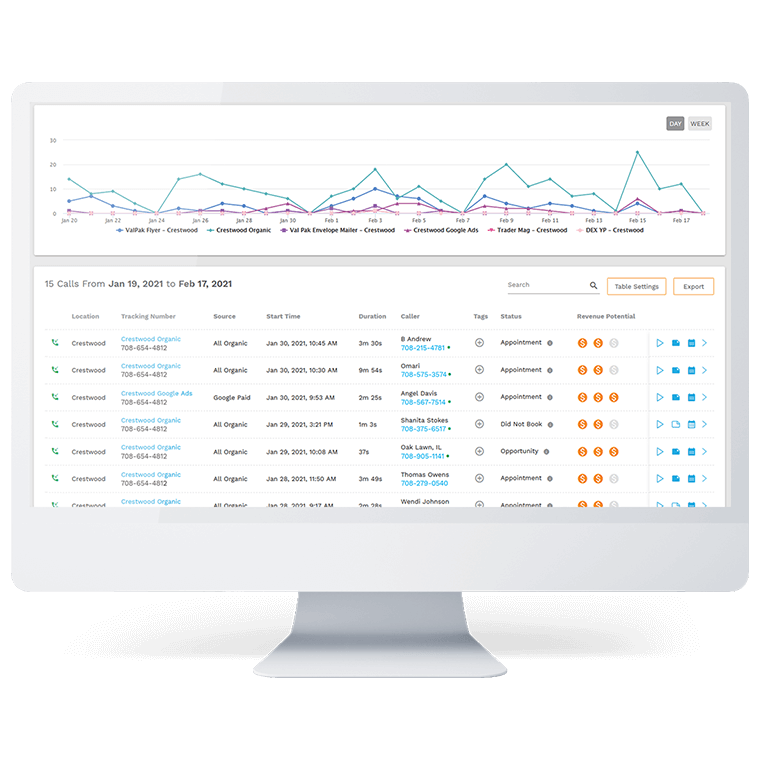 You spend time and money advertising your practice, but do you know which marketing campaigns drive inbound phone calls? Learn how our dental call tracking software can answer this question and so much more.
Request your free demonstration today to learn more about this guarantee and the comprehensive digital marketing strategies and tools we offer!