Growing your business can be difficult, and exploring new marketing opportunities is a great strategy for getting the word out. E-mail marketing provides dentists with a reliable way to grow their customer reach and visibility.
E-mail marketing is the strongest and most profitable marketing channel because of the high ROI it generates. In addition to dominating social media, it can be used for your dental practice if done correctly.
How do you start using e-mail marketing for your dental practice?
This article will cover all of the basics you need to know about when it comes to e-mail marketing as a dentist.
Discover the Benefits of Email Marketing for Dentists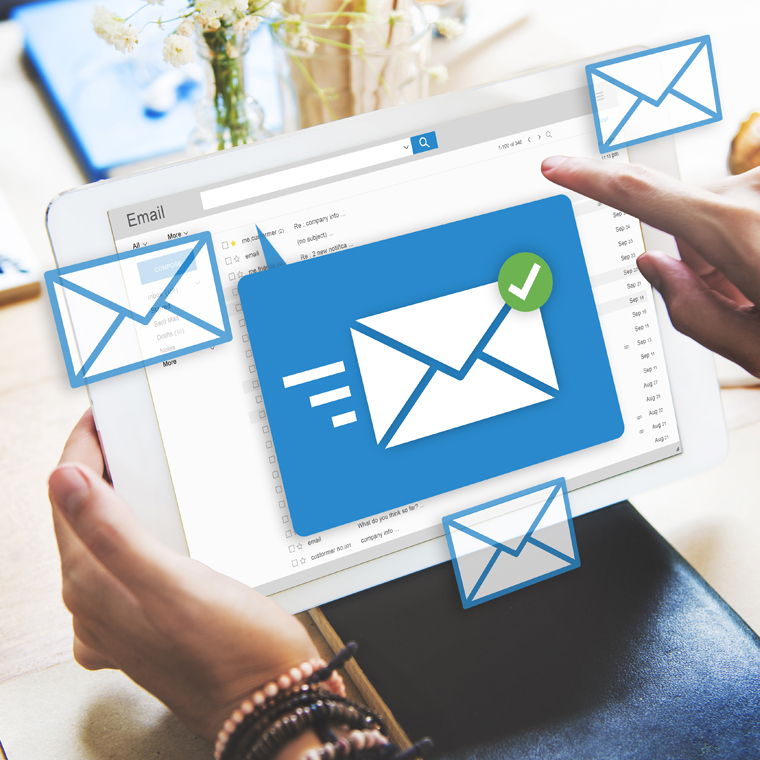 With billions of e-mail users worldwide, it is easy to see why e-mail marketing is a smart way to increase your business's exposure. E-mail marketing has the potential to increase a company's website traffic, as well as create meaningful relationships with your patients.
Because of its high ROI, e-mail marketing campaigns will get you the results you need at an affordable investment cost. Compared to alternative marketing methods, this dental marketing strategy will be very profitable. You may need to create an e-mail list for your campaigns or hire a digital marketing service to do so, but it's a small price to pay for the end result of generating leads.
As the owner of a growing dental practice, one of the best bangs for your buck is reaching thousands of potential patients with a value-driven e-mail.
Make Yourself More Visible in the Dental Market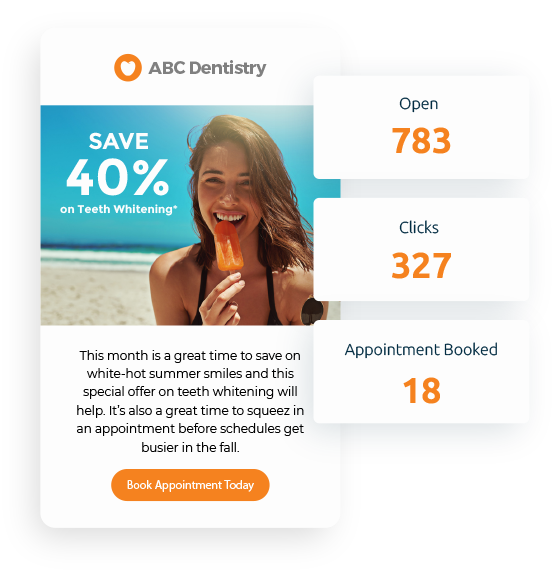 When looking for healthcare providers, it is important to patients that the provider or business they choose is a practice they can trust. It can be challenging for patients who are searching for dentists because they want someone they can believe in and call their own.
Subject-specific e-mail marketing can be used to raise awareness of your brand and instill trust in your practice and in the dental industry. Build your dental practice's credibility by sending out friendly, informative e-mails that people are eager to open.
Some e-mail ideas that can highlight your expertise in the dental industry include:
Share posts that highlight your dental industry expertise.
Create an article giving the best dental care tips.
These are some of the easiest methods to begin the process of establishing your authority in your industry and specialty. By doing so, you are making it clear that you're different from the competition.
In summary, promoting your dental practice through e-mail links can help you increase customer loyalty and visits by creating a greater reputation among potential patients.
Cultivate and Maintain Patient Relationships
Building trust is the foundation of a long and prosperous dental practice relationship. E-mail marketing will help you strengthen that connection with your patients by nurturing their trust in your services.
Creating engaging e-mail content shows your patients that you have their best interests in mind. Sending patient updates via e-mail is an effective way to maintain that patient's connection with you.
Building trust with your patients is crucial to developing a stronger rapport and boosting their loyalty--beyond the time they're in the chair.
Drive Traffic to Your Practice Site
Scheduling e-mail marketing is a great way to drive traffic to your dental office. You will also increase the number of people finding you on search engines, which can result in more customers visiting your practice.
E-mail Marketing Campaigns for Dental Professionals - How You Get Started
Many people find it challenging to get started with dental e-mail marketing. We're here to make it easier. Here is a complete step-by-step guide on how you can start reaching thousands of patients with smart messaging and an address list.
Successful marketing strategies are always built with goals in mind. Have you set any milestones for your e-mail marketing?
Below are a few examples:
Get more scheduled appointments
Increase how often patients come to your dental office
Drive more traffic to your dental practice website
Grow your patient roster
Earn more positive reviews online
If you have goals in mind, your marketing strategy will change accordingly to meet them. Having objectives makes it much easier to see the big picture of what we're trying to do and helps you focus your activities on achieving that goal.
Determine Who is in Your Target Audience
Understanding your target audience will help you use e-mail marketing more effectively.
Asking yourself these questions will help you better understand your target audience and create a more successful e-mail campaign:
Which patients am I currently caring for?
What needs or pain points do they share?
What are their characteristics?
When are they active on e-mail?
To be successful with your dental e-mail marketing plan, it is important to consider your client's demographics, values, and goals.
When planning for your marketing campaign, it is important to segment your audience and create messaging specific to their needs. For example, one can improve the effectiveness of dental-related e-mail marketing by targeting specific niche groups, such as those interested in either the latest periodontal research or preventive dentistry.
Avoiding a one-size-fits-all approach in e-mail correspondence will help your customers feel like you are addressing their needs. If, for instance, you specialize in pediatric dentistry, you want an e-mail campaign geared towards building trust with parents and kids.
Use a Dental Marketing Services that Integrates Email Campaign Services
Compiling your e-mail list will help you be more effective in communicating with existing and potential clients. Adit simplifies this entire process and can help you populate targeted distribution lists quickly.
You can send e-mails manually to clients, but it is inefficient and wastes a lot of time. With our state-of-the-art communication tools, you can not only target your messaging more precisely, but with our cross-module integrations, interested patients can book directly from your message!
Reconnect with Patient Reactivation E-mail Campaigns

Losing former patients can be a major challenge for dental practices. However, e-mail marketing is an important tool in winning them back. They represent a way for your company to expand its customer base. In addition, former clients who have experienced your services in the past will be easier to recruit, as they are aware of what to expect.
This strategy is even more effective than marketing to people through social media because you can keep individual patients in the loop about specific services they are interested in receiving. Understanding why your patients left is key. With this, you will be able to maintain a consistent patient base while minimizing the risk of others leaving your practice to go elsewhere.
A patient might stop coming to your office for a number of different reasons, like:
Other dentists offered the same quality dental work at a competitive price.
Your clients' expectations were not met.
Another dentist offered something uniquely different.
Patient trust in your practice dropped.
Offering patients who have been with you for years an incentive to keep them coming back can help improve your results. Consider different e-mail content ideas like promotions and specialized offers.
Unlock Hundreds of Positive Reviews
If you want your patients to trust and be loyal, it is important that you establish a reputation for high-quality care. One way to improve a positive reputation within the medical community is by soliciting reviews from your patients. E-mail marketing can help you achieve this when paired with a solid marketing strategy.
In your monthly newsletter to patients, including a prompt for reviews so that they can share their experiences with others. This approach is simple and widely used for getting testimonials. As a result, you will build a loyal patient base and attract new patients to your dental practice.
Only Send High-Quality Content
Quality content that's engaging and easy to read for your audience increases the likelihood of getting clicks. A quality marketing message can be a boon to your business.
As a dentist, you should not only keep the discussion professional but also relevant to your patients. Be aware of the content in your e-mails so that you are not discouraging recipients from booking appointments because the content of your e-mail doesn't address their needs.
E-mail ideas that your dental practice can use could include:
Educational blog posts about the latest advancements in dental science
Holiday-related good wishes
Special promotions and offers
Dental care tips for healthy teeth
Celebrating special occasions like birthdays and other life milestones
Sharing your dental practice's latest achievements
Adding relevant social media links
Consumer engagement is the name of the game when it comes to e-mail marketing. By signing up for your newsletter, subscribers will feel like they're receiving increased value.
Best Practices You Need to Know About Dental Email Marketing
After building a list of patient e-mails, there are a few methods to consider when creating your initial e-mail:
Take a Personalized Approach
There are a number of strategies to use when you create content, but one thing that will make your e-mail stand out is personalizing it for the reader. For example, your e-mail's introductory sentence should be specific enough, so readers know they matter, and you appreciated their time reading your message.
Adit's e-mail marketing services allow you to go beyond simple personalizations in the subject line. Learn more by scheduling a free demonstration!
Use Engaging Subject Lines
Rather than using an impersonal greeting such as "Dear Patient," use something friendlier like "Hi, Bob!" By showing readers that you care about them, personalization addresses your retention goals and increases the likelihood of someone reading your message.
Don't Create Spammy Messaging in Your E-mails
Some consumers find it annoying when companies send too many e-mail messages, so if they feel you are being spammy with your e-mails, they may opt-out of your e-mail list. Worse, they may decide not to return, which means their last memory of your practice will be negative.
You wouldn't want an appointment confirmation e-mail to get flagged as spam.
To avoid overwhelming inboxes, send e-mails only with valuable content and incentives. To keep up with your e-mail newsletters, you want to create a schedule to guide you on when to send them out. For example, sending one out on a weekly or monthly basis is a great starting point.
Utilize Analytics to Track Performance Metrics of Your Dental Email Marketing Campaign
Successfully tracking performance is key to identifying areas that need updating and measuring the overall success of a marketing strategy or campaign. Knowing how well your subject lines and call to action perform can help you boost the effectiveness of your e-mail marketing plan. To better understand your data, using Google Analytics is an effective choice.
Have a clear discussion over metrics like site visits, bounce rates, and conversion numbers to determine what is successful on your website. These numbers can help you make future decisions on content, design, and other parts of the process. Even better, with analytics, you can regularly improve the overall quality of your content as well as create more effective personalization of your e-mail campaigns.
Remember HIPAA Compliance

It's important to safeguard your patients' Protected Health Information in your email correspondence. Here are best practices to keep your emails HIPAA compliant:
Encrypt all emails end-to-end unless your email network is protected behind a firewall.
Avoid using your patients' names in the subject lines of your emails.
Always obtain consent before sending emails, especially for things like newsletters or marketing materials.
Include an easy-to-find "Unsubscribe" link to your marketing emails.
Seek legal or expert advice if you're unsure if your emails are HIPAA compliant.
Consider a Partnering with a Full-Service Dental Marketing Agency Like Adit
A perfectly tailored e-mail platform enables your team to build brand recognition. Inspired by some of the most robust services on the web, Adit has put together the most customizable yet easy-to-use e-mail designing platform.
Below are just a few of the many benefits of this powerful marketing tool we use to for your e-mail campaign strategies:
Create Beautiful, Branded E-mails That Set Your Practice Apart
Connect Your EHR/PMS & Send Personalized E-mails
Create Segmented Patient Lists Based On Live Data
Improve Retention & Increase Your Bookings
Drive-Up Treatment Acceptance Rate
Integrated Online Scheduling
Take Action With Advanced Insights
Cross-Module Integration Hacks
Integrate with Patient Forms
Ready to learn more about Adit's e-mail marketing for dentists? Reach out and request your free demonstration today!